Kikoff's current product is a revolving line of credit with no credit check that you can use to buy items from their store. They let you pay off your purchases in installments with no interest or fees, then report your activity to the credit bureaus to build your credit score.
This comprehensive Kikoff review will tell you what you need to know about the service, including how it works, how much it costs, and whether or not it's worth using.
Kikoff Review and Ratings
Kikoff Credit Account
Kikoff's revolving line of credit has no credit check, fees, or interest, and it can help you build your credit. Unfortunately, you can only use the account to buy items in Kikoff's store, which offers nothing but self-help e-books.

In addition, Kikoff only reports your activities to Experian and Equifax, and their customer service is poor.
Pros
No enrollment, membership, or late fees
Cons
Only usable at the Kikoff store
Only reports to two credit bureaus
Poor customer service and support
What is the Kikoff Credit Account?
The Kikoff Credit Account is a credit-building tool for people who might not have the score or the finances necessary to get a traditional credit card or use one safely.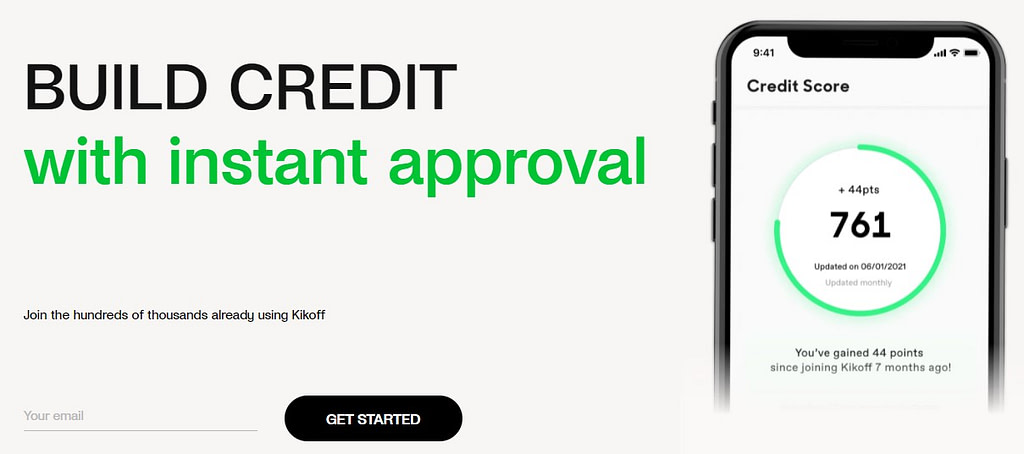 It's a $500 revolving line of credit you can qualify for without a credit check. That means the account doesn't add a hard inquiry to your credit report and is much more accessible to people whose scores are lacking.
There's no interest on the balances you carry, and they don't charge you any fees to sign up for or maintain the account. In short, you don't have to pay for anything except what you purchase.
Once you sign up, Kikoff reports the details of your account usage to Experian and Equifax each month. That includes the timeliness of your payments, the size of your credit limit, and any outstanding balances.
If you make all your payments on time and keep your balances low, you can use the account to improve your score. Unfortunately, building credit is its only practical function. It won't help you finance anything or save money.
You can only use the credit line to buy from Kikoff's store. Their site doesn't discuss what you can purchase there except that everything costs between $10 and $20. However, customer reviews note that their stock is limited to educational e-books.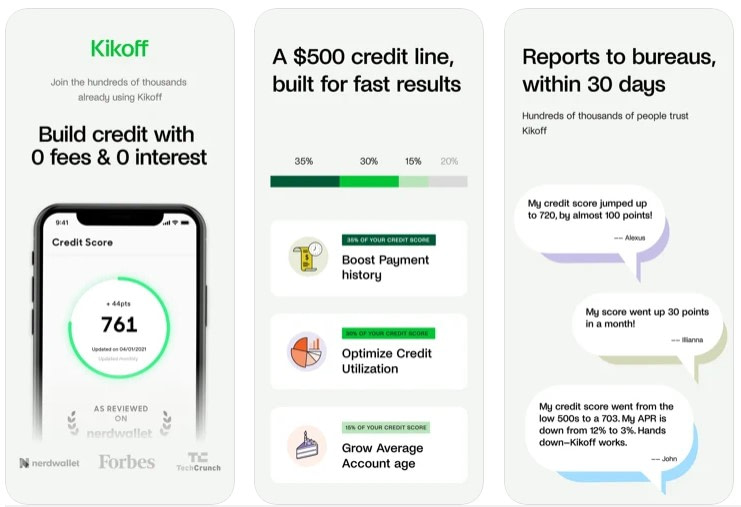 How Does Kikoff Work?
The Kikoff Credit Account is a revolving line of credit, which means it functions similarly to a credit card. It has a $500 credit limit that you can draw against to make purchases. Once you pay your balance off, you can reuse the funds.
Here's a more comprehensive review of the account's specifics.
How to Sign Up for the Kikoff Credit Account
Acquiring a Kikoff account is more like a sign-up process than an application. They don't check your credit, and just about anyone can qualify. To get access to the line of credit, you need to provide identification information, such as your name, email, address, and Social Security Number.
Unfortunately, Kikoff is only available to U.S. citizens or legal residents in 45 states. You can't sign up for an account if you live in Delaware, Nevada, North Dakota, Indiana, South Dakota, or Rhode Island.
☝️ Note that it may take up to six weeks for Kikoff to show up on your credit report. They send updates to the credit bureaus at the end of each month, and it can take up to two additional weeks for the bureaus to process the new information.
How to Use the Account and the Kikoff Online Store
Once you have the Kikoff Credit Account, you gain access to the Kikoff store. As I mentioned above, they offer various e-books that typically sit in the price range of $10 to $20. They cover topics like personal finance and wellness.
Kikoff won't start reporting your account to the credit bureaus until you buy something from the store. Once you do, you'll pay off the amount in a series of monthly installments with no interest, and they'll report your payments, credit limit, and outstanding balances.
That helps you establish a payment history, and it should help your credit utilization too. If you only ever buy one e-book at a time, your utilization should never go above the 10% threshold, which is the ideal upper limit.
Say you buy an e-book for $10, then pay the balance off over five months in $2 installments. That would benefit your payment history by adding five timely payments to your credit report.
Your score would also benefit from having such a low utilization ratio. $10 divided by $500 is 2%, and it would only decrease as you paid off your balance.
📗 Learn More: Your credit utilization ratio is one of the most significant metrics affecting your credit score. Find out how it works and how to improve yours: What Is Credit Utilization, How It's Calculated and How to Improve It.
How to Cancel Kikoff
Because there's no fee to maintain the Kikoff credit line, there's generally no need to close out your account. In fact, it's probably best to leave it open, as long as it's one of your older credit accounts.
The length of your credit history is worth 15% of your FICO score, and it incorporates the average age of your accounts, as well as the age of your most recent one. In both cases, older is better, so leaving the Kikoff account open may benefit you. Fortunately, it doesn't expire.
That said, if Kikoff is bringing down the age of your credit accounts, you may wish to cancel. You can do so by contacting their customer service via email at [email protected] Unfortunately, Kikoff doesn't offer phone support.
Kikoff Pricing
Unlike many other credit-building services, the Kikoff Credit Account is legitimately free. They don't charge interest on your purchases or fees for the privilege of using the account. There's no charge even if you miss a payment, though they'll lock your credit line until you make up for it.
Kikoff Credit Reviews
Kikoff began operations in 2019, so they're a relatively young company. As a result, they have a thin Better Business Bureau (BBB) file. There are only two customer reviews, and they're both negative.
In addition, there are seven complaints. The common theme between the reviews and the complaints is poor customer service. Kikoff receives an F rating from the BBB for failing to respond to the complaints and for being an unproven company.
When considered in light of the fact that Kikoff does not provide support over the phone, it seems highly likely that their customer service is severely lacking.

The Google Play store has many more reviews than the BBB and paints a more fleshed-out picture. It's mostly positive, and they receive a 4.7 out of 5 possible stars. Many of the users report that the service is easy to use and effective.

Most of the unhappy customers on the Google Play store are complaining about problems with the app itself. If they take issue with Kikoff, they're usually disappointed in how the service works in general. For example, they complain that the credit line only works in Kikoff's store and that it only sells books.

Sites Like Kikoff Credit
Kikoff has many competitors in the fintech industry. There are countless companies nowadays that offer tools, tricks, and services to help increase your credit score. Even if you limit the list to other sites offering cards that build credit with no credit check, there are plenty of Kikoff alternatives. For example:
👉 Credit builder loans are another alternative to Kikoff and follow a similar strategy but with installment debt. They typically use your principal balance as collateral, so you don't get any money until you pay off your balance.
Self offers both a credit builder loan and a card, and you have to have the former to get the latter. Credit Strong specializes exclusively in credit builder loans, and they have many more varieties available.
Is Kikoff Worth It?
Because Kikoff doesn't require a credit check or charge you anything, there's little downside to using the account. You don't have to sacrifice much to use the service other than the time it takes to sign up.
However, the upside to the account is also limited. For example, you can only use the credit line to purchase e-books from Kikoff's store. That means you may have to buy things you wouldn't have otherwise.
In addition, Kikoff only reports your activity to two of the major credit bureaus. If you're going to use an account whose sole purpose is to build your score, try to focus on ones that report your efforts to all three.
Ultimately, the Kikoff Credit Account probably works out to be a net positive for most users, but it's not the optimal way to build credit or save money. If you can qualify for a credit card that can finance your day-to-day purchases and earn you some cash back, that's probably the better option.
Consider using an account meant for people with bad credit or limited credit history before you sign up for Kikoff, such as a secured credit card.
👉 If you're interested in a secured credit card to establish or rebuild your credit, check out our recommendations for the best options available today: Best Secured Credit Cards of 2022.