The Chime Credit Builder Visa® Card puts a new spin on the secured card, offering excellent value and low risk. It has no interest and no fees and there's no credit check, making it a low-cost way to build credit. On the downside, you can only use the card if you have a Chime spending account.
Here is everything you need to know to decide if this is the right card for you.
Chime Credit Builder Visa® Card
Chime's entry is a solid option for those looking to build their credit score without a large security deposit or credit checks, especially if you have a Chime account or are considering opening one. While the card lacks some features and bonuses of traditional secured cards, it also boasts a network of over 60,000 ATMs, an intuitive app, excellent customer service, and no fees.
Pros
Reports monthly to all 3 credit bureaus
$0 Annual Fee and Monthly Fees
👉 What is Chime? Chime is a banking app that provides fee-free savings accounts, spending accounts, and the Chime Credit Builder. They are known for their "Spot Me" feature, which allows users to advance up to $200 against their next paycheck. Chime is not a bank: banking services are provided by The Bancorp Bank or Stride Bank. Learn more about Chime on their website
​How Does Chime Credit Builder Work?
There are significant differences between the Chime Credit Builder Visa® Card and a conventional secured credit card.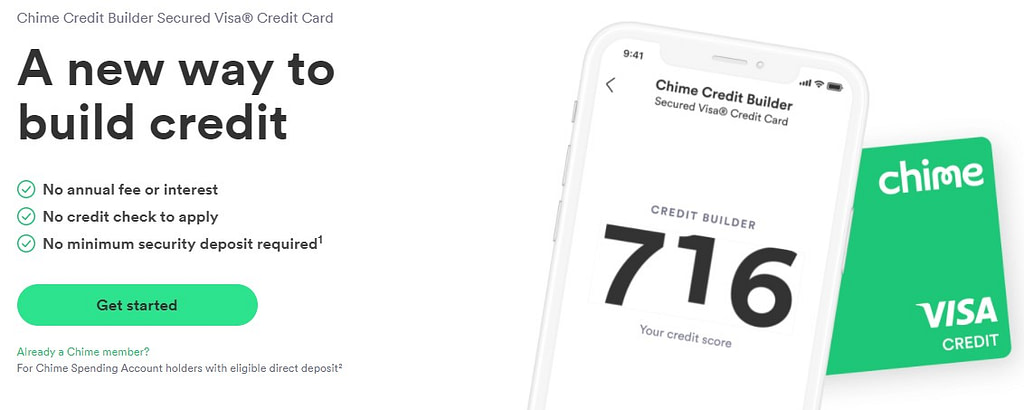 Here are some of the things that make Chime credit builder really stand out from similar credit building products.
No interest. Since you pay from your Chime account, you don't pay interest on what you spend, ever.
No annual fees. That saves you money
No security deposit. Unlike other secured cards, the Chime Credit Builder Visa® card is secured with your Chime account, so it doesn't require a security deposit.
No credit check to apply. The Chime Credit Builder Card can help improve your credit score, even if you start with low or no credit.
There is No Deposit
Most secured cards require a deposit. That deposit becomes your credit limit.
The Chime Credit Builder Visa® Card does not require a security deposit. Instead, each month you select the amount of money from your Chime Spending Account that you want to allocate to your Credit Builder account.
You can set up automatic monthly transfers, or manually transfer funds when you need. Whatever amount you transfer to the card is the maximum amount you can spend on the card in that month.
You can transfer money back to your spending account, as long as you haven't spent more than your remaining balance after the transfer.
👉 Be aware. You cannot spend more than the designated funds on your Credit Builder Card. This protects from overspending. You also are charged no interest because you are not borrowing money.
This makes the Chime Credit Builder Visa® Card a hybrid between a secured credit card and a debit card. Unlike a debit card, the Credit Builder Card reports payment history to all three main credit bureaus to build credit history.
It's a Charge Card
The Chime Credit Builder Visa® Card is a charge card. You must pay your balance in full by the end of each statement period. You can't carry a balance into the next statement period.
If you fail to pay your balance by the end of the statement period, Chime will deduct the payment from your allocated funds. If this happens they may suspend your account.
No Missed Payments
The Chime Credit Builder Visa® Card is one of the safest ways to build credit without going into debt.
You can select an autopay feature, called Safer Credit Building, to allocate funds for each purchase as soon as it is made to avoid overspending or paying late. That means you can't miss a payment.
Chime Credit Builder vs. Traditional Secured Card
The primary difference between the Chime Credit Builder Visa® Card and a traditional secured card is the security deposit.
With a traditional secured credit card, you make a security deposit to guarantee your credit line in case of late or missed payments. That money is tied up for as long as you have the card.
👉 With the Chime Credit Builder Visa® Card, you don't have to make a security deposit.
Instead, you must have a Chime account. The security deposit is then transferred either automatically or manually from the standard spend account to act as the security deposit for the Chime Credit Builder Visa® Card.

The money you allocate is tied up for that month, but you can vary it from month to month. If you need more money in a month, allocate less to your card. You won't be able to spend as much with the card, but you can still use it.
If you're not sure how a secured card works, here's a quick guide.
Reporting Period
Chime reports payments at the beginning of each month to the three main credit bureaus: Experian, TransUnion, and Equifax. You should see the entry on your credit report within 14 days.
That means that each month of on-time payments will help to build your credit history and improve your credit score. Note that since the card doesn't offer a line of credit, only on-time payments are reported.
Chime Credit Builder Card Limit
Unlike other credit cards, the Chime Credit Builder Visa® Card doesn't have an upper limit based on credit history. Instead, the limit is based on the amount you choose to put on the card.
The maximum upper limit on purchases for the Chime credit builder card is $7,500 per day. That's more than enough for most users.
Credit Utilization and Your Chime Card
Credit utilization is often an issue for secured card users. This is the percentage of your credit limit that you actually use. If your credit limit is $1000 and your balance is $300, your credit utilization is 30%
Most secured credit cards have low credit limits, so it's easy to push your credit utilization to a high level with only a few purchases.
☝️ Chime doesn't report credit utilization on this card. Your credit won't be hurt if you have to set a low credit limit for a few months.
That also means that keeping your credit utilization low can't help your credit, but overall we'd rate that a positive point. Credit utilization is more likely to hurt than help the average secured card user.
Chime Credit Builder Visa® Card Pros & Cons
The Pros
Low-risk, debt-free way to build credit history with everyday purchases.
No credit score is required.
Easy to open an account: get started in minutes.
Control spending and better manage your budget with pre-assigned spend amounts.
The Safer Credit Building feature protects you against late payments.
You can easily make purchases or withdraw cash.
Credit utilization is not reported.
24/7 live customer support via the Chime app.
No annual fees and no interest.
FDIC Insured.
The Cons
The card is only available if you have a Chime spending account.
You can't carry a balance to the next payment period.
You can't upgrade to a regular credit card.
If you're looking to earn cash back, airline points, or other credit card rewards, it's best to consider another secured credit card or traditional credit card.
While there are no monthly or annual fees, and no fees for the 60,000 ATMs within the Chime network, for all other ATMs you will incur a fee, usually about $2.50 per transaction. There may be fees for deposits at certain ATMs.
You will incur currency conversion fees and other fees if you use your card overseas.
If you prefer face-to-face customer support, this card isn't a good fit. Support is available by phone and online via the Chime app only.
👉 Be aware. Consumer advocate ProPublica has claimed that some Chime customers have been locked out of their accounts, sometimes without adequate notice. This appears to be a result of fraud screening software. Chime claims to be resolving the problem, but it's an issue to watch.
How to Sign Up for Chime Credit Builder
If this Chime Credit Builder Card review makes you want to go ahead risk-free, there are only two steps:
Open a Chime Checking Account.
Make a qualifying direct deposit of at least $200*.
Apply for a Credit Builder Account.
*If you already have a Chime account, you will need to have at least one direct deposit of $200 in the last year.
That's it! With just a few minutes to set up the account and the $200 you would spend on everyday purchases, you are ready to start building a better credit score.
Final Thoughts
For someone with a good credit score accustomed to responsibly managing expenses, a credit card with bonuses might offer more benefits.
For anyone looking to build credit history, the Chime Credit Builder has far more pros than cons, especially if you are a Chime customer or you are considering a Chime account.
FAQs
Can you withdraw cash from a Chime Credit Builder Visa® Card?
Yes. You can withdraw cash from any ATM. Before you take cash for the first time, you'll need to generate a pin in the Chime app. Unlike a traditional credit card, the Chime Credit Builder card doesn't charge interest or fees for cash advances at its 60,000 in-network ATMs.
Is there a withdrawal limit?
You can withdraw your available spend amount or up to $500 every 24 hours. The limit is $500 for withdrawals and $7,500 for purchases per day. 
Can I overdraft my Chime Credit Builder Visa® Card?
Your Chime Credit Builder card is secured, which means you cannot overdraft it. If you request a transaction greater than the funds allocated to the card, the transaction will be declined.
Does Chime give provisional credit?
In case of dispute, Chime will give a provisional credit in certain cases. If Chime is not able to complete their investigation of a dispute within 10 to 20 days, Chime users will get a provisional credit.

New Chime Credit Builder users will receive a provisional credit within 20 days, and users of established accounts will receive a provisional credit within 10 days. Once Chime has completed their investigation, the provisional credit will either become permanent or removed, based on the investigation results.
How to transfer money from Chime Credit Builder Visa® card?
If you need to transfer money back from your Chime Credit Builder Visa®Card to your spending account, you can make the transfer instantly from the Chime app, under the Move Money tab. Then you can use those funds with your debit card, or save them in your account for future use.
How long does it take for Chime Credit Builder to report?
The Chime Credit Builder Card reports to all three credit bureaus at the beginning of every month. You will usually see the report in your credit report within a month of reporting.
How long does a Chime card take to come?
It typically takes 7-8 business days for your Chime Visa Debit Card to arrive at your home address.
How do I replace my chime credit builder card?
If your Chime card has been lost, stolen, or damaged you can replace it by following these steps:
1. Open the Chime app
2. Go to Settings > Personal Information > Settings
3. Scroll to the card you want to replace
4. Tap on Replace your Card
5. Follow the prompts that appear on the screen