The cost for a Credit Builder Loan varies from lender to lender.
It is important to understand and know that these loans are not complicated, and you should be able to figure out the cost of each if you know the following terms.
Loan Amount
The loan amount is the total amount of the Credit-Builder loan that you are borrowing. It is essential to keep in mind that the larger the amount and/or the short the payment terms will increase your monthly payments.
Monthly Payment
Your monthly payment amount will be determined by the amount of your loan, APR percentage rate, and the loan terms. The higher your loan amount and APR percentage rate is, the higher your loan payment will be. The longer your loan terms are for, the lower your loan payment will be. Take a look at the Self Lender Credit-Builder Loans below to get a better idea of how the loan you choose determines your monthly payment amount.
Loan
Amount

Monthly
Payment
Loan
Terms
Loan
APR %
Admin.
Fee
* Total
Cost
** Late Fee

$525

$25

24/mo

14.92%

$9

$609

$1.25

$545

$48

12/mo

15.65%

$15

$591

$2.40

$1,000

$89

12/mo

14.62%

$12

$1,080

$4.45

$1,700

$150

12/mo

12.03%

$12

$1,812

$7.50
Self Lender offers four Credit Builder Loan options with the corresponding terms above.
Loan Term
The loan term is how many months you will have to pay off your Credit-Builder Loan.
Most loans in this category range are for terms of 12-months, 24-months and occasionally you will see lenders offer 36-month terms.
APR Percentage
The annual percentage rate represents the total cost of the Credit-Builder Loan expressed in a percentage rate.
This percentage rate represents the fees associated with the loan and the interest rate all rolled up into one uniform and easy to use number to compare against other loan options.
Helpful Tip: One of the top rated credit builder loans available nationwide is Self Lender.
The APR is a much more accurate number to use than the interest rate because it also factors in any fees you pay associated with the loan.
In some instances, a loan may have a lower interest rate then it's competitors, but it may have much higher startup fees which can make the loan with the lower interest rate have the highest APR % and cost you the most amount of money. Don't be fooled, be sure to compare the APR %'s against one another to get an accurate cost of the loan.
Administrative Fees
Depending on your lender, the initial fees can be from zero down to as much as the initial monthly payment. Companies like Self Lender will charge between $9 and $15 for their initial startup fees. These are fees associated with starting the loan and administering it. They are usually very small in regards to Credit-Builder Loans, but they do affect the overall cost so be sure to factor these fees into your decision process.
Total Cost Of The Loan
The total cost of the loan is probably the most crucial category because this number represents your actual loan costs. With this number, you can compare multiple Credit-Builder Loans against one another to determine how much does a Credit-Builder Loan cost?
Late Fees
Keep in mind that if you pay your Credit-Builder Loan late, the lenders will charge you late fees.

First, do not pay your Credit-Builder Loan late!

The whole purpose of this loan is to positively increase your credit payment history.
Paying your loan late completely defeats the purpose of this credit building product.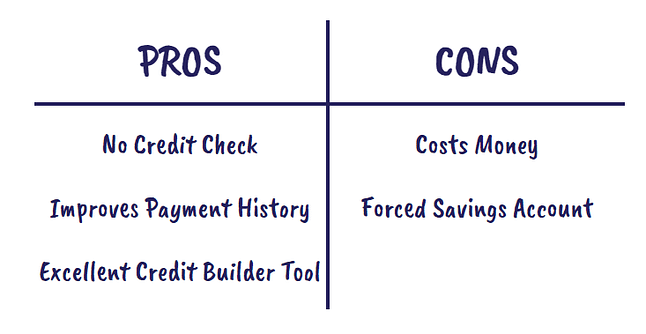 ​If you cannot pay your loan on-time, contact your lender immediately and figure out another option.

Often the lender will cancel the loan and send you the money you have paid into the savings account less interest and a small penalty.

Self Lender will give you a 15-day grace period before charging a late fee and will not report your loan late until it is 30 days past due.
Get A Credit-Builder Loan Today!
A Credit-Builder Loan is a great tool to help you build your credit.
There is no easier way to get one than through Self Lender.
They were the first Credit-Builder Loan lender to offer their services to the entire U.S.
They have very competitive rates and are super easy to use.
Get a Credit-Builder Loan from Self Lender Today!
Editorial Note: The editorial content on this page is not provided or commissioned by any financial institution. Any opinions, analyses, reviews, statements or recommendations expressed in this article are those of the author's alone, and may not have been reviewed, approved or otherwise endorsed by any of these entities prior to publication.