Discover Personal Loans APR rates are higher than most lenders we have reviewed. Borrowers must have a good to excellent credit score to qualify for personal loans from Discover.
Discover Personal Loans
Discover Financial Services is better known for their many credit card offerings. However, they also offer personal loans, student loan refinancing,  and home equity loans. While Discover does a good job of delivering these many products to their customers, the cost for this services is higher APR interest rates. Discover offers fixed rate personal loans with no origination fees and a 30 day money back guarantee.

SUMMARY:
Many people think of Discover as a credit card only company but they actually do a good job of offering multiple financial services like the Discover personal loan.
Discover caters to customers with good to excellent credit scores who are looking for top notch customer service and a really simple straightforward way to financial services.
Discover does a good job of delivering this type of service but ease and convenience comes at a cost.
Namely, Discover charges APR rates that are nearly double what many of the other personal loan lenders would charge a customer with similar credit.
They claim to have flexible terms but in reality, their personal loan program is pretty limited as compared to competitors.
For these reasons we cannot recommend a Discover personal loan but you can view the best rates by clicking any of the orange buttons throughout this article.
Who Is Discover Bank?
Discover Bank is owned by Discover Financial Services and offers a wide range of financial products including banking services, credit cards, and personal loans.
Discover got its big break in 1985 when Sears offered the Discover Credit Card to their customers.
Today a Discover Card is in the hands of over 50 million consumers across the United States.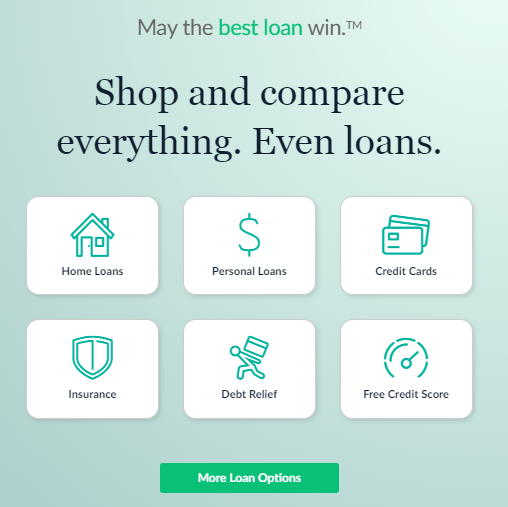 Discover personal loans com/apply are only offered to consumers with strong credit scores and are limited up to $35,000.
The Discover loan rates tend to be on the higher side and we recommend that you shop around for multiple personal loan offers before making a final decision.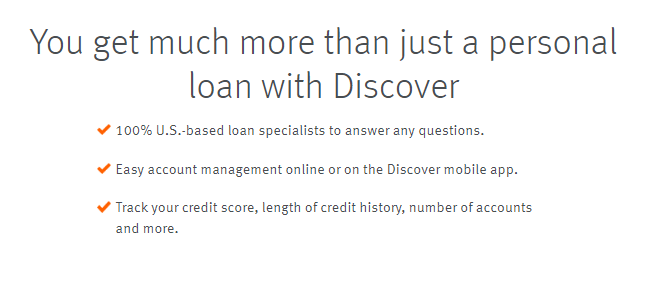 What Makes Them Different?
While Discover Bank isn't the first to offer a 30 day money back guarantee on their personal loans, it still is pretty cool.
Here's how it works…
If you decide on a Discover Bank personal loan then you still have 30 days after funding to return all the money back for no fees.
Effectively, this allows you to get a quickly funded personal loan from Discover regardless of the Discover loan rates… which will most likely be high!
But, then shop places like Credible or LendingTree to get multiple personal loan offers to compare to Discover's.
Then if you find a better rate, you can get that personal loan and payoff Discover Bank for no cost to you.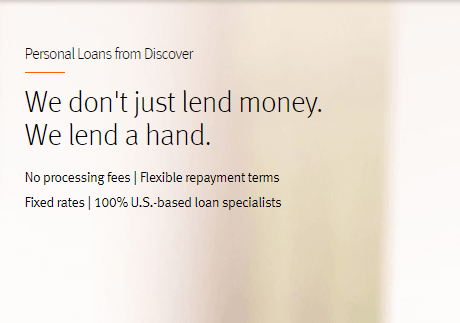 But, then shop places like Credible or LendingTree to get multiple personal loan offers to compare to Discover's.
Then if you find a better rate, you can get that personal loan and payoff Discover Bank for no cost to you.
The only problem with this is that you may not qualify for another personal loan after obtaining one from Discover Financial Services.
So, I would suggest that you start by clicking the View Best Rates button below and get a few free no obligation offers that won't affect your credit score.
How Does Discover Personal Loans Work?
Discover Personal loans reviews how one of the easiest platforms to use works and why it only takes about 2 minutes to find your rate.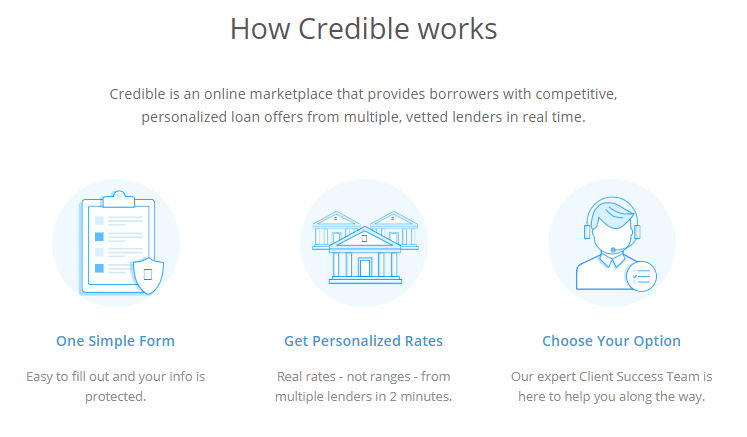 1. Find Your Rate
The first thing you do is select "Personal Loans" and fill out the short form. It takes about 1 – 2 minutes to enter your information.
You need to provide basic information and financial income, as well as the amount of the personal loan you are looking to apply for.
And guess what:
Discover Bank doesn't check your credit score to you an offer, they only do a soft credit check.
This means you get to see what rate you can qualify for without the worry of it affecting your credit.
2. Compare Your Options
Once you put your information in and submit the form you will be taken to a dashboard.
This dashboard will show you your discover loan rates for your personal loan offer.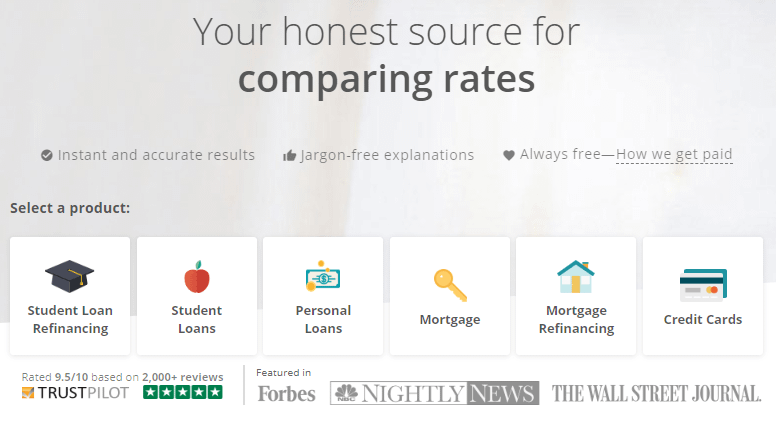 Keep in mind, these are Pre-Approvals and your actual approval is not guaranteed; however, you will get to see your actual pre-qualified rates.
The rates you see are usually very accurate as long as you can verify your information and nothing changes on your credit report.
Once you confirm and verify everything the rates are pretty solid. The best thing is that you get to see your options up-front and know exactly which option is best for you.

3. Apply For Your Personal Loan
Once reviewing all of your personal loan offers from different lenders, it's time for you to apply. During the application process, you'll get asked more in-depth questions about your use of the loan, your financial history, and Discover Bank will run a credit check. *Note: This all happens on the Discover website.
Once this step is done, a Discover loan officer will work with you directly to finalize all of the loan details.
Discover Loan Eligibility
In order to be eligible for Discover Bank Personal loans you must meet the below requirements:
Have good to excellent credit (680+ on average)
Must have annual income of $25,000 or more
Be a U.S. Citizen or Permanent Resident
You are at least 18 years old
What Information Will You Need To Apply?
Before filling out the online form make sure you have the below information ready:
Date of birth.
Estimated credit score.
Annual income (before taxes).
How much you want to borrow.
Your Current employment status.
What you plan to use the money for.
Your highest level of completed education.
Discover Card Personal Loans (Basics)
Discover personal loans reviews how your offer is dependent on your credit history, income, and debt. We wanted to show you estimates of the absolute minimum and maximums you may be offered from Discover Bank. Actual rates and terms will change for a variety of factors.
Loan Amount Range: $2,500 – $35,000
APR Range: 6

3

.99% – 24.99%
Fees: Late Payment ($39)
Prepayment Penalties: None
Loan Terms:

3

to 7 years
Payments Directly To Creditors: Yes
Remember, once you pick a lender, they will pull your credit report and create a hard pull on your credit.
I read in a lot of reviews that Discover loan terms were flexible but almost every major lender offers 7 year personal loans (some offer longer) and most of them offer 12 month options, while discover's shortest personal loan is 36 months.
Of all of the personal loan lenders I have reviewed, they actually offer the least flexible loan terms.
Goes to show you that most of these online reviews are written to get you to just click the buy now button and not to tell you the truth. Sad.

Plus, there are a lot of restrictions on how and what you can use your Discover personal loan for.
If you get the loan to consolidate debt you must use at least 70% of the loan to pay off outstanding balances.
You can not use the money to payoff secured debt (like an auto loan) or use it to pay for college or pay your discover credit card.
I'm unsure why any person writing a review about Discover personal loans/apply would use the term flexible but that is how their loans are described…
Bookmark CreditKnocks.com in your browser so you can avoid the '[email protected]*% reviews' out there and get the truth here.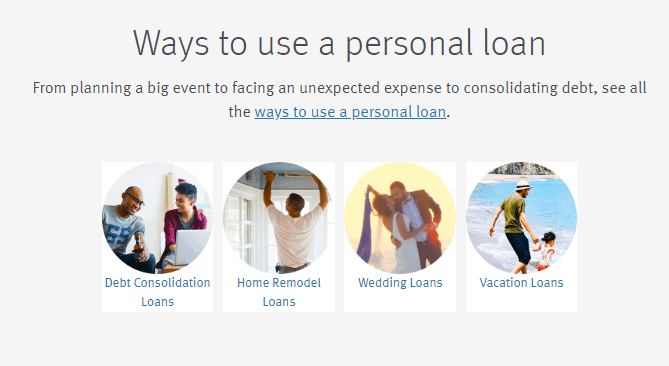 Discover Personal Loan Calculator
Use the Discover Personal Loan Calculator to help determine the payment amounts based on interest, length of personal loan and amount borrowed.
The interest rate will be determined primarily by your credit score and your ability to repay the Discover Bank personal loan.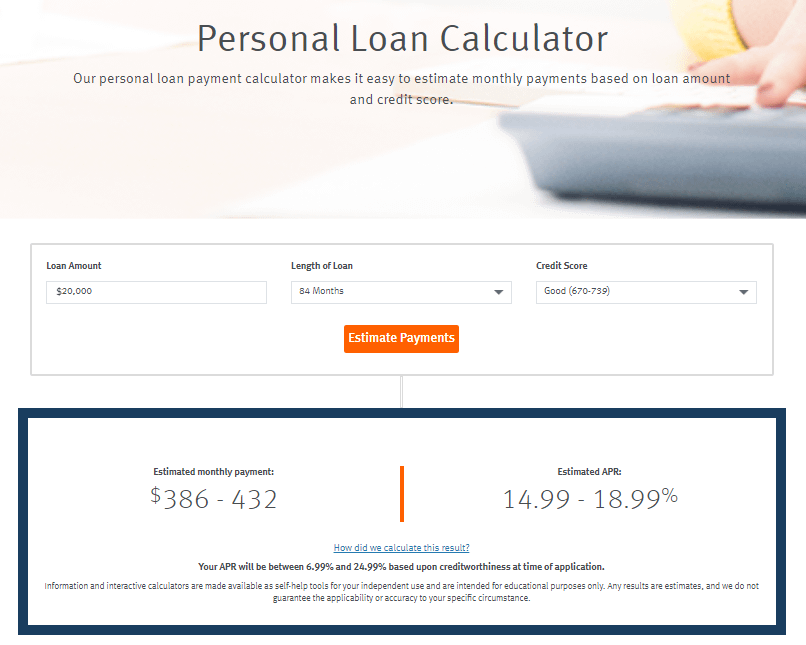 This calculator lets you adjust the different loan variables to give you a good understanding of how each affects your monthly payment.
As you increase the length of the loan the monthly payments decrease.
If you are able to find a personal loan with a lower interest rate that will decrease your monthly payment amounts, also.
What To Use Discover Card Personal Loans For?
There are several reasons you may need a personal loan and below we list out some of the reasons you may need a Discover personal loan:
Debt/Credit Card Consolidation
Down Payment For Home
Major Purchase
Home Improvement
Medical Expenses
Moving/Relocation
Vacation
Start Business
Education
Your Wedding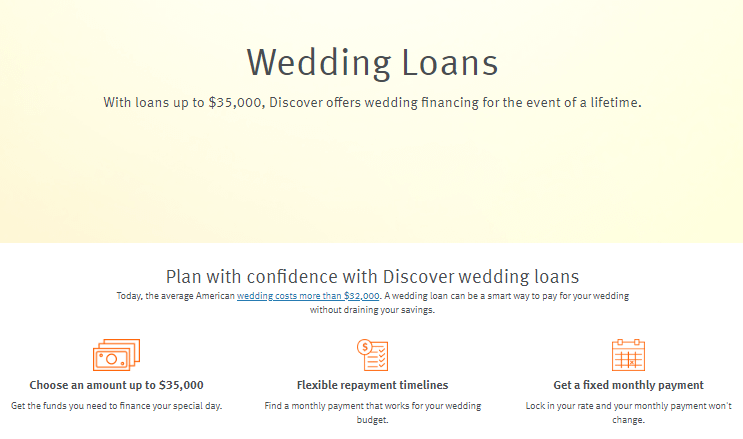 As you can see, there is a huge list of reasons for getting a personal loan.
Of course our favorite reasons is for Debt Consolidation, Education, and Starting a Business.
Discover Personal Loans Reviews
Customers tend to like the Discover brand and their customer service.
They have a simple to use online dashboard and as a customer you can add additional financial products fairly easily.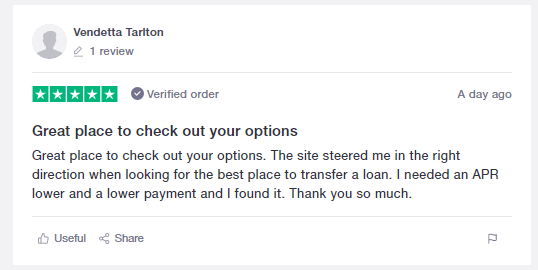 In a nutshell, Discover Personal Loans Reviews tell of a bank that is very convenient which comes at a price.
The cost for this convenience is rather high APR personal loan rates which customers constantly complain about.
The other problem with Discover is their loan qualification requirements are extremely high when it comes to credit scores.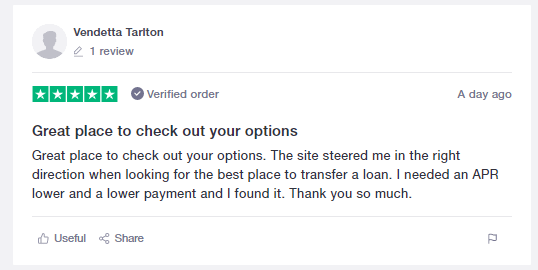 There are plenty of reviews by people who were denied a personal loan from Discover with really good credit scores.
Even if you do qualify, their rates are pretty high for credit scores of this nature and you can do much better by shopping around.
Click on the view best rates button below and find out for free without if affecting your credit score.
Discover Better Business Bureau Reviews
Discover BBB has had a file at the Better Business Bureau since 2001.
Discover Personal Loan BBB reviews have a Non-Rating with 0 complaints in the past three years (as of 10/24/2019).
I find it incredible and a testament to Discover's customer service team that a company of their size has zero BBB complaints this year.

Steps To Take After Discover Loan Approval
It feels great getting approved for something, no matter what it is, you feel like you have just won something.
But, now that you have been approved, there are some things you should be doing with your accounts.
Make On Time Payments
I am sure you are tired of seeing everyone saying "on-time payments".
Helpful Tip
If your application goes to "Pending" status it doesn't mean Declined. Usually, more information may be needed.
But it is super important and is one of the largest factors in helping grow your credit score.
Of course you probably didn't obtain this loan for building your credit.
However, you still need to be mindful that this product can harm your credit if you don't manage it correctly.
No matter what, avoid late payments.
Pay Back The Loan ASAP
Along with making on-time payments you should definitely pay this loan off as super fast as possible.
Large personal loans tend to linger and we usually only pay the minimums.
Now:
While this does keep more cash in your pocekt in the initial phase, eventually you end up spending thousands of more dollars in interest payments.
Getting the credit utilization below 30% will also be great for helping your credit score grow.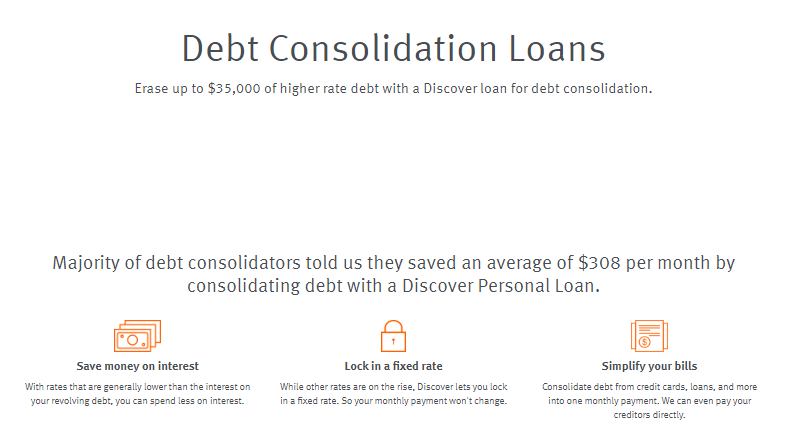 Taking Action & Getting A Loan
Hopefully, you found this Discover Personal Loan Review to be helpful because Personal Loans are a great option to pay down debt, or even start a business.
If you need a personal loan then don't waste any time with Discover Personal Loans/apply.
You can click the link below to complete your application process and get multiple low interest rate offers in under 2 minutes.
More Keys to the Credit Door:
LEARN:

What the heck Is Credit And Why It Matters
Guard the Door!

Why You Need Credit Monitoring
CREDIT BOOST CHALLENGE:

The 90 Day Credit Sprint
Editorial Note: The editorial content on this page is not provided or commissioned by any financial institution. Any opinions, analyses, reviews, statements or recommendations expressed in this article are those of the author's alone, and may not have been reviewed, approved or otherwise endorsed by any of these entities prior to publication.