Summary:  There are many effective credit-building tools available that do not require getting credit cards. Here are some of the best strategies.
Traditionally when people think of credit, the first thing that comes to mind is credit cards.
But, did you know it is possible to build credit without them?
In fact, there are some fantastic credit-building options that don't require credit cards at all!
We will review three of the better credit cardless credit-building tools on the market today; Credit Builder Loans, Fingerhut Credit, Rent Reporting, and Credit Repair.
Credit Builder Loans
One of America's best-kept secrets are credit builder loans, sometimes referred to as Fresh Start Loans.
These loans were designed specifically to help people who are new to credit or have bad credit add to their credit file and improve their credit score.
What I love most about this tool is the name, because it literally says it all!
Credit Builder Loans!
Here's how they work…
These loans are nothing like a traditional loan, in fact, when you qualify for a credit builder loan you will pay the bank on a monthly basis for the loan.
However, you will not get the proceeds from the loan until you make the last payment.
This allows the lender to give you a loan without a credit check and at no risk to the bank, so it doesn't matter if you have no credit score or even a bad one.
But, the lender still reports the installment loan payments monthly to the three major credit bureaus which will help to build your credit history.
Most Credit Builder Loans will range from $500 to $3,000 with short payment terms of 12 or 24 months.
The smaller loans usually cost under $20 to start and with payments a low as $25 a month.
And remember, you get the majority of that money back after making the last payment, even with a small amount of interest.
These loans can be found at local banks, credit unions, but most people purchase them from an online lender such as Self Lender. 
A recent MetLife Foundation-funded study found that Credit Builder Loans, "increased their score an average gain of 47 points. If those borrowers who saw a credit score increase applied for an auto loan from their lender, they would save $3,200 on average in interest as a result of the credit score change."
Credit builder loans are a great option if you are looking to build credit without a credit card.
Fingerhut Credit
Fingerhut will give you all of the same credit-building benefits as having a credit card without being a credit card.
This is because both Fingerhut credit and credit cards are revolving loans. 
Revolving loans are any credit tradeline that's balance fluctuates between $0 and the consumer's credit limit as the credit is used and repaid.
Quick Note: Your Fingerhut account won't include an actual credit card because you can only use the credit to purchase items from their website.   
Fingerhut credit can only be used for purchases found on their online store catalog.
They offer thousands of commonly purchased items that include; name-brand clothes and shoes, top-of-the-line outdoor gear, technology from brands like Apple and Samsung, and a long list of other great brands to choose from. 
The best part about Fingerhut is that they offer unsecured credit to people that are new to credit or have bad credit.
In fact, when I applied I only had a credit score of 575 and qualified for a $1,000 credit line instantly through their WebBank/Fingerhut Advantage Revolving Credit Account.
I may be biased because Fingerhut helped raise my credit score by around 50 points. 
Even if you don't qualify for their Advantage Revolving Loan, I have never heard of anyone not qualifying for their WebBank/FingerhutFreshStart® Credit Account.
The FreshStart® credit account requires you to purchase at least $50 in stuff from their online store catalog.
Then you have to pay $30 at the time of purchase with Fingerhut extending you credit on the remaining balance.
This balance must be paid off over a 6 month period of time because it is an installment loan, just like a Credit Builder Loan. 
If you make all of the payments on time at the end of the loan Fingerhut will upgrade your account to a Fingerhut Advantage Revolving Credit Account.
The Consumer Financial Protection Bureau, the government entity tasked with overseeing the credit agencies found in a recent white paper that, "The re-usability of revolving loans and the ability to make purchases directly with a network-branded card distinguishes secured credit cards from other credit-building products such as Fingerhut."
Fingerhut credit accounts are a great start to building your credit without credit cards. 
Rent Reporting
Did you know that most landlords and property managers DO NOT report your rental or lease payments to the big three credit agencies?
In an extensive study of rent reporting effects on credit by the Office of the New York City Comptroller, they found, "31 percent of consumers gained a new score, averaging 674. Of individuals with (existing) credit scores, 61 percent saw improvements to their scores."
There are multiple Rent Reporting Services to choose from to help you have your rent reported. 
Beware that not all Rent Reporting companies have the same effect on your credit score because some only report to one credit agency.
When you choose a reporting company you will want to choose one that reports to TransUnion and Equifax, there are multiple to choose from. 
To get your Experian rent reported you can click here and sign up for Experian Boost. 
This way you will get credit for your rent payments at all three credit agencies because they do not share credit information amongst one another.
You will also be offered the opportunity to have your previous 24 months of rent payments back reported. 
Don't miss out on this opportunity to fill your credit file full of 24 months of previous payment history.
Paying for past reporting of those 24 months of back payments will be the single highest credit score gain you will get from rent reporting.
Remember to pay your rent on time so you can continue to build credit without a credit card. 
Credit Repair
There are times when you do not need to focus on building your credit but on repairing it.
The Best Credit Repair Companies can help you remove negative items from your credit report.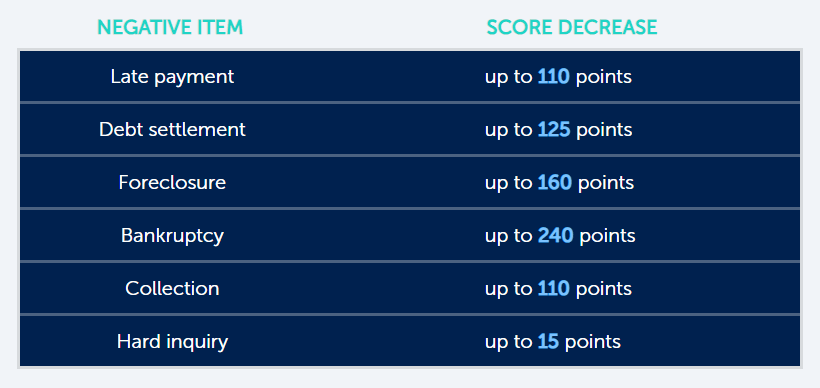 You should consider speaking with Credit Saint about the possibility of having any late payments, charge-offs, collections, judgments, or bankruptcies removed from your credit file. 
Having just one negative record reported against you can significantly pull down your credit score as much as 240 points.
Speak with a credit repair expert at Credit Saint today!
Take Action!
I hope you found this article helpful and you have come away with a couple of good ideas on how to build credit without a credit card. 
However, there are two really good credit-building tools I think you should also consider that involved credit cards.
The first is a strategy we like to call, 'borrow-a-kidney', where you ask a family member to add you to their credit card as an authorized user. 
The second strategy is to purchase a secured credit card to start building your credit utilization ratio since it accounts for as much as 30% of your FICO credit score. 
Together with these five strategies, I increased my credit score by nearly 150 points in under 60 days.
You can successfully build your credit score without credit cards but it is more effective to have multiple positive tradelines including credit cards. 
Just remember to only take on responsible credit and no matter what, try to pay every bill on time.