Just a few generations ago, most items around us relied on mechanical systems to do their job, with electronics limited to radio and advanced computers the size of a building. Today, almost everything contains some form of control board, computer chips, and other electronic systems. It's no wonder why many investors are looking for the best semiconductor stocks to add to their portfolios.
Semiconductors are required everywhere, even in cars, toys, and washing machines. They are also very complex devices, engraving silicon at a scale of nanometers with ultra-powerful and precise lasers, mirrors, etc.
The semiconductor explosion has made the sector one of the best-performing investments for several decades. And there is no sign of it getting less important anytime soon.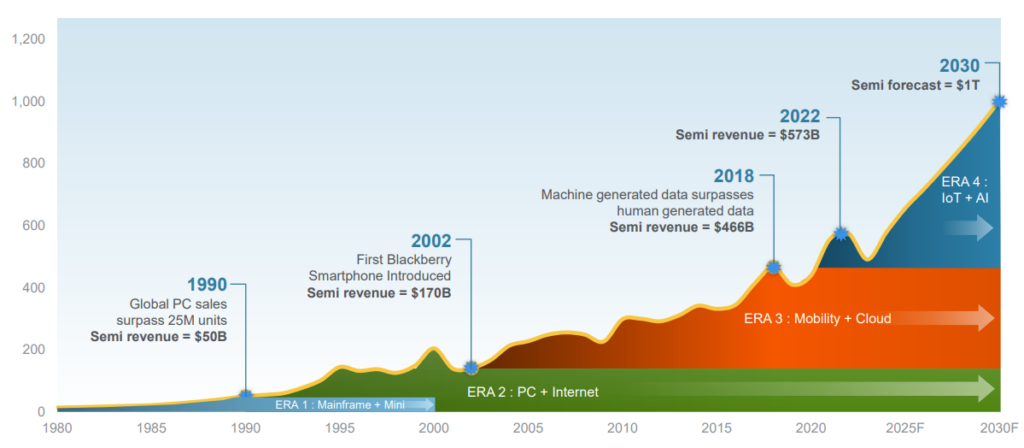 Best Semiconductor Stocks
The semiconductor industry is both very concentrated and fragmented at the same time. Each step of manufacturing is often controlled by 2-5 companies. However, very few companies are able to handle the whole supply chain, preferring to rely on trusted specialized partners. This opens up opportunities in multiple areas.
So, let's look at the best semiconductor stocks.
This list of the best semiconductor stocks is designed as an introduction; if something catches your eye, you'll want to do additional research!
---
1. TSMC – Taiwan Semiconductor Manufacturing Company Limited (TSM)
| | |
| --- | --- |
| Market Cap | $535B |
| P/E | 16.45 |
| Dividend Yield | 1.76% |
One of the best semiconductor stocks on the market is TSMC. This company is the world leader in innovation for chip manufacturing. The company is consistently on the cutting edge of innovation and was the first to produce some of the most advanced chips (notably the 7 and 5 nanometers (nm) chips), as well as the first to use extreme ultraviolet (EUV) at a large scale.
TSMC's revenue share among semiconductor foundries is simply gigantic, with only Korean Samsung a distant second and everyone else left in the dust.
TSMC foundries are currently located in Taiwan, and it is by far the most important company on the island. With increasing pressure from China for "reunification", this could put the company at risk. As a result of American pressure, the company is investing $40 billion in new foundries in the US.
Considering the dominant position of TSMC in its industry, it is trading surprisingly low multiples, no doubt due to geopolitical concerns. This also seems to have been the reason why Warren Buffett sold his last holdings of TSMC shares in May 2023.
Investors in TSMC need to take this risk into account. That risk could also provide a uniquely cheap entry point into one of the most impressive semiconductor and technology stocks in the world.
---
2. Nvidia (NVDA)
| | |
| --- | --- |
| Market Cap | $1,025B |
| P/E | 217.24 |
| Dividend Yield | 0.04% |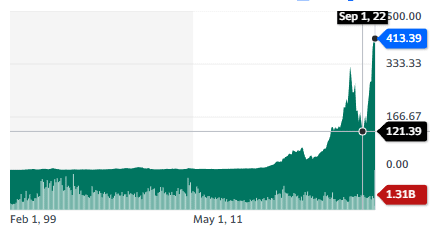 Nvidia had a rather modest beginning in a narrow niche, being a beloved manufacturer of graphic cards (GPU) for avid PC gamers. The demand for its product kept growing, boosted by the exploding popularity of video games and ever-more demanding graphics. Other computing applications like 3D modeling and specialized design software also pushed sales.
Then, graphic cards proved to be a lot better than CPUs at "mining" crypto. This led to years of out-of-stock graphics cards, with automatic "bots" buying any card in the market to resell them to crypto miners, to the dismay of traditional customers.
By 2021, crypto cooled down, and demand for graphic cards started to get back to normal, leading to a steep fall in Nvidia's stock prices.
By the end of 2022, AI will become the new most speculated sector in financial markets. And it appears that neural network training for AI relies heavily on GPU-type hardware.
And so Nvidia is back again in a situation where the demand for its graphic card seems limitless, along with its stock prices, which almost tripled in less than 9 months and pushing the company above the symbolic 1 trillion dollar valuation.
While AI is likely going to stay important, there is no discussion that Nvidia's current valuation reflects extreme optimism and speculation. So, investors entering this topic now should probably be careful.
At the same time, speculation can go on for a long time and to crazy highs, as demonstrated by the recent run-up of Tesla or crypto. So this is definitely the hottest semiconductor stock right now, with an equal chance to make a portfolio shine or burn it down.
🚀 Learn more: From SpaceX to Tesla: Explore the investment philosophy of one of today's most influential figures, Elon Musk.
---
3. Broadcom Inc. (AVGO)
| | |
| --- | --- |
| Market Cap | $362B |
| P/E | 27.47 |
| Dividend Yield | 2.17% |
While semiconductors are often understood as synonymous with computer chips and hardware, this is not true. One other major application is telecommunications, with everything from 5G antennas to optic fiber systems, data centers, and satellite communications.
In the realm of best semiconductor stocks, Broadcom stands as a major Western player with an impressive portfolio of over 17,000 patents. The company registered net revenues of $33.2B in 2022, of which $4.9B were re-invested in R&D for a net income of $9.4B.
The company has a long history of growth, largely driven by mergers and acquisitions.
The latest is the acquisition of VMware (VMW), a $61B cloud computing company, bringing another 5,000 patents to Broadcom's portfolio. This will unify the existing Broadcom solutions and turn the Broadcom Software branch into VMware. Together, VMware and Broadcom should be able to capture more of the enterprise spending on cloud computing and virtualization.
While less "glamorous" than more visible companies like Nvidia or TSMC, Broadcom is well-positioned to capture the trends of 5G, the Internet of Things (IoT), cloud computing, and overall digitization, especially in the context of increasing tensions with China and competitors like Huawei increasingly banned from competing in many Western markets.
---
4. Applied Materials, Inc. (AMAT)
| | |
| --- | --- |
| Market Cap | $122.2B |
| P/E | 18.87 |
| Dividend Yield | 0.89% |
While market attention tends to focus on chip manufacturers, equipment makers, and distributors, another segment of the semiconductors industry is the suppliers of machinery to these companies.
Semiconductor production is an incredibly complex process requiring extremely precise and reliable machinery. One of the best semiconductor stocks nowadays is Applied Materials, which specializes in providing this equipment.
Most of the company's sales (86%) are to customers in Asia, notably China (33%), Korea (22%), Taiwan (20%), Japan (8%), and South-East Asia (3%). It should also be profiting from the rush to build new foundries in the USA and EU with the goal of "de-risk" supply out of China and Asia, which will need plenty of new equipment.
It is also worth noticing that Applied Materials manufacturing facilities are located in the US, Israel, and Singapore, so even in the case of a conflict over Taiwan, the company would most likely benefit from the rush to build more foundries out of Asia.
Applied Materials is also aggressively returning capital to shareholders, both in the form of dividends and share buybacks.
The company is expanding in new fields like silicon photonics, printed electronics, 3D printing, lithium batteries, and electric motors. All of these could benefit from Applied Materials' expertise in manipulating matter at the atomic level and could represent a new segment of growth for the company.
🔋 Learn more: For those keeping an eye on emerging tech markets, our latest posts shed light on both lithium and battery stocks and ETFs worth noting.
As a keystone supplier to the industry, Applied Materials should capture a large part of the growth, as well as benefit from diversifying the supply chain. So, it is one of the best semiconductor stocks for investors looking at the semiconductor industry but afraid to get exposed to the Taiwan-China geopolitical risks.
---
5. ON Semiconductor (ON)
| | |
| --- | --- |
| Market Cap | $41.1B |
| P/E | 21.62 |
| Dividend Yield | – N/A |
ON Semi is a semiconductor company with a specialization in silicon carbide. This technology differs from classic semiconductors in that it is able to handle a lot more power and is primarily used in electric applications.
This is a technology at the forefront of electrification, especially for electric vehicles (EVs), but also for solar energy, batteries, aerospace, telecommunication, data centers, and medical. It is also useful for sensors like those used in cameras.
⚡️ Learn more: Explore the trajectory of electric vehicle stocks in 2022 and assess their potential for continued growth.
The automotive sector is the bulk of On Semi business, making up 50% of Q1 2023 revenues, and will be responsible for most of the company's growth until 2025. The other important segment is industrial/sensors, expected to grow at "only" 10% CAGR.
The leading position of the company on silicon carbide made it a key supplier for almost every company involved in handling high power or electronics, making for a very impressive lineup of clients:
ON Semi is a niche supplier providing components that need to be of the highest quality, or else a much more expensive product could fail or even become dangerous (fire, electric shock). This is a niche with a strong moat for the incumbent, as clients will be reluctant to risk changing a tried and tested supplier.
ON Semi will benefit from the overall electrification trend beyond the rising demand for semiconductors. Its stock has risen rapidly, following excellent financial results, with the current P/E in a still reasonable 20-22 range. So, as long as the growth trajectory is steady, the current price should not be too extreme and simply reflect the growing importance of the company in the EV, power, and electronic supply chain, which is why ON Semi can be one of the best semiconductor stocks to add to the portfolio.
---
6. Texas Instruments Incorporated (TXN)
| | |
| --- | --- |
| Market Cap | $163.2B |
| P/E | 20.04 |
| Dividend Yield | 2.83% |
Not all chips and electronic equipment need to be the latest and most advanced design. Most of the electronic parts used in cars, appliances, diverse devices, and military equipment are of older generations, being both cheaper and more reliable.
With a focus on capital efficiency, TI is somewhat specialized in producing this type of "good enough" electronic components. While TSMC works hard at making 7nm, 5nm, or even 3nm chips used for training AI, Texas Instrument (TI) produces 45-130nm chips.
Because these products are in demand for a long period of time, it also allows the company to amortize the costs of semiconductor foundries over a longer period, reducing the capex requirement, which is often very high in this industry.
It has a very diversified customer base, mostly driven by industrial and automotive customers.
TI's focus is on capital management, centered around a growing free cash flow (up 11% CAGR in 2004-2022). It also reduced the share count by 47% and grew dividends by 25% CAGR for 19 years.
Between its free cash flow focused strategy, a very strong moat, and operating in a less competitive segment of the semiconductor industry, TI stands out as one of the best semiconductor stocks for value investors looking for a "boring but profitable" company in a sector often very volatile and speculative.
---
Best Tech ETFs
In a quickly changing and diverse industry like semiconductors, ETFs can provide exposure to the sector as a whole while not risking individual stocks' volatility. So here are some of the ETFs covering the semiconductor industry.
1. Global X Semiconductor ETF (SEMI)
This ETF is focused on large companies, with its top 4 holdings being Nvidia, Broadcom, ASML, and TSMC, which together represent 43.4% of the whole ETF.
2. ProShare Ultra Semiconductors (USD.IV)
ProShares Ultra Semiconductors replicate two times (2x) the daily performance of the Dow Jones U.S. SemiconductorsSM Index. This is an ETF providing extra leverage on the sector. However, fees and expenses will accumulate over time in such daily balanced ETFs, making it a better trading instrument than a long-term holding.
3. Global X China Semiconductor ETF (3191 HKD)
This article mostly covered Taiwan and Western semiconductor companies, but the other largest market and manufacturing site for chips is China. If you want exposure to both sides of the growing semiconductor trade war, this ETF provides you exposure to companies like SMIC (8.11%) as well as all the other major actors of the industry in China.
---
Conclusion on the best semiconductor stocks
"Semiconductors are the new oil" has been a rallying cry of news headlines in the last few years. And there is some truth to that, considering how crucial they have become to every product.
Semiconductors have become a strategic resource and might be the core of competition between the US and China in the brewing new Cold War, maybe the modern version of the race to the Moon and space competition.
Besides geopolitics, the growth of cloud computing, AI, and other applications like the Internet of Things (IoT) will likely drive a new growth period for the industry similar to how personal computers and smartphones previously did.
So, most investors may be interested in gaining some exposure to the sector, especially when it comes to picking the best semiconductor stocks, while also being cautious to avoid the pitfall of some of the more overvalued offers.