Finding the best credit card for you can be difficult. Reddit can help. When you look at the best credit cards Reddit users recommend, you're looking at reviews from real people, many of whom are actually using the cards. They provide a perspective that review sites may not have.
Card issuers spend huge amounts of money on advertising, and it can be hard to trust that online reviewers aren't just hyping up a card that they're paid to advertise.
Quick Summary of Best Credit Cards According to Reddit
While we do our best to provide objective and helpful reviews, it can be good to get a point of view from an everyday person who has the card. That's why we scoured Reddit's threads and made a list of the best credit cards according to Reddit users.
Here Are the Best Credit Cards Reddit Users Appreciate the Most
Let's take a closer look at the best credit cards according to Reddit:
1. Discover Student
🏆 Best for Students
Discover's two student cards offer cash strong cash back in popular spending categories with no annual fee.
➕ Pros:
Easy for students to qualify for

.

Up to 5% cashback

.
➖ Cons:
Limit on earning at the highest possible rate

.
Rotating categories may be difficult to track.
Description:

Though this post is old, it's still relevant today, with Discover's student cards offering great value to cardholders. There are two student cards, the Student Cash Back and the Chrome for Students. The primary difference between them is their earning structure.
The Student Cash Back offers 1% on all purchases but 5% cash back on purchases in categories that rotate each quarter. The Chrome for Students offers 1% on all purchases but an extra 1% on gas and restaurants (up to $1,000 in spending per quarter).
Which card you should choose will depend on where you shop and whether you can take advantage of the rotating categories offered by the Discover Student Cash Back card.
As the Redditor's review notes, Discover keeps fees low, charging no annual fee for its cards, and has strong customer support. It's also easy to qualify for the card, with no credit score required to apply. Once you get the card, you can track your progress toward building credit with a free monthly FICO score update, a feature that makes these cards some of the best credit cards according to Reddit.
Of course, like most student cards, you're not going to be getting the absolute best rewards out there. There are better cash-back cards on the market once you've built some credit. Discover also may not be accepted by all retailers.
👩‍🎓 Learn more: Students seeking credit card insights might find our latest piece informative.
---
2. Discover It Secured
🏆 Best Secured Card
This card breaks from the secured card mold by having no annual fee and offering cash-back rewards. It's great for People who need to build or rebuild credit and can't qualify for other cards.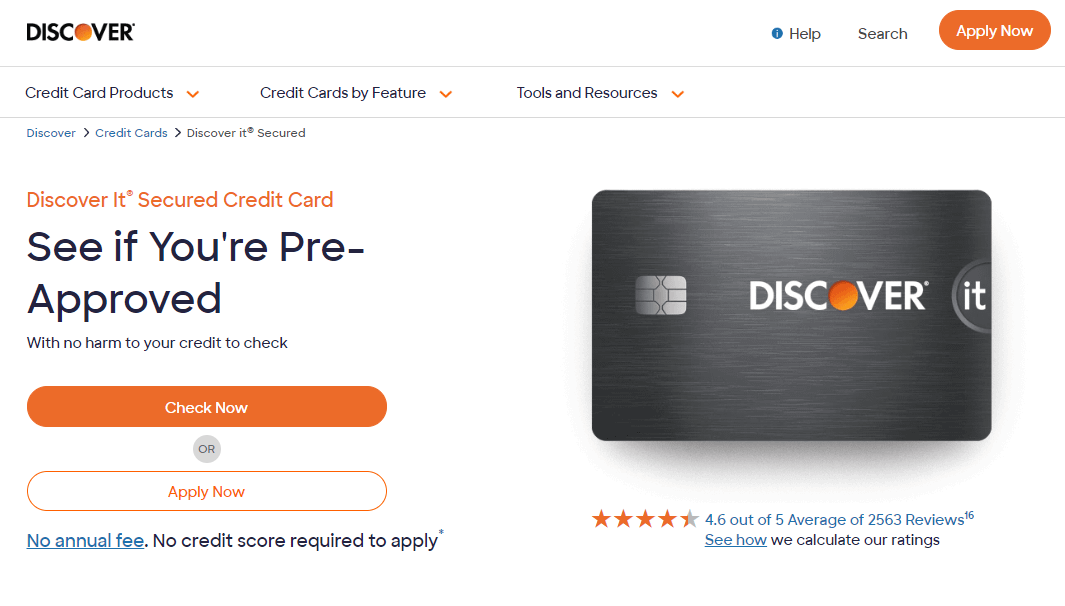 ➕ Pros:
Low minimum deposit of $200

.

Can upgrade to an unsecured card in as little as seven months

.

Earn 2% cash back on gas and restaurants and 1% cash back on all other purchases

.
➖ Cons:
Requires a cash deposit.
May not be accepted by all retailers.
Description:

Secured credit cards are a unique class of credit cards designed for people who don't have a credit history or who have damaged their credit scores in the past. To get a secured card, you need to give the lender a cash deposit. Typically, your credit limit will match the deposit you make. In essence, the lender lends your money back to you, so they take on no risk.
That makes these cards easy to qualify for, assuming you can afford the deposit. Unfortunately, because they're targeted at people who have few other credit card options, it's not unusual for these cards to carry significant annual or even monthly fees.
The Discover It Secured card is one of the top secured cards on the market, breaking the mold in a few ways. First, it charges no annual fee. Second, it offers cash-back rewards. As long as you have the funds to make the $200 deposit, you won't have to pay for the privilege of building credit, making this card one of the best credit cards according to Reddit.
As the Redditor who mentioned this card notes, you can graduate to an unsecured card over time. If you use the card well and build a good credit history, you can get your deposit back. Discover may also automatically boost your credit line, letting you use the card for larger purchases.
The downside of this card is the same as for any secure card: you need to have enough money to make the minimum deposit. If you don't have at least $200 to spare, you can't get the card. Your initial credit line will also match the deposit you make, so your credit line may be very small, making the card hard to use without inflating your credit utilization rate and harming your credit.
💳 Learn more: If secured credit cards are on your radar, our new article could be a helpful read.
---
3. Citi Double Cash
🏆 Best Cash Back Card
This card offers 2% cash back on everything you buy, making it one of the highest-earning cards that don't have bonus categories. It's the simplest possible reward formula: there's no need to track categories or wonder if a purchase is eligible for a reward, which is why it's considered one of the best credit cards according to Reddit.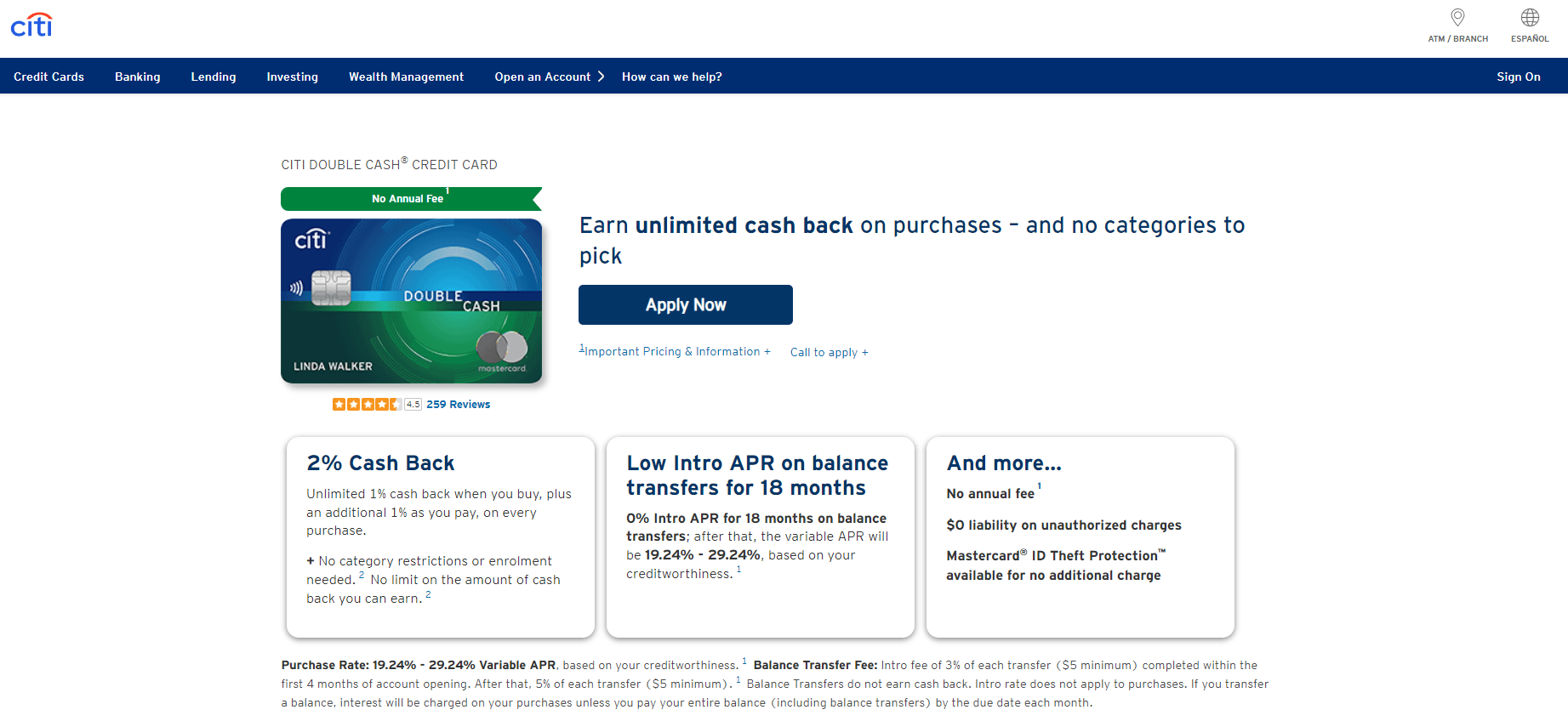 ➕ Pros:
Earn 2% cash back on everything you buy, 1% when you buy and 1% when you pay

.

No categories to keep track of

.

No annual fee

.
➖ Cons:
Category card

s

may offer higher rewards

.
No signup bonus.
Description:
If simplicity is what you're after, it's hard to go wrong with the Citi Double Cash.
Many rewards cards offer a low flat rate of cashback, typically 1%, on most purchases but higher rates on specific categories, like groceries or gas. These cards are great if you spend a lot of money on specific types of purchases, but you'll be missing out on rewards on other purchases. You can counteract this by carrying multiple cards with different bonus categories, but that can make figuring out which card to use at each store you visit quite difficult.
Citi keeps things simple by offering 2% cash back on every purchase that you make. There's no need to worry about bonus categories or memorizing where to use which card. You'll earn 1% cash back when you make a purchase and 1% when you pay your bill.
As another bonus, you can get up to 18 months of zero-interest financing when you sign up for the card. There's no annual fee.
The main drawback of the card is its lack of a signup bonus. If you want a quick lump sum reward, you'll have to find a different card.
💳 Learn more: Contemplating a new rewards card? Our recent piece can help align your choice with your lifestyle.
---
4. American Express Blue Cash
🏆 Best Grocery Card
American Express offers two Blue Cash cards, one fee-free and the other with a $95 fee. Depending on your choice, you'll earn 3% or 6% back on groceries and gas.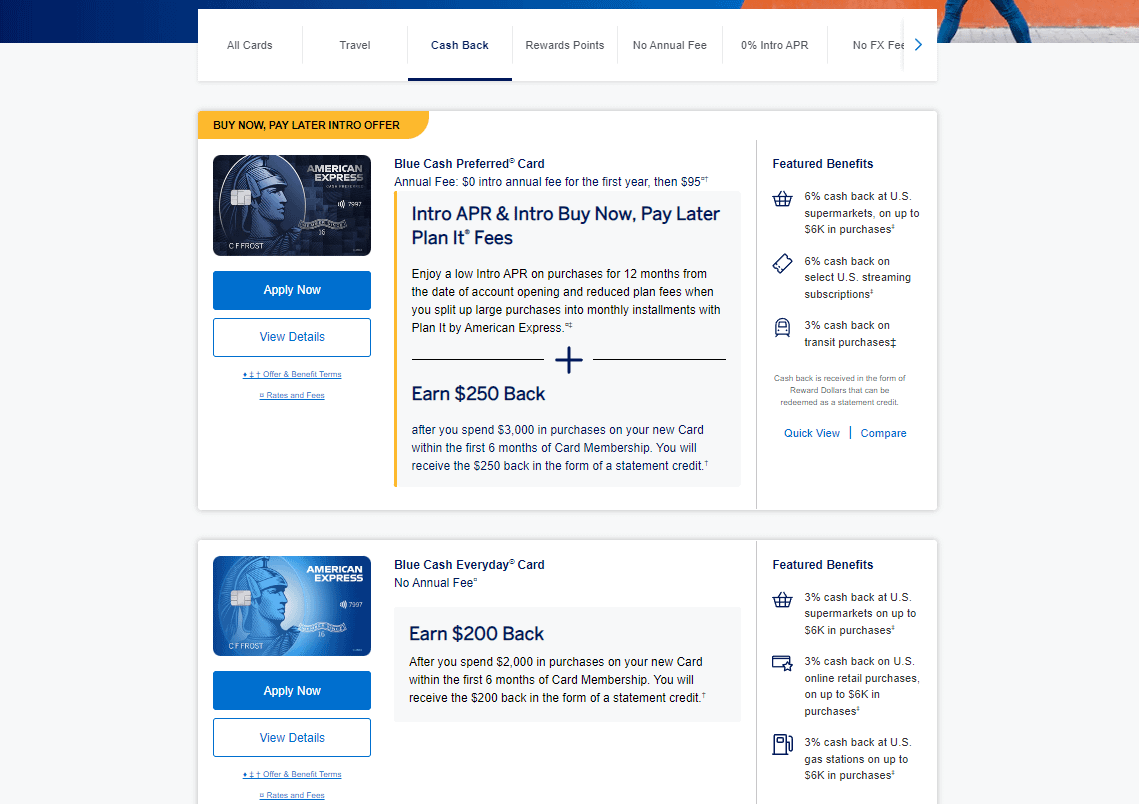 ➕ Pros:
Earn up to 6% cash back on groceries and 3% cash back on gas

.
$150 – $250 sign-up

bonus

.
➖ Cons:
Only pays 1% cash back on most purchases

.
May be harder to qualify for than some similar cards.
Description:

American Express has two credit cards that are ideal for people who do a lot of grocery shopping. Blue Cash Everyday offers 3% cash back on groceries and 2% cash back on gas, while Blue Cash Preferred offers 6% cash back on groceries and 3% cash back on gas. Both cards offer these elevated rewards on up to $6,000 in grocery spending per year.
3% and 6% are big percentages, meaning you could save a lot over the course of a year. The extra earnings for gas are also a great bonus, which is why these two cards are some of the best credit cards according to Reddit.
To decide between these two cards, think about how much you spend on groceries each year. The Preferred card charges $95 per year as an annual fee but offers double the cash back. For the extra 3% to outpace the fee, you need to spend $3,166 on groceries in a year. So, if you spend about $250 per month at the grocery store, the Preferred card will save you money overall.
To sweeten the deal, both the Everyday and Preferred card offer signup bonuses and the Preferred card also offers credits for popular services, such as Disney+.
The main drawback of the card is that American Express may be more selective about who it approves. It also is not as widely accepted as some other cards, though most major grocers will accept American Express.
🛒 Learn more: Looking to optimize your grocery spending? Our recent article breaks down the top credit cards for that.
---
5. Chase Sapphire Preferred
🏆 Best Travel Card
The Chase Sapphire Preferred has a strong signup bonus and great transfer partners, making it ideal for people seeking travel rewards.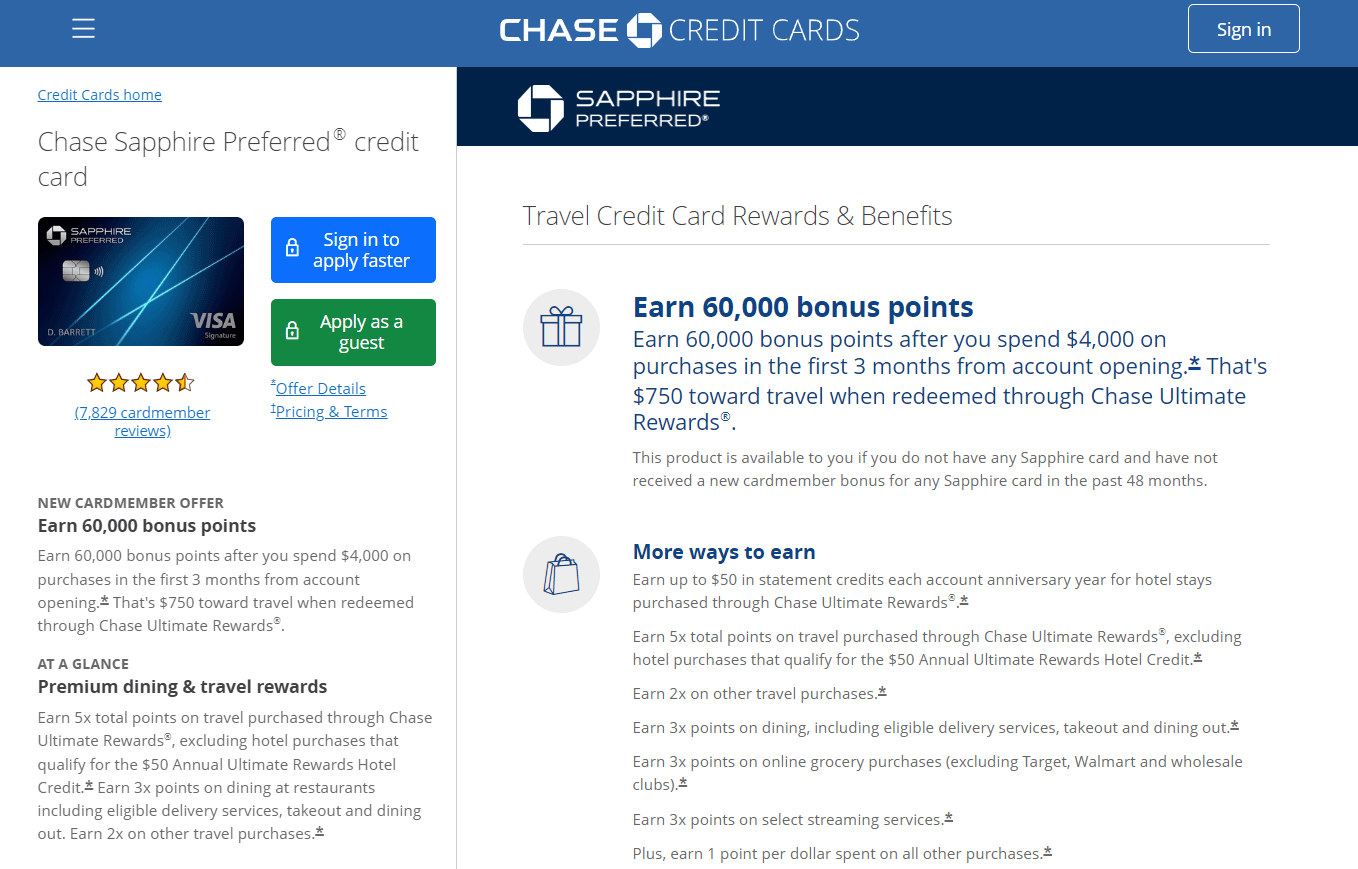 ➕ Pros:
60,000 point sign-up bonus (worth $750 toward travel)

.

$50 in credits for hotel stays each year

.
➖ Cons:
$95 annual fee

.
Maximizing reward benefits may be challenging.
Description:

The Chase Sapphire Preferred is one of the best credit cards according to Reddit, if you're looking for your first premium travel card. With a $95 annual fee, it's not too expensive, and it offers some great perks.
First, you can earn a signup bonus of 60,000 points when you spend $4,000 in the first three months that you have the card. That's worth $750 when redeemed through Chase's travel portal. You'll earn 1 point for every dollar that you spend, plus bonus points on travel, dining, streaming, and online grocery purchases.
When you do travel, you can keep using the card to earn rewards: there is no foreign transaction fee.
One tip for supercharging the value of the card is to pair it with another Chase card, such as the Chase Freedom. You can transfer Chase Ultimate Rewards Points from other Chase cards to your Sapphire Preferred, then redeem them for 25% more value when paying for travel.
However, to really get the most out of the card's rewards, you'll need to play the partner transfer game. You can transfer Ultimate Rewards points to airlines and hotel loyalty programs, such as Southwest, Marriot, IHG, and United. If you look carefully, you can find transfer and redemption options that offer massive value.
🛫 Learn more: For the frequent traveler mindful of fees, we've outlined the best no-annual-fee options in our newest article.
---
6. American Express Platinum
🏆 Best Luxury Card
With a massive annual fee, this card is only for big spenders who want to travel in luxury.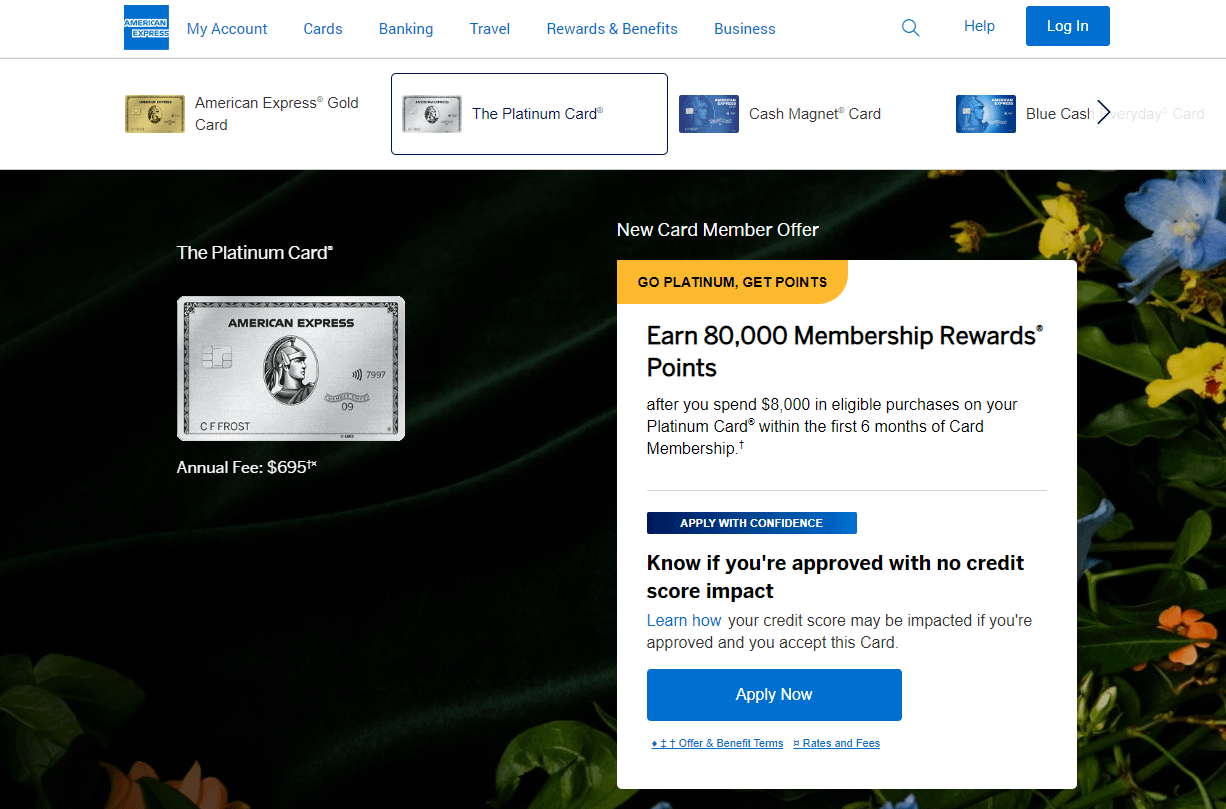 ➕ Pros:
Sign-up bonus of up to 100,000 points.

More than $1,000 in statement credits for services like Uber, Airline Fees, Walmart+ and more.
➖ Cons:
Ongoing rewards rates are mediocre

The annual fee is very high.
Description:
The American Express Platinum Card is one of the few credit cards that most people could probably name when they see it. It has cachet as one of the most premium luxury cards on the market, and for good reason.
The Platinum Card charges a whopping $695 annual fee but makes up for it in many ways. First, you can earn a signup bonus that sometimes reaches as high as 100,000 points, worth $1,000 or more, when you first get the card. When you redeem those points for your next trip, you can travel in luxury with complimentary access to more than 1,400 airport lounges around the world.
The card also helps cover its annual fee through various statement credits. You can get:
$200 in Uber Cash
$200 toward airline fees
$155 toward Walmart+
$200 in hotel credits
$240 on eligible digital entertainment
$300 toward Equinox
$100 for purchases at Saks
$189 for a CLEAR membership
All told, there are more than $1,000 in credits that could offset the fee.
The only disappointing fact about this card, other than its high fee, is that it's not the best card for people who want to earn rewards on an ongoing basis. You'll earn just 5x points per dollar spent on flights and hotels booked through AmexTravel and 1x points on everything else. Many other cards offer more appealing ongoing rewards.
💳 Learn more: Excellent credit? Reward yourself by exploring the most fitting credit cards we've detailed in our recent post.
---
Conclusion on the Best Credit Cards Reddit Users Love Most
We hope our list of the best credit cards according to Reddit, has provided valuable insights to simplify your decision-making process, as there are hundreds of credit cards on the market, and each of these niches offers multiple options. The cards discussed here received high marks from users who talked about their experiences on social media, but you'll still need to consider your specific needs and choose the cards that fit those needs best.
Online reviews are worth looking at, but the reviewer's needs may not match yours. Always shop around!