If you like traveling, you might want to get a credit card that you can use to earn travel rewards. A cash-back credit card can give you money to put towards flights and hotel stays, but a dedicated travel card often offers better value if you plan to redeem rewards for vacations.
Many travel cards are premium products aimed at jet setters. The Chase Sapphire Reserve card, for example, has an annual fee of $550 and requires excellent credit. The perks can be worth it for some people, but that's a hefty price tag for most of us.
Every day people like travel rewards too, so here's a list of the best no-fee travel credit cards.
Best No Annual Fee Travel Cards
We looked at dozens of travel credit cards to find the best options that don't carry an annual fee. We considered factors such as their rewards rate, the flexibility of the rewards, and whether the card offers any perks like room upgrades or airline fee waivers.
We came up with this list of cards:
Let's look at those cards in more detail.
BEST OVERALL
Wells Fargo Autograph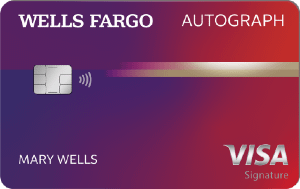 ➕ Pros:
Strong signup bonus
Lots of bonus categories
Cell phone insurance
The Wells Fargo Autograph is one of the best fee-free travel cards out there. It has a strong signup bonus of 30,000 miles and lets you earn elevated rewards on some of the most common purchase categories, including dining, gas, and streaming services. You should be well on your way to a free flight or hotel stay shortly after getting the card.
The primary drawback is that the card has a high APR after its 12-month 0% introductory period, You'll want to avoid carrying a balance if at all possible.
BEST FOR LOW APR
Bank of America Travel Rewards
➕ Pros:
Simple rewards structure
Boost earnings by up to 75% with Preferred Rewards
No foreign transaction fee
➖ Cons:
Earning rate is average without Preferred Rewards
Bank of America's travel card can be a fine option or one of the best, depending on your status with the bank. Preferred Rewards is Bank of America's program to reward people with large balances deposited in their bank accounts or in Merrill Edge investment accounts.
You can earn 25% – 75% more rewards based on your balance, with the 25% bonus kicking in at a $20,000 balance and a 75% bonus kicking in at $100,000.
If Bank of America and Merrill are your bank and broker, you'll do well with the card. If not, you'll probably be able to earn more elsewhere.
HIGHEST REWARDS
Chase Freedom Unlimited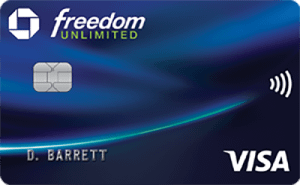 ➕ Pros:
Easy to earn a sign-up bonus
Solid baseline rewards with good bonus categories
Points become worth more if you get a premium Chase card
➖ Cons:
Does not offer travel perks
The Chase Freedom Unlimited has a solid baseline rewards rate of 1.5x points on everything you buy while still offering bonus categories providing up to 5x points. That makes it a good choice for people who like the simplicity of a flat-rate card but who want to earn a bit extra.
If you have long-term travel plans, you can pair this card with a premium Chase travel card when it comes time to redeem. Those cards carry a fee but have lucrative signup bonuses and boost the value of the points you've earned on any Chase card by 25% or 50%.
The card's greatest drawback is that Chase treats it as a cashback card. You can use the rewards for travel, but the card doesn't offer specific travel perks.
BEST FOR FREQUENT FLYERS
Citi AAdvantage Platinum Select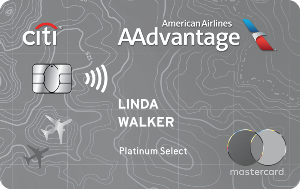 ➕ Pros:
Strong signup bonus
Perks when you fly on American Airlines
➖ Cons:
Benefits are restricted to a single airline
Have to change card after one year to avoid fees
The Citi AAdvantage Platinum Select card has a great sign-up bonus of 50,000 miles and gives you benefits like free checked baggage and priority boarding when flying on American Airlines. If you're a fan of American, this card is great, but it's all but useless if you prefer to fly on other carriers.
Another thing to note is that this card technically has an annual fee, though it's waived in the first year. You can get this card, land the signup bonus, and use the premium perks, then swap to the fee-free card after a year to avoid paying. This is a common strategy among credit card churners.
BEST FOR FREQUENT HOTEL STAYS
Hilton Honors Card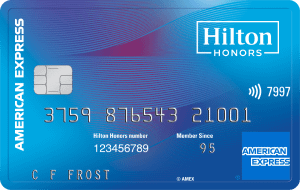 ➕ Pros:
Sign up bonus worth up to 16 free nights at off-peak times
Automatic Silver status
Strong earnings
➖ Cons:
Benefits are tied to one hotel chain
The Hilton Honors Card is a great choice for Hilton loyalists who want a fee-free credit card. Its sign-up bonus can net you as many as sixteen nights at off-peak times, though more realistically will get you three to five at most hotels. Still, that's enough nights to cover most of a vacation.
On top of the sign-up bonus, you'll get Silver status with Hilton, which includes perks like a free fifth night on any stay.
The obvious drawback of the card is that you only get these perks at Hilton. If you prefer another hotel chain or there's no Hilton in the places you want to visit, you're out of luck.
BEST FOR AVERAGE CREDIT
Capital One VentureOne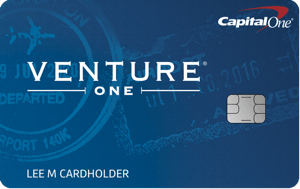 ➕ Pros:
Only requires average credit
Sign up bonus has a low spending requirement
15-month 0% APR period
If you have less than stellar credit, the Capital One VentureOne Card might be a good fit for you. It doesn't require great credit and won't make you spend much, just $500, to earn its sign-up bonus.
Another nice perk is its 0% APR period, which lasts a bit more than a year. You can consider transferring other cards' balances to VentureOne to save some money while you pay them off, which can help you build credit.
As you'd expect, given its availability to people with average credit, the VentureOne doesn't offer the best rewards on the market, giving you just 1.25x miles on most purchases.
BEST WELCOME BONUS
Discover it Miles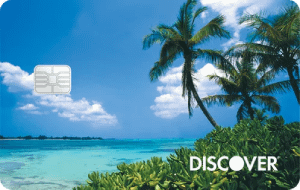 ➕ Pros:
Great sign-up bonus for big spenders
Flexible redemptions
➖ Cons:
Sign up bonus is only good if you spend a lot
It may not be as widely accepted as some options
The Discover it Miles card is unique in that its sign-up bonus could be huge or could be almost nothing. It all depends on how much you spend. The card offers 1.5x miles on purchases but doubles that for your first year with the card.
If you spend $1,000 on the card, your bonus will be just 1,500 miles. If you spend $20,000, you'll get 30,000. That makes this card a top pick for people who expect to spend a lot in their first year. If you're not a big spender, other cards will offer better bonuses.
Compare Travel Cards
| Card | Rewards | Bonus | Perks |
| --- | --- | --- | --- |
| Wells Fargo Autograph | 3x points on restaurants, travel, gas, transit, streaming, and phone service | 30,000 points when you spend $1,500 in the first three months | Up to $600 in cell phone protection when you pay your phone bill with the card. No foreign transaction fee |
| Bank of America Travel Rewards | 1.5x points on all purchases | 25,000 points when you spend $1,000 in the first 90 days | Boost your earnings by up to 75% with Bank of America Preferred Rewards. No foreign transaction fee |
| Chase Freedom Unlimited | 5x points on travel through Chase Ultimate Rewards. 3x points on dining, takeout, and drugstores. 1.5x points on everything else | 20,000 points when you spend $500 in the first three months. Earn 5x points on grocery purchases up to $12,000 in the first year | Pool points with premium Chase cards for greater value. Three months of DoorDash DashPass for free. Three months of Instacart+ for free |
| Citi AAdvantage Platinum Select | 2x miles on restaurants, gas, and American Airlines bookings. 1x on everything else | 50,000 miles when you spend $2,500 in the first three months | Free checked bags for you and up to four travel companions. Preferred boarding. 25% discount on inflight food and beverages. No foreign transaction fee |
| Hilton Honors | 7x on Hilton bookings. 5x on dining, gas, and groceries. 3x on everything else | 80,000 points when you spend $1,000 in the first three months | Automatic Silver status, which includes a free fifth night on all stays and discounts on spa service. No foreign transaction fees |
| Capital One Venture | 5x miles on hotels and rental cars through Capital One Travel. 1.25x on everything else | 20,000 miles when you spend $500 in the first three months | No foreign transaction fee. Redeem points toward any travel purchase. Access to Capital One Lounges |
| Discover it Miles | 1.5x miles on everything | Double your earnings to 3x miles on everything for the first year | Redeem miles toward any travel purchase or for cash |
How to Pick the Best No-Fee Travel Credit Card for You
Picking the best rewards card for travel (or anything really) takes a bit of thinking.
First, figure out whether you want a card that offers flexible rewards or rewards tied to a specific hotel or airline. Flexible cards have the obvious perk of letting you choose how to book travel, but cards tied to specific hotels or airlines usually come with better rewards or perks, like discounts or premium status.
Next, consider rewards rates and sign-up bonuses. Do you want a card that will give you a big stack of rewards upfront, or do you want to focus on long-term earnings? Look for a big sign-up bonus or strong ongoing rewards based on your answer. If you're looking for the latter, make sure to choose a card that offers bonus rewards in categories where you're likely to spend a lot.
Don't forget that some credit cards charge a fee for transactions outside of the US. If your travel plans include going overseas, look for a card with no foreign transaction fee.
Is it Worth Getting a Credit Card Just for Travel?
Whether you should get a travel card depends mostly on your travel habits. Obviously, if you don't get out much, a travel rewards card won't be a great fit for you.
If you do like to travel, a credit card just for that purpose might make sense. But again, it depends on your habits. Roadtrippers will benefit from hotel cards, but cards that focus on flights won't be useful. People who only travel once a year or less probably don't need to crowd their wallets with a dedicated card.
In general, if you travel a couple of times a year or more often, a travel card is a good thing to have. They can also be great if you have a trip you want to go on and you plan to use a lucrative sign-up bonus to help pay for some of the cost.
Methodology
When comparing cards, we looked at the following factors:
Earning rate: Higher is better
Sign-up bonus: Higher bonuses with lower minimum spending are better
Perks: Higher-value and easier-to-use perks are better
Flexibility: More flexible redemption options are better than those tied to a single airline or hotel chain
Other: We also considered things like bonus categories and quality of customer service when selecting these cards