Credit builder loans offer an accessible and affordable way to build credit. These loans are designed specifically to help people establish or improve their credit. Many have low interest rates and favorable terms.
We created this guide to the best credit builder loans to help you decide which credit builder loan to use. We compared nationally available lenders offering credit builder loans based on availability, loan term, APR, credit check, and other factors.
How Does a Credit Builder Loan Work?
When you take out a credit builder loan the lender will place the sum you borrowed in a locked account. When you finish making the monthly payments they will release the sum to you, minus interest and fees.
Because the lender keeps the money, there's almost no risk for them. That's why they can make these loans to people with no credit or poor credit.
If you have a thin credit file or no credit file a credit builder loan can put an installment loan on your record. If you make on-time payments you will build a positive payment history.
📚 Learn more about how credit builder loans work.
Best Credit Builder Loans
We've limited this article to nationally available lenders offering credit builder loans online. Many local and regional banks and credit unions also offer credit builder loans. It's worth asking your own bank or credit union and searching online for regional lenders that serve your area.
None of these credit builder loans require a credit check, and they all report to all three credit bureaus.
Self – Best for building credit and savings in one plan
Credit Strong – Best for large loan amount
MoneyLion – Best for easy access to funds
SeedFi – Best for payment flexibility and costs
Digital Federal Credit Union – Credit union membership, low rates, no fees
The descriptions below focus on the highlights, as well as the pros and cons of each lender. Interest rates, loan terms, and loan amounts are presented in the table below for easy comparison.
👇 Compare credit builder loans
---
Self
Self claims to have helped over 1 million consumers improve their credit. Their program offers two features we really like: the potential for a Self Visa Secured Credit Card (tied to your credit-builder account), and a choice of four different plan levels.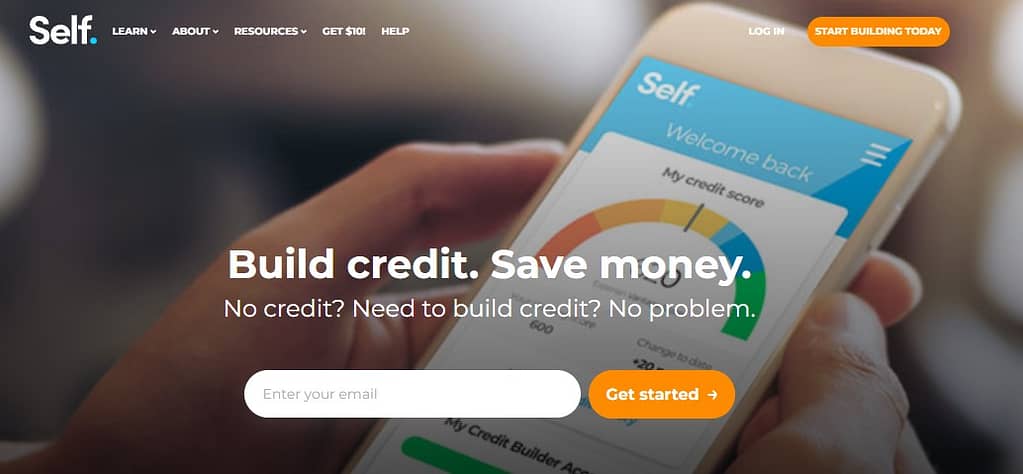 The credit card, if it's provided, will be secured by the balance in your account after as little as three months. The four different plan levels let you choose the one you're most comfortable with.
A secured credit card will place a revolving credit account on your credit record along with the installment account of your credit-builder loan, improving your credit mix and adding to your credit-building power.
Self Credit Builder Loan Pros & Cons
Pros:
Offers four different plans, each with a different loan amount, term, and monthly payment.
You may be eligible for a Visa secured credit card after just three months of participating in the program.
No credit check or pre-qualification required.
Small, transparent setup fee of just $9.
Reports all three major credit bureaus.
Available in all 50 states.
Cons:
Interest rates charged are at the higher end of the range for providers in this guide.
Self Credit Builder Loan Cost
| | Small Builder | Medium Builder | Large Builder | X-Large Builder |
| --- | --- | --- | --- | --- |
| One-time fee | $9 | $9 | $9 | $9 |
| Monthly payment | $25 | $35 | $48 | $150 |
| Term | 24 months | 24 months | 12 months | 12 months |
| APR | 15.92% | 15.97% | 15.65% | 15.91% |
| Total payments | $600 | $840 | $576 | $1,800 |
| Get back | $520 | $724 | $539 | $1663 |
| Final cost | $89 | $125 | $46 | $146 |
Self Financial compensates us when you sign up for Self Financial using the links provided.
Start Building Credit with Self
---
Credit Strong
Credit Strong offers three types of accounts, each of which targets a different audience. Within each category, there are at least two options.
Subscribe accounts that prioritize keeping your monthly payment down
Build and Save accounts that have the shortest repayment terms
MAGNUM accounts that have the lowest APRs and highest principal amounts to help users prepare for building business credit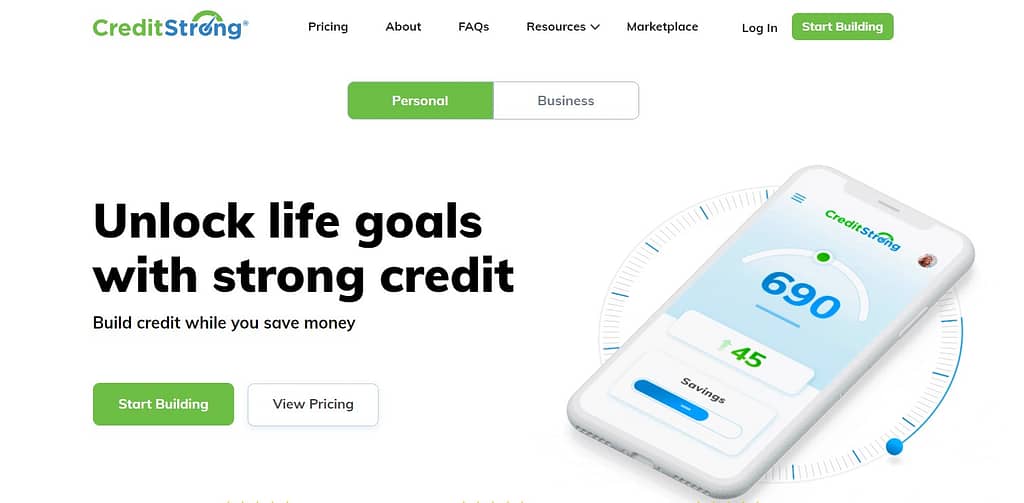 With two Subscribe accounts using minimum monthly payments, loan terms will extend to 120 months. But you can choose 12 or 24 months if you want to complete the program sooner, though it will require higher monthly payments.
A longer loan term will keep your tradeline active longer, extend your credit history, and boost your credit more. It will also add to your total interest cost.
You can cancel the account and remove the money that has been credited, but be careful. The percentage of your payment that goes to interest is much higher early in the loan term. If you cancel early you may get back a lot less than you put in.

Read the loan terms thoroughly before you apply, and be sure you understand them.
Credit Strong Pros & Cons
Pros:
Choose from seven plans with variable terms. Both improve your credit and build your savings.
No credit check or pre-qualification required.
Reports to all three major credit bureaus.
Available in all states except Wisconsin and Vermont.
Cons:
Plans with the lowest monthly payment can take up to 10 years to complete. This adds to your credit history but increases your interest cost.
Credit Strong Cost
SUBSCRIBE 1000
SUBSCRIBE 2500
BUILD AND SAVE 1000
BUILD AND SAVE 1100
BUILD AND SAVE 2000
MAGNUM® 5000
MAGNUM® 10000
One-time fee
$15
$15
$15
$15
$15
$25
$25
Monthly Payment
$15
$30
$48
$38
$96
$55
$110
Max Term
10 years
10 years
24 months
36 months
24 months
10 years
10 years
Loan Amount
$1,000
$2,500
$1,000
$1,100
$2,000
$5,000
$10,000
APR
13.5%
7.75%
15.51%
15.73%
14.74%
5.91%
5.85%

First 24 months (36 months for Build & Save 1100)

Total payments
$360
$720
$1,152
$1,368
$2,304
$1,320
$2,640
Get back
$110
$359
$1,000
$1,100
$2,000
$783
$1,566
Final cost
$250
$361
$152
$268
$304
$537
$1,074
Read our full review of Credit Strong
---
MoneyLion
MoneyLion's Credit Builder Plus program helps you to build your credit and savings and also gives you access to some of your loan funds immediately. It's also one of the most costly programs on our list: they charge a $19.99 monthly membership fee with the plan.
However, you can earn Lion's Share Cashback of up to $19.99 per month by using MoneyLion's RoarMoney mobile banking system. You'll get your paycheck up to two days early and you can draw interest-free cash advances up to $300 per pay period. You'll also be able to open a robo-advisor investment account with as little as $5.
The RoarMoney plan comes with a debit card for spending, as well as fee-free access to more than 55,000 in-network ATMs.
MoneyLion claims that over half their Credit Builder Plus customers see a credit score gain of 42 points or more within 60 days.
If you're interested in the RoarMoney account and the full range of MoneyLion products, the Credit Builder Plus loan is a very solid choice. If you just want a stand-alone credit builder loan the fee will be on the high side.
MoneyLion Credit Builder Plus Pros & Cons
Pros:
You'll have access to a portion of the loan proceeds immediately.
Other financial services provided, including a visa card with cash back rewards and an investment plan.
Cash advances on your paycheck at up to $300 and 0% APR.
Cons:
Monthly membership fee of $19.99 for participation.
Not available in Indiana, Iowa, Montana, Nebraska, Nevada, and Vermont.
---
SeedFi
SeedFi's Credit Builder Prime also combines the ability to build credit and accumulate savings through monthly payments. You can choose monthly payments of $10 to $40 per pay period. You'll have the option to make payments weekly, twice monthly, or monthly. You can even choose the due date of the payments, based on your salary schedule.
SeedFi claims that customers see an average 45 point credit score gain with on-time payments.
SeedFi Credit Builder Pros & Cons
Pros:
Choose the monthly payment plan that works best for you.
APR is on the lower end of the credit builder spectrum.
Reports all three major credit bureaus.
There are no late fees.
Cons:
You must earn at least $10,000 in annual take-home income to qualify.
Only available in 33 states.
Loan amounts limited to $500 only.
Funds are not available for withdrawal until the program has been completed.
SeedFi Credit Builder Cost
| | Plan Costs | Plan Example |
| --- | --- | --- |
| One-time fee | $0 | $0 |
| Monthly fee | $1 | $1 |
| Monthly payment | $10-$40 | $20 (Every 2 weeks) |
| Term | 7 – 27 months | 12 months |
| APR | 4.03% to 5.26% | 4.62% |
| Total payments | / | $511.96 |
| Get back | / | $500 |
| Final cost | / | $11.96 |
Read our full review of SeedFi
---
Digital Federal Credit Union
Digital Federal Credit Union (DCU) is based in Massachusetts but offers services to customers nationwide. They offer their credit builder loan to help consumers improve their credit while building savings.
There are several advantages to obtaining a credit builder loan through DCU. You will become a member of the credit union. That'll immediately establish a banking relationship with the potential to offer other programs, like credit cards, loans, home mortgages, and certificates of deposit.
DCU pays dividends on the account securing your loan. That will at least partially reduce the APR you'll pay on the loan.
DCU Credit Builder Loan Pros & Cons
Pros:
Loan amounts available up to $3,000.
DCU's APR is on the low end of the credit builder loan range.
There are no fees for a credit builder loan.
As a member of DCU you'll have access to other banking programs offered by the credit union.
Reports all three major credit bureaus.
Available in all 50 states.
Cons:
You will need to open a deposit account with DCU to be eligible for the credit builder program. This is standard practice for credit unions.
---
Compare Credit Builder Loans
To simplify your choice and the siding on the best credit builder loan for your needs, the table below provides a side-by-side comparison of all 5 lenders. But unlike the descriptions above, it zeroes in on the more specific details of the loans provided and the qualifications required.
💡 If the table below looks confusing, be sure to read our article on costs of credit builder loans to get familiar with the terms and see how each of them influences the amount of money you'll end up paying.
Lender
Loan amount
Term (months)
APR*
Set-up fee
Credit check
Prequalify
3 Bureaus
Self
$520 – $1,663
12 – 24
15.65% – 15.97%
$9
❌
❌
✔️
Credit Strong
$1,000 – $10,000
12 – 120
7.75% – 13.50%

$15 or $25

❌
❌
✔️
MoneyLion
Up to $1,000
12
5.99% – 29.99%
$19.99/month
❌
❌
✔️
SeedFi
$500
7 – 27
4.03% – 5.26%
$1/month
$0.50/twice monthly
$0.46/every 2 weeks
❌
✔️
✔️
DCU
$500 – $3,000
12 – 24
As low as 5.00%
$0
N/A
N/A
✔️
* APRs often change. Check lender websites before applying.
What You Need to Know When Shopping for a Credit Builder Loan
When shopping for a credit builder loan you should fully understand that not all programs are identical. Keep the following factors in mind during your search:
👉 Many lenders require the borrower to provide funds upfront.
That can either be a security deposit representing part of the loan amount requested, or funds for a savings account as full collateral for the loan. If you don't have the cash, you won't be able to qualify. None of the lenders we've included in this guide have upfront cash requirements.
👉 You won't have access to the savings account funds.
Though some lenders will give you access to a portion of the loan proceeds, the majority won't allow you to touch the money until the loan has been paid in full.
👉 There's no need to pay high interest rates.
Some credit builder lenders charge high interest rates or exorbitant fees, taking advantage of the borrower's lack of credit. But when you use credit builder loans, like those offered by the lenders on this list, interest rates and fees should be in line with other types of personal loans.
👉 If you don't make your payments on time you'll have another negative credit entry.
A credit builder loan will only improve your credit if you make your payments on time. Late payments will be reported to the credit bureaus and could harm your credit.
👉 Be sure the lender reports to all three major credit bureaus.
The three major credit bureaus are Experian, Equifax, and TransUnion. Since each issues its own credit report and credit score, you'll want to make sure the credit improvement occurs on all three. It will do you little good to have an improved credit score on one, but not on the other two. Look for lenders that report to all three credit bureaus.
How We Chose the Best Credit Builder Loans
Each of the lenders included on this list has the benefit of not requiring the consumer to put up a security deposit or savings account to qualify for the loan. Instead, each lender either deposits an amount equal to the loan into a locked savings account or enables you to build the account gradually, through monthly payments. That eliminates the need to come up with cash upfront, which may be difficult for many who are struggling with credit issues.
Otherwise, we used the following seven general criteria to choose the lenders on this list:
Best For Feature
We've highlighted what we believe to be the best feature of each of the 5 lenders. This criterion is highly subjective. But by knowing what a lender does best, you may be in a better position to choose which to work with.
Availability
Not all states allow credit builder loans. We tried to focus on lenders that are as widely available as possible and offer online applications. Local and regional banks and credit unions do offer credit builder loans and are worth considering, but it's not possible to offer a full list of local and regional lenders here.
Loan Amount
Credit builder loans are typically small, no more than $1,000 or so. But we've included several that will go up to $3,000. The higher loan amount will be a real benefit if you also plan to use the credit builder loan to build savings.
Term
Loan terms for credit builder loans are usually short, no more than 12 or 24 months. That's generally all that's needed for building a good credit reference. After 24 months you should have good enough credit to build your record without a credit builder loan.

Though we did include Austin Capital, which will extend the term to as long as 10 years. That won't be necessary for most consumers in the credit building phase. It can be a nice option to have.
APR
APR is always a factor when borrowing money. As you can see from the table above, we've focused our list on those charging lower rates, usually in single digits.
Credit Check and Prequalification Requirements
Credit builder loans are designed specifically for those with low credit scores, or no credit at all. For that reason, we've favored lenders that don't check credit. That said, the banks and credit unions included on this list don't indicate whether they do or not. You should assume a credit check will be part of the application with these lenders, though it's unlikely to result in a loan decline.
Income verification may be required. Again, we prefer those that don't have this requirement, but it's expected with those lenders offering loans in which payments are deposited into a savings account. Since these loans are unsecured on the front end, some type of at least rudimentary income check is a logical requirement
Reports to All Three Bureaus
This is the primary purpose of taking a credit builder loan. By reporting your good credit history to each of the three major credit bureaus, you'll have an opportunity to build and/or improve your score across the board.
Standalone lenders included on this list do report to all three bureaus. Most banks and credit unions don't indicate if they do or not, but reporting is typically standard procedure in these institutions.
Secondary Benefits
While some of the lenders on this list provide primarily or exclusively credit builder loans, others offer other benefits. Those might include other financial services, like banking and traditional loans, investment services, and multiple loan programs.
Bottom Line
If you've been having difficulty building or improving your credit score, credit builder loans are a possible solution. In many cases, the credit builder loan will also help you to build savings.
You will be paying to build credit, but if you need to develop a credit score and have no other realistic option, it can be worth it. Be sure to assess what you will pay and how much you expect to improve your score, and decide whether it's worth it.
Remember that people with thin credit files will see the biggest score gains.
For many people struggling to get out of the financial starting gate, the combination of the two benefits coming from one loan product makes credit builder loans a solid strategy.
All Credit Builder Accounts made by Lead Bank, Member FDIC, Equal Housing Lender, Sunrise Banks, N.A. Member FDIC, Equal Housing Lender or Atlantic Capital Bank, N.A. Member FDIC, Equal Housing Lender. Subject to ID Verification. Individual borrowers must be a U.S. Citizen or permanent resident and at least 18 years old. Valid bank account and Social Security Number are required. All loans are subject to ID verification and consumer report review and approval. Results are not guaranteed. Improvement in your credit score is dependent on your specific situation and financial behavior. Failure to make monthly minimum payments by the payment due date each month may result in delinquent payment reporting to credit bureaus which may negatively impact your credit score. This product will not remove negative credit history from your credit report. All loans subject to approval. All Certificates of Deposit (CD) are deposited in Lead Banks, Member FDIC, Sunrise Banks, N.A., Member FDIC or Atlantic Capital Bank, N.A., Member FDIC.
The Self Visa® Credit Card is issued by Lead Bank, Member FDIC, Equal Housing Lender.