Despite the title of this article, it's no secret that Alibaba (BABA) is a giant company, with massive growth potential. Like its older American cousin, Amazon, Alibaba dominates the e-commerce market on the Asian continent.
It's been a pretty incredible growth story… so far.
The Chinese Communist Party (CCP) has been issuing increasingly strict rules and fines for large publicly traded companies of late. Some of the most recent crackdowns included the decimation of the entire Chinese e-learning industry or the very recent limitations on children playing video games.
Ever since the CCP's policies became public knowledge, sentiment has drastically changed for the company. The stock price has tanked since October 2021, as investors have grown increasingly wary of the CCP's interference.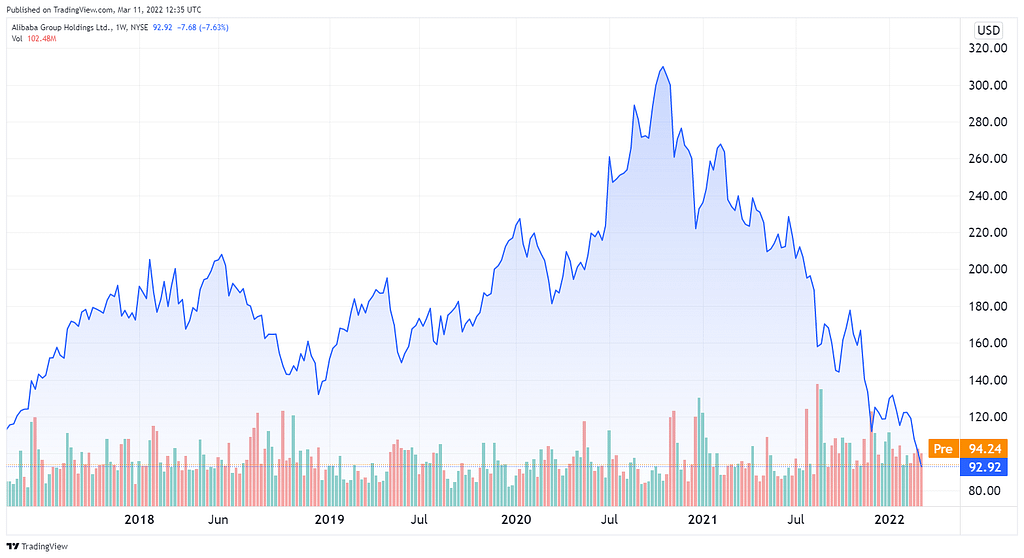 But here's the thing: I still think Alibaba is still a fantastic business.
Is the CCP a threat to the business model? Indeed, I think it is a risk one must consider, but I don't think it is as huge as some are making it out to be.
As a long-term investor, this short-term fear in the market has created what could be an amazing long-term opportunity.
This is incredible because I think this is (almost, minus the CCP) equivalent to buying Amazon back in 2010.
That being said, I think the future potential of Alibaba's value has yet to be unlocked. That's because the company has a potentially very profitable idea they haven't even introduced yet.
Let's discuss Alibaba's big (and valuable!) secret I don't hear anyone talking about.
Cloning Amazon's Biggest Success
As I mentioned previously, Alibaba takes a lot of inspiration from Amazon. From its e-commerce platform, cloud computing network, and film studios, Alibaba almost seems like a clone. But that's not entirely true.
There is one business practice Alibaba has not yet cloned from Amazon: Amazon Prime.
Alibaba.com is not the only e-commerce website owned by the company. In fact, it's just one small piece of the puzzle. It's safe to say that Alibaba is Chinese e-commerce, as they own so many companies serving different customers.
Here are the main ones:
Alibaba
1688
Taobao
TMall
AliExpress
These are the core companies that Alibaba uses for its e-commerce ventures, with each one having a slightly different focus than the other. The combined user base of these platforms is simply staggering, reaching over 1.1 billion users!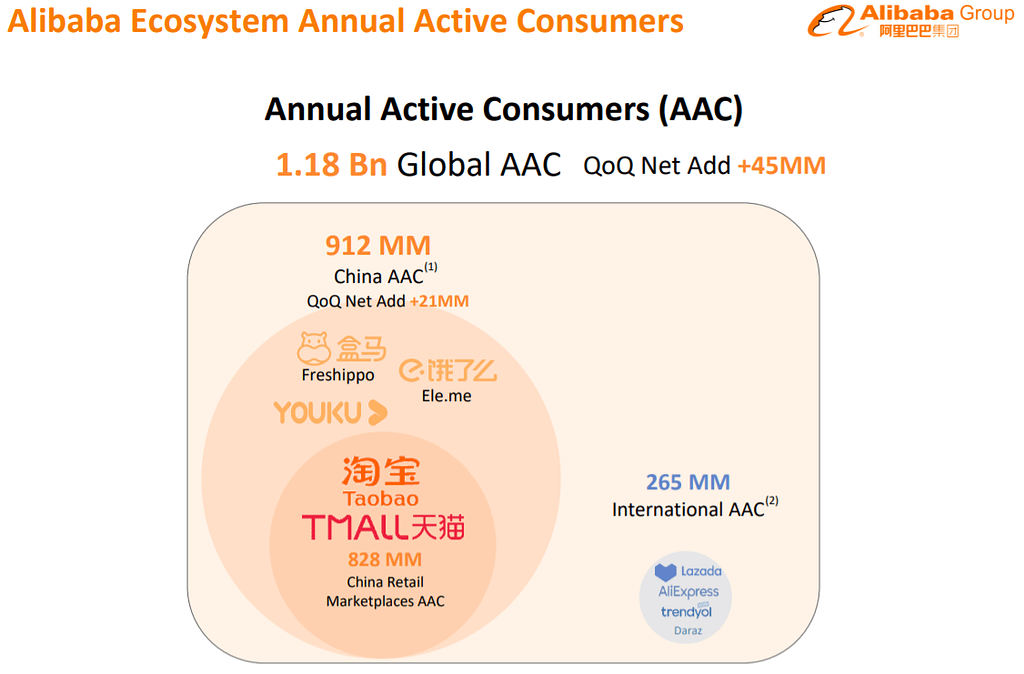 As you can see, Taobao and TMall operate as the largest e-commerce retailers in China. These China-first focused efforts have huge potential in and of themselves, but I actually don't want to focus on them right now.
For the sake of this article, I want to focus on the emerging global player: AliExpress.
AliExpress "Prime"
I'm sure you've figured out where this article is going, but permit me to add a bit more background here on AliExpress.
AliExpress operates and functions similarly to Amazon's platform, where customers can buy millions of products with the click of a button.
Unlike Amazon, AliExpress does not currently have a "Prime" yearly subscription for the service. Of course, Alibaba has noticed the massive success of Amazon Prime and simply wants to replicate it by leveraging its massive (and growing) consumer base.
If Alibaba can create a Prime-type of membership for customers and grow its users simultaneously, then the sky is truly the limit for the company.
But there is one enormous challenge that Alibaba must face in order to accomplish this goal: last-mile delivery.
Amazon Prime's Biggest Cost
The Amazon Prime service is the undisputed king of last-mile delivery in e-commerce. Amazon Prime services currently exist in 21 countries with prices ranging widely per region.
If you are an American Amazon Prime customer, you pay $120 per year or $10 per month for this service. But if you live in India, your Prime subscription only costs about ₹1,000, or around $14 USD per year.
This makes sense, as Amazon needs to structure its pricing according to each region's demographics in order to successfully gain market share. Most of this subscription revenue goes to the largest cost of the Prime service: last-mile delivery.
Luckily, Amazon Prime was so successful, it bankrolled Amazon Logistics, which Amazon now uses to fulfill customer orders. Amazon Logistics will continue to be a cornerstone to the success of the Amazon Prime membership, as it took a lot of time and effort to build out.
But AliExpress already has this feature…
AliExpress "Prime" Last Mile Delivery
Alibaba owns AliExpress but also owns the most important piece to make AliExpress function: Cainiao Network.
Cainiao Network is a wholly-owned subsidiary of Alibaba that provides logistics services for many of its own platforms. Think of Cainiao as the already built-out network that is Amazon Logistics.
By leveraging Cainiao's vast logistics network, AliExpress can operate on a global scale, servicing 190 countries! This is because AliExpress/Cainiao has direct access to Chinese manufacturers, and can keep prices low.
This is an amazing logistical feat and an incredibly valuable network.
But here's the downside: because Cainiao is still relatively young and still growing its network, the company can only ship a few small items globally in less than 72 hours, which is 24 hours longer than Amazon Prime.
I find this still pretty remarkable given that AliExpress does not charge the customer for this shipping cost at all, but that will probably change.
In order to build out their last-mile delivery service to compete with Amazon, but on an entirely global scale, AliExpress is toying with the idea of a membership fee. Here's the best part: it's way cheaper than Amazon Prime's!
Alibaba has assessed that it would target a membership fee of only $3 per month or only $36 per year! This minor fee would allow the company to fund the build-out of Cainiao's last-mile service, so it could deliver nearly all merchandise to customers globally in less than 72 hours.
I think this service could become the dominant one and will be enormous competition for Amazon in global markets.
But just how valuable is AliExpress "Prime"?
AliExpress "Prime's" Value to Shareholders
Let's do some math. Don't worry, I hate it too, so this is pretty simple stuff.
Let's assess that AliExpress can grow its Annual Active Consumers (ACC) by 20% per year. It's actually been growing faster than that, but let's use conservative estimates.
Now, let's also assume that AliExpress will convert 65% of its customers to its membership service (akin to Amazon's conversion rate) while charging $3/month. Knowing this simple formula, we can calculate AliExpress' revenues per month/year.
As we can see from the chart, if this plan was to be implemented starting with AliExpress' current user base, then AliExpress Prime would generate an additional $517M/month or $6.2B in additional revenue in 2021.
If we keep all estimates constant, then by 2030, AliExpress Prime would generate over $2.6B per month or almost $32B per year! Adding all those revenues together would come up with a total of $161B over ten years.
These are monster numbers. But let's see if we can't drill down further. Alibaba has kept a very respectable net profit margin of 20% over the past decade. Let's assume that the membership will cover most of the expenses for the new service, and we keep net profit margins at 20% over the next decade.
Now we can see that, like any network effect, the sums get larger as the networks grow. If Alibaba were to implement this strategy today, they would instantly see an increase of 5.5% in revenues, and about an 8.6% increase in net income, just in the first year!
In fact, the 10-year sums are greater than Alibaba's entire FY21 revenues and net income, meaning that just the AliExpress Prime business (after a decade of work) could theoretically be as valuable as all of Alibaba today.
Wrap Up
Now, of course, there are many variables that could lead to none of this happening. The CCP could continue its crackdowns, and Alibaba could continue to suffer. China could attack Taiwan, bringing sanctions down on Chinese companies. The company simply decides to never enact a "Prime" style business model.
But here's the thing: this is just one of many ways that Alibaba has the opportunity to compound. I didn't even touch on their cloud computing or Fintech aspirations, which are some of the most profitable segments.
At the end of the day, these are my simple core tenants of value investing:
Invest in companies that compound shareholder value greater than the market average
Buy such companies when they are undervalued
Right now, Alibaba is checking both of these boxes. And when I ask myself, "Will Alibaba be more valuable 10 years from now?", the answer I keep getting is: yes.