The Capital One® Secured MasterCard® Credit Card has some of the best features of any secured credit card. Learn how to use this card to establish or rebuild your credit.
Credit Needed
Limited/Bad Credit
Capital One® Secured MasterCard®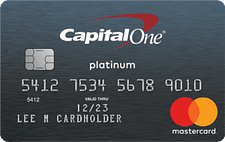 There is no better secured card than the Capital One secured credit card. 

This card is easy to qualify for and has some of the lowest fees in the secured card industry. It's also the best account to have when trying to establish or rebuild credit.

However, you still have to pay a security deposit and the APR is high. 
I created this review so that you can understand how their card works, its benefits and short comings.
Pros
Reports to all 3 major credit bureaus
Cons
Could require a $200 security deposit
What's The Capital One® Secured Credit Card?
The Capital One secured MasterCard® was created by Capital One® and has become one of the most well rounded secured cards in the space.
The card helps you build credit history by reporting to all three major credit reporting agencies and giving you the ability to create your own credit limit.
Like most secured cards, it does require an initial security deposit once you get approved which we discuss in detail below.
Capital one offers a wide variety of credit cards with multiple perks and rewards, you can read about the best Capital One credit cards in our review.
Who Is Capital One?
While Capital One might seem like a 100 year old company, they actually were founded in 1993.
They go by the name Capital One Financial Corporation and along with being a bank holding company they also focus on credit cards, auto loans and banking.
They are one of the largest banks in the U.S. by assets and helped with the growth of the credit card market.
Lastly they are the 2nd largest auto finance company in America.
What Makes Them Different?
What makes Capital One Different is that they offer a ton of additional benefits with their cards.
Along with reporting to all 3 of your credit bureaus, you will get free access to your credit report and score as well as an instant credit limit increase after making the first 5 payments.
There is no other company that offers a secured card with these benefits… And did we mention there is NO annual fee?
Capital One Secured Credit Card Basics
Below are some of the basic features of the Capital One® Secured MasterCard®:
Card type: Secured
Interest rate: 26.99% Variable APR
Annual fee: $0
Rewards: None
*Security deposit: $49 minimum, $5,000 maximum
Foreign transaction fee: None
Credit reporting: Reports payment information to all three credit bureaus.
Cash advance fee: Either $10 or 3% of the amount of each cash advance, whichever is greater.
Late payment fee: Up to $39.00
Balance Transfer fee: None
*With secured cards you will need to provide a refundable security deposit, which determines what your initial credit limit will be. The credit card company holds that deposit in case you don't pay your bill.
In my personal opinion, paying a small fee to establish a strong credit profile is absolutely worth it; just be sure to make your payments on-time.
Capital One® Secured Mastercard® Features
The Capital One® Secured MasterCard® Credit Card is packed with several features that make it one of the best secured credit cards for rebuilding credit.
The main features of this card include:
Easy Online Application Process
Free Access To Your Credit Report & Score
Monthly reports to all three major credit bureaus
Manage your account 24/7 with online access, or using their mobile app
Automatic Credit Limit Increase after making your first 5 payments on-time
No annual fee, and all the credit building benefits with responsible card use
Capital One Secured MasterCard® helps you to establish a solid payment history with no annual fee required.
Capital One Credit Steps Program
As I stated earlier, one of the best benefits about the Capital One secured card is that it offers the Credit Steps program.
Originally this program was very mysterious and most representatives at the company didn't know how it worked.
But now, it is being marketed as one of the features of the card.
Credit steps is all about increasing your available credit after you have shown proof of good payment history.
So, it works like this:
You Get Approved, usually with a $200 to $500 credit limit, depending on how much you deposit.
If your credit limit is $200 to $300, after making 5 on-time payments you will see a credit limit increase to $500.
If you have a limit higher than $500 then unusually it will go up to $750 after the first 5 payments.
The best thing about Credit Steps is that you are automatically enrolled into the program once you have been approved for the card.
Now, to stay enrolled int he program you have to make on-time payments and have an account in good standing.
If you miss one payment you are automatically removed from the program.
Credit Wise Program By Capital One®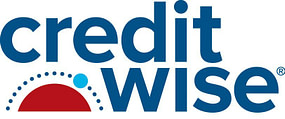 The Credit Wise® program with Capital One® is another great benefit that most secured cards don't offer
This program gives you free access to your credit report and credit score.
You are going to be able to view your VantageScore 3.0 version of your score and report from Transunion.
You will also get email alerts when your credit report changes with Transunion and finally you will receive fraud alerts if anything happens to your Transunion or Experian credit reports.
Signing up for Credit wise is very simple and you have access as soon as you are approved for your account.
Understanding Your Security Deposit
It is essential to consider what you want your initial security deposit to be since it will affect your credit profile.
With Capital One® your initial deposit can be as low as $49.00, but your initial limit will still be $200.00.
But here's the thing, most creditors will determine your future credit limits based on your current highest limit.
Also, the higher your credit limit the easier it is to keep your credit utilization low.
When I first started building my credit, Over a span of 1 year I deposited $3,000 on my Capital One secured card account and it helped my credit grow very fast.
Today, the most you can add is a limit up to $1,000, this means you can do $100.00 for 10 months and get yourself a $1,000 limit credit card.
Requesting A Credit Limit Increase
No matter the type of credit card that you have with Capital One, requesting an increase is the same:
Log Into Your Account
Click on the "view account" button
Click on the Gear Icon that says "I Want To…"
Hit "Request Credit Line Increase" button
Complete The Short Form & Submit It
If you are approved for an increase it will become available immediately and you don't have to worry about getting a hard credit inquiry.
Capital One Secured Card Pros & Cons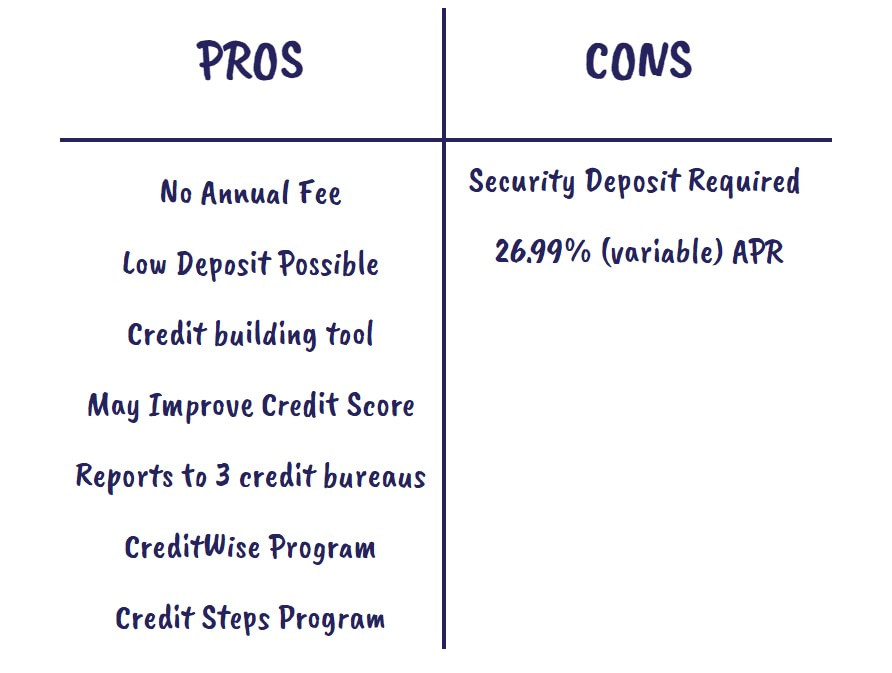 Alternatives To The Capital One Secured Card
A secured credit card through Capital One® is one of the best options when it comes to establishing or rebuilding credit.
However, there are a few other options available for building or repairing your credit, and if you can, I would get them in addition to the Secured Capital One Card.
Credit Builder Loan Through Self Inc.
While these loans have a small monthly fee attached to them, they also pull your credit report for approval.
Just like with an Capital One® card, Credit Builder Loans report to all 3 credit reporting agencies.
The major difference is that it is an installment loan and not a revolving loan, but once the loan is paid off, the funds will be sent back to you.
We wrote a detailed guide here and a review of Self Lender here.
Catalog / Merchandise Account Through Fingerhut
Another great alternative are Catalog/ Merchandise Accounts.
While these types of accounts require a credit pull, it is very easy to get an approval and to start building your credit profile.
These accounts will report to all 3 credit reporting agencies; however, you can only use the credit at the Catalog or Merchandise company that gives you the credit.
One of the best catalog accounts comes from Fingerhut, we wrote a detailed review here.
Steps To Take After You're Approved
The real work starts once you have been approved for your Capital One Secured MasterCard Credit Card.
Monitor Your Credit
One of the most overlooked area of building credit, is monitoring your credit.
This is truly your first line of defense when trying to build or rebuild your credit.
Helpful Tip
If your application goes to "Pending" status it doesn't mean Declined. Usually, more information may be needed.
You should try to find a service that allows you to monitor all 3 of your reports.
Make On Time Payments
Making on time payments sounds like a super simple thing to do; however, we all live in the real world where things almost never go as planned.
Be sure, no matter what, to make your payments on time because it is super important and is one of the largest factors in your credit score.
No matter what, avoid late payments.
Keep Credit Utilization Low
Another factor to consider is credit utilization, you really want to keep this under 3% of total credit if you can but try to never get it over 15%.
For example, if your Secured credit card by Capital One has a $300 limit and you spend $60.
Spending $60 on a $300 card limit means you are utilizing is around 20% of your credit on that card and it is above the recommend credit utilization percentage, so be mindful of how much you spend.
Use The Candy Bar Method
You have probably seen talk about this method throughout our site because we find it to be the best strategy for establishing a good payment history.
This holds especially true for the Secured card because of their Credit Steps program.
Your goal with the Candy Bar Method is to take your card once per month and purchase a candy bar.
This should cost no more than $1.00 or $1.50 and after 3 days you should be able to make your payment on the card.
This will show that the card is being actively used and that you are paying your bill.
How To Cancel Your Capital One Secured Card?
Cancel Online: Log in to your Capital One® account. Click on "More Account Services" and then "Close Account." They will ask you to confirm that you want to cancel your account.
Cancel By Phone: Call Capital One®at 1-800-227-4825. Enter your full card number to be connected to a representative. Tell them you want to cancel your Capital One® secured credit card.
Is There A Fee For Closing My Account?
Outside of the fees associated with your remaining balance, there is no fee for closing your account.
You will also receive your security deposit back that you used to open your account.
I would recommend keeping the card active as long as you can, there really isn't a reason to cancel the card any time soon.
Taking Action On Your Credit
Hopefully, you found this Capital One® Secured MasterCard® review helpful because there are several secured card options available; however, none of them are as good.
There's no better time than now to get your new account setup so that you can begin the process to either repair or rebuild your credit.
Having the card in your wallet is going to feel great, but growing your credit is going to feel even better.
Start building your credit today with a Capital One Secured Credit Card Today!
Editorial Note: The editorial content on this page is not provided or commissioned by any financial institution. Any opinions, analyses, reviews, statements or recommendations expressed in this article are those of the author's alone, and may not have been reviewed, approved or otherwise endorsed by any of these entities prior to publication.