Can you build credit with a debit card? The traditional answer to that question is "no". With a traditional debit card you could draw money from an ATM or make purchases in stores or online, but you would not build credit.
Times have changed. A new generation of emerging debit cards from providers like Extra, Sesame Cash, and Sequin provide all of the features offered by traditional debit cards and build credit at the same time.
How is this possible? Let's take a closer look at why you couldn't build credit with a debit card before, and why you can now.
How Do You Build Credit?
You build a credit score by building a positive credit history. You build a positive credit history by using credit wisely.
When a lending institution gives you a set amount of funds that you pay back over time, you're using credit. Examples of credit are student loans, auto loans, a mortgage, or a credit card. You cannot build credit unless someone lends you money. Using your own money won't build credit.
Look at a credit card, when you make a purchase, the card issuer pays the merchant. You pay the card issuer back, in a single sum or in installments. You pay interest for using the card issuer's money.
It is not that different from asking your friend if you can borrow $100 and pay them back at a later date.
There's one big difference between borrowing from a lender or credit card issuer and borrowing from a friend. A credit card issuer or lender will report your loan or credit card and your payments to the three major credit bureaus: Experian, Equifax, and TransUnion. That builds your credit history.
If you spend $100 on groceries with a credit card on April 1, the local grocery store will receive immediate payment from the bank issuing the credit card. You pay the card issuer back. You're using the card issuer's money.
The credit card issuer will report your purchases and payments to the credit bureaus, and they will become part of your credit record.
Why Can't You Build Credit with a Traditional Debit Card?
With a traditional debit card, every purchase made is debited directly from your bank account. The bank doesn't lend you money or offer a line of credit. You pay what you have available at the moment of purchase. You're using your own money, not borrowing.
If you spend $100 on groceries, that $100 is immediately deducted from your bank account balance. If you don't have $100 in the account, the debit will be rejected, or you will overdraft the account and face fees.
👉 The debit transaction is not reported to any of the three main credit bureaus: Experian, Equifax, or TransUnion.
Debit vs. Credit
👉 Debit is spending what you already have in your bank account.
These transactions are not reported to the credit bureaus and therefore are not added to your credit file. Debit does not build credit.
👉 Credit is spending the bank's money and paying them back.
Credit history is proof that when you borrow money from the bank (i.e. take credit), you pay it back responsibly. It demonstrates to lending institutions that they are not taking an unreasonable risk by offering you a line of credit.
So How Can You Build Credit With a Debit Card?
Several new debit cards are changing the idea that debit cannot build credit history. These cards work by linking to your existing bank account. The credit limit will be based on your account balance unless you specify a lower credit limit. These cards add a "credit-building layer" to your existing bank account.
When you make a purchase, these credit-building debit cards will "spot you" the funds, and reimburse themselves directly from your bank account the next day. They are essentially giving you a one-day credit line that can be reported to credit bureaus monthly.
With a debit card that builds credit, you don't take on debt while building your credit score. That means these cards remove the risk of overspending. It also eliminates the risk of taking on too much debt, which can hurt your credit score by increasing your credit utilization ratio.
These credit-building debit cards are relatively new, and they are in the process of expanding features and access. This includes links to Apple Pay, physical cards, and reporting to all credit bureaus.
Best Credit-Building Debit Cards
Here is everything you need to know to consider the top credit-building debit cards:
1. Extra Debit Card
The Extra debit card was the first debit card to offer credit-building features. With Extra, you keep your money in your current bank account but link and use the Extra debit card to build credit. Extra has 10,000+ banks in their US network.
Extra offers all the usual perks of a debit card: no credit check to open, no interest, and no hidden fees. With the Rewards Plus Credit Building plan they also offer 1% rewards on everyday purchases. These rewards can be cashed in for gift cards or offers in their rewards store.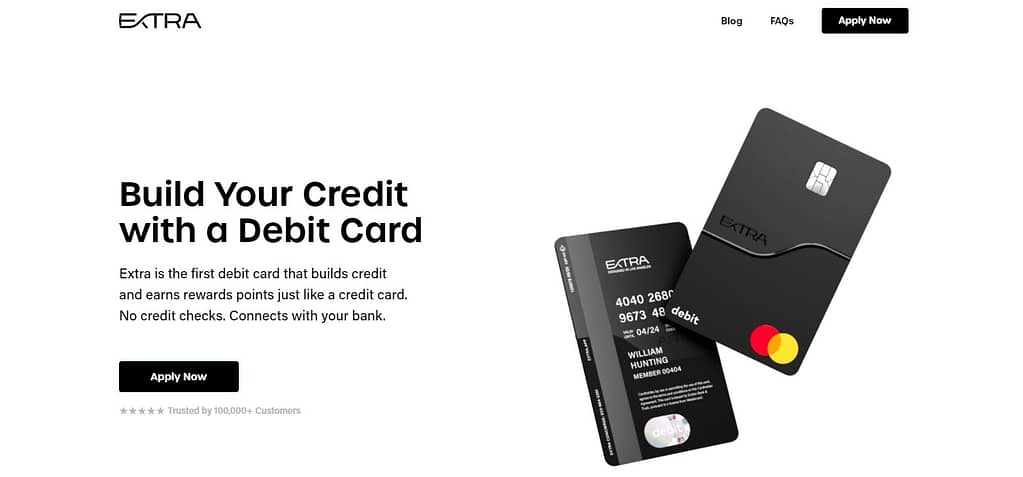 Extra Debit Card Fees
Extra charges several fees.
$8 per month for the Credit Building plan ($7/month if paid annually).
$12 per month for the Rewards plus Credit Building plan ($9/month if paid annually).
If you don't expect to spend over $400 on purchases eligible for the 1% cash reward, it is best to stick with the Credit Building plan.
Extra Debit Card Pros & Cons
Here are the main pros and cons of the Extra debit card.
✔️ Pros
The main advantage of the Extra debit card is that it builds credit with every purchase you make. All purchases are tallied and sent to two credit bureaus – Experian and Equifax – every month.
You can set daily limits to protect your funds in case the card is lost or stolen. Your banking information remains private and is not stored with Extra. There are no hidden fees or interest.
❌ Cons
The main con of the Extra debit card is the monthly fee. The other disadvantage is that you cannot use the debit card to access cash at ATMs, although you can use your regular bank debit card for this.
Read our full Extra debit card review
---
2. Sequin Debit Card
Sequin is a credit-building debit card designed by women, for women. Women and minority groups are often given lower credit limits on credit accounts, which can lead to higher credit utilization and lower credit scores. Sequin aims to "break the cash ceiling" by giving credit for every debit purchase you make.
While Sequin is the newcomer in the debit card-that-builds-credit space, it is also rapidly growing. It uses the same formula as Extra: Sequin fronts the money and reimburses themselves a day or so later. There are no hidden fees, no interest, no credit check.
Sequin Debit Card Fees
Sequin has no monthly fees. There is also no interest or late fee.
Sequin Debit Card Pros & Cons
Let's take a look at the main advantages and disadvantages of the Sequing debit card.
✔️ Pros
Sequin claims to give you the best of both worlds: the simplicity of a debit card with the credit-building power of a credit card. It reports monthly and has an intuitive app.
There is no limit (other than your account balance) to the credit limit you set. The higher the credit limit, the more repayment history Sequin can report.
❌ Cons
The main cons of Sequin stem from the fact that it is new and developing. For example, right now, the card is only virtual. There is no physical card. You can pay online anywhere that Visa is accepted.
Sequin only reports to Experian, which limits its impact on your credit. The Company is working toward reporting to Transunion and Equifax as well. They are also working towards payment partnerships with Apple Pay and other partners.
---
3. Sesame Cash Debit Card
The Sesame Cash debit card was also designed to help consumers build credit history. The model is slightly different from that used by Extra and Sequin. With Sesame Cash your account balance will not be your credit limit. You have to allocate a set amount of cash each month as a security deposit for a virtual secured credit card.
When you make a Sesame Cash debit purchase, behind the scenes there is an identical balance created on your virtual secured credit card, and the money is allocated to pay it off.
Whatever monthly amount you set, Sesame Cash will allow debit purchases within that amount.
⚠️ Warning: Sesame Cash also reports both the credit utilization ratio and the payment history. For this reason, you will want to avoid spending more than 30% of the monthly security deposit. Keeping your credit utilization low will help your credit.
If you can't afford to allocate more than a small amount, you may need to keep your purchases very low in order to maintain a good credit utilization rate.
Sesame Cash Fees
Sesame Cash does not charge fees.
Sesame Cash Pros & Cons
Here are the main pros and cons of Sesame Cash
✔️ Pros
The main advantage of the Sesame Cash debit card is that it builds credit through both payment history and credit utilization reported to the credit bureaus every month.
Other pros include:
See your credit score daily (with a minimum account balance of $25).
Sesame Cash pays you to improve your credit. You earn a $10 bonus every time you add 10-99 points to your credit score; earn $100 if you add 100 points or more.
You'll get $500 annual theft and damage protection on electronic devices. Read the fine print on this to make sure your device qualifies.
With a direct deposit setup, you can get your salary up to two days early.
You can withdraw cash from more than 55,000 ATMs.
No hidden fees, overdraft fees, or foreign transaction fees.
Add the Sesame Cash card to Apple Pay and other digital wallets.
Taken together, there are a lot of pros for Sesame Cash. It is a simple and inexpensive solution to increase your credit score.
❌ Cons
The main disadvantage of Sesame Cash is that in order to get a Sesame Cash debit card, you need to open a standard Credit Sesame bank account. They have partnered with the Community Federal Savings Bank (CFSB), an FDIC insured bank.
Once the account is open, you'll link another bank account to make the security deposit for the Sesame Cash debit card. Keep in mind that at the moment you can only have one other linked account at a time. For some, that complication is a big disadvantage.
Read our full Sesame Cash review
---
A Simple Credit-building Solution
Over 100 million Americans don't have or don't want a credit card. If you're one of them, these three debit cards offer a realistic way to safely build credit history without hassle or risk.
👉 If you don't have anything in your credit file and you need to start building credit, these debit cards can help.
There is no reason to keep a thin credit file. With these cards, you can start building your credit history so that when you want to apply for a mortgage or loan you'll get the best rate available.
Want to consider other ways to build credit history? Check out the 5 best ways to build credit in 2021, the best rent reporting companies to further boost your credit history, and how you can build credit by paying your utility bills.