Summary: Optima Tax Relief is a reputable tax relief company that can help you reach a tax relief agreement with the IRS. Learn why they're our #1 recommended tax relief company.
Optima Tax Relief's primary focus is tax debt relief. They are one of the best tax relief companies out there and if you owe money to the IRS they can help you negotiate the best possible deal.
You do need to have a fairly large amount of debt with the IRS before Optima will take you as a customer.
This Optima Tax Relief Review will help you understand how their process works, their costs, and their shortcomings.
Optima Tax Relief Review & Ratings
Optima Tax Relief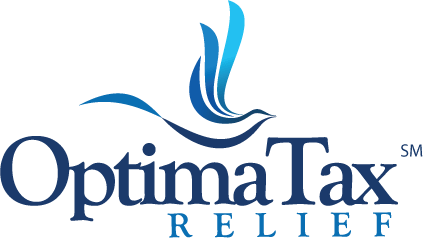 Optima Tax Relief provides quality tax relief services and protection against the IRS and state tax agencies. Though starting costs are high, their customer satisfaction rates are enviable.
Pros
Personalized Negotiations
Their Client Bill Of Rights
Cons
You Must Owe At Least $10,000
What We Like:
Available Nationwide
15 Day Money Back Guarantee
888 5-Star Reviews on Trust Pilot
Tax Attorneys On Staff
Who Is Optima Tax Relief?
Optima Tax Relief is a tax resolution company based in Santa Ana, California. It was founded by Harry Langenberg and Jesse Stockwell in 2011. 
The founders met each other while attending Wharton Business School and currently have 300 employees, including CPAs and tax attorneys.
The firm is accredited by the Better Business Bureau (BBB) and has an A+ BBB rating. They operate in all 50 states.
What Makes Them Different?
What puts Optima above the rest is the 10 defined core values that they use to develop their culture, brand, and business strategies. 
These values are:
Aim For Excellence
Earn Trust
Lead Our Industry
Embrace Change 
Inspire A Positive Team 
Be Able 
Stay Cool 
Take Responsibility 
Goals 
Be A Life Learner
These aren't just words. The Company makes a real effort to live up to those values.
Get Your 100% FREE Consultation
It's quick, easy, and free.
How Does Optima Tax Relief Work
Below is a quick breakdown of the product details for the Optima Tax Relief service:
Free consultation via an online form.
Initial costs start at $495.00
Primary debt focus – Tax debt
Minimum debt required – $10,000
Turn around time – 2 to 6 months
Available in all 50 States
15-day money back guarantee for initial investigation phase
Optima's Four Step Process For Tax Relief
Optima has a four-step process for getting you free from tax debt: 

Optima Tax Client Bill Of Rights
Having a high standard of service was essential to the team at Optima so they established their own Client Bill Of Rights.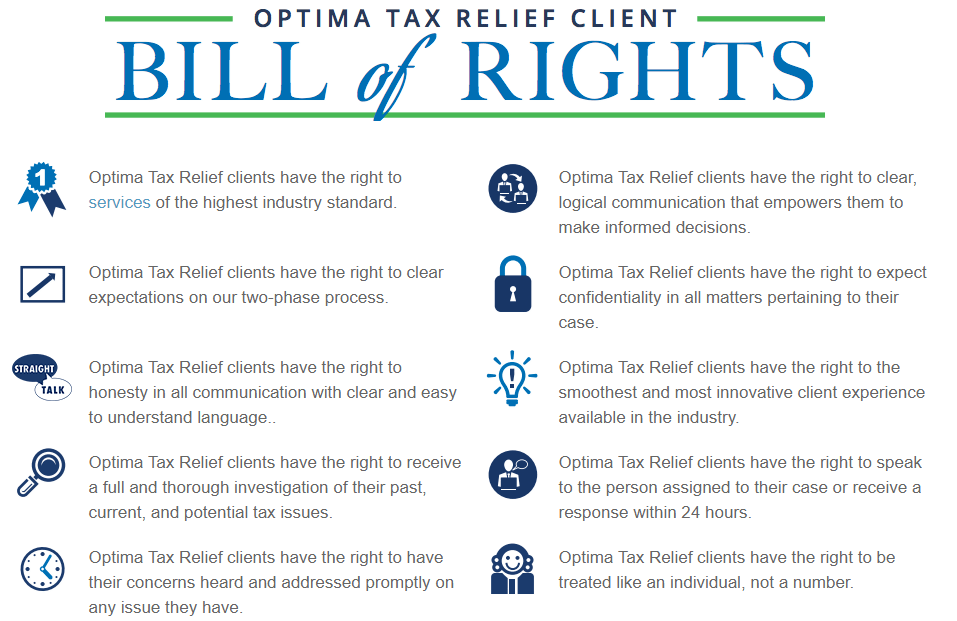 Their customer bill of rights is another reason why they get such high scores on customer service.
It's quick, easy, and free.
How Much Does Optima Tax Relief Cost?
The cost range for the tax relief portion of Optima's services is going to run between $2,000 and $5,000 depending on your specific needs.
The initial fee to get everything started costs $495.00. This is called the Investigation phase.
During this phase, Optima will determine what steps need to be taken to get you the best deal. When the investigation is complete Optima will give you a final quote based on the amount of work required.
Once the quote is paid in full, they will take on your case.
Read our article on the Cost of Optima Tax Relief for a more detailed breakdown of fees and cost analysis.
How much could I save with Optima Tax Relief?
When it comes to how much you could save your mileage may vary because each situation is different. There is no magic trick that is guaranteed to make tax debt go away.
However, Optima has helped some customers save tens of thousands of dollars or sometimes even receive a refund.
Just keep in mind that your situation will be unique and you should try to get the best possible results for yourself; not the results that someone else received. 
Optima Tax Customer Reviews
When it comes to service products the proof is always in the pudding and Optima Tax has a ton of proof.
Looking at Optima Tax Relief reviews on the BBB and Trustpilot sites will give you some good indicators of the quality of this company. 
They have over 895 (5 Star) reviews on Trustpilot and have an A+ rating with the BBB with over 1,100 Customer reviews.
We read hundreds of reviews from Yelp, BBB, and Glassdoor to answer one question: Is Optima Tax Relief legit? Find out what their customers think.
Optima Tax Relief Pros & Cons
In our experience, there's a lot of good and bad when it comes to tax debt relief. Optima Tax Relief is no different.
PROS
They handle all the paperwork
Great customer service
Money-back guarantee
CONS
High starting costs ($495 initial fee)
Must owe at least $10,000
Success is not guaranteed
Read our article on the Pros & Cons of Optima Tax Relief for a more detailed breakdown and analysis.
Optima Tax Relief's Other Services
Another amazing thing about Optima Tax is that they don't just handle tax relief, they are a one-stop shop when it comes to anything Tax related.
These are some of the other services they offer.
Tax Consultation
This service is offered if you are going to be facing an IRS or state collection action.
This consultation is more than just 1 simple phone call and gives you access to a team of consultants, attorneys, enrolled agents, and CPAs.
☝️ Beginning in mid-2011, tax return specialists have generally been required to take and pass a tax preparation competency test to officially become registered tax return preparers.
Tax Negotiation
If You Owe Federal Income Taxes but Cannot Pay
The team at Optima is known for its skills in negotiating with the IRS. They have licensed professionals that specialize in helping you resolve your tax dilemmas.
Depending on your financial situation and how much you owe, you might be able to set up some sort of payment plan or debt reduction.
Installment Payment Agreement
Making monthly payments to settle your debt is one of the best options when it comes to dealing with tax debt.
However, while you are making payments through a payment agreement any tax refunds will be kept by the IRS to help pay your debt.
Tax Preparation
Optima Tax is set up to help you with all of your tax prep needs with their team of tax preparers, CPAs, and attorneys.
Tax Resolution
Optima Tax Relief has several tax resolution programs and can get you experienced tax resolution advice.
They will offer guidance and representation needed to get through the entire process with the IRS.
Below are just some of the tax resolution options available through Optima:
Audit Representation
Criminal Tax Defense
Currently Not Collectible
Dealing with the IRS
Innocent Spouse Relief
Installment Plans
IRS Tax Discharge
IRS Tax Expiration
Levy Release
Offer In Compromise
Payroll Tax Debt Relief
Penalty Abatement
State Tax Issues
Stop Wage Garnishment
Tax Lien Removal
Tax Preparation and Planning
IRS Tax Expiration
Un-filed Tax Returns
If you have any questions about the IRS collection process or would like more information about how Optima can help with your IRS tax problems, get a consultation today.
It's quick, easy, and free.
Can I Cancel Optima Tax?
We know that Optima has a 15 Day money-back guarantee; but how does it actually work? 
I copied the guarantee disclaimer so that we could break it down.
Guarantee Disclaimer
Optima Tax Relief, LLC ("OTR") will refund monies paid under the OTR Client Agreement within the first 15 calendar days without any penalty or obligation.
This money-back guarantee ONLY applies to the fee paid towards the Investigation Phase and NOT for those enrolled with our Immediate Action Team or those that have executed a Resolution Phase Addendum.
We do not guarantee that your tax debts will be lowered by a specific amount or percentage nor do we make any guarantees or promises about the outcome of the proposed services.
The way I read this is that you have 15 days to cancel and ask for a refund and you can only get back your $495.00.
Essentially, if you decide to move forward with Optima after the Investigation Phase, trying to cancel would be pointless.
Alternatives To Tax Relief
Optima Tax relief is one of the best options when it comes to getting rid of your tax debt. However, if their services are too expensive for your budget or your tax debt is lower than Optima's minimum then you have other options. 
Personal Loans
You have the option to take out a personal loan and use it for pretty much anything you choose.
Using an unsecured personal loan to pay off a tax debt means that the IRS is off your back and you can now pay a set fee to your lender.
A personal loan will leave you in debt, but at least it won't be tax debt. The IRS has collection options that no other lender has. You can't go to jail for private debt, but you can for failing to pay taxes.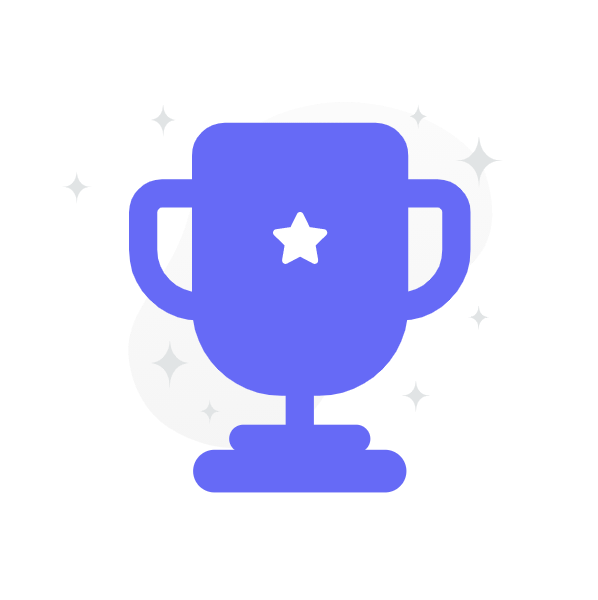 Best Personal Loan Lenders in 2021
Compare multiple personal loan lenders at one time, pick the best option, and get approved for your loan.
Taking Action On Your Tax Debt
Hopefully, you found this Optima Tax Relief Review helpful. There is absolutely no reason to wait around. The IRS will not go away!
Optima is full of people with experience who know the right numbers to call and how to deal with the IRS when it comes to clearing up a tax issue.
Dealing with the IRS yourself could end up costing you more in the long run, so get your free consultation today!
It's quick, easy, and free.
Editorial Note: The editorial content on this page is not provided or commissioned by any financial institution. Any opinions, analyses, reviews, statements, or recommendations expressed in this article are those of the author's alone, and may not have been reviewed, approved, or otherwise endorsed by any of these entities prior to publication.