Stock picking isn't easy. There are thousands of options and hundreds of variables associated with each one, and it's almost impossible to comprehensively review every possible investment. The best stock-picking services are there to help.
The question is which of these services is worth your time and money, and which is best suited to your investing style? We've reviewed the best stock-picking services to give you some answers.
The Best Stock Picking Services: Summary
The Best Stock Picking Services Compared in Detail
Let's take a closer look at the best stock-picking services.
---
1. The Motley Fool
🏆 Best for Long-Term Investors
The Motley Fool is a stock-picking service that prides itself on its dedication to telling the whole, unvarnished truth, no matter how unpopular it might be.
The Motley Fool makes a point to only tell the truth about investments that they arrive at using a combination of big data, in-depth fundamental analysis, and the combined knowledge and experience of their big and growing team. They have little patience for flavor-of-the-month plays or even for good companies with fair stock prices. They make their money by digging deeper into the data, analyzing the trends, and finding companies that are currently undervalued and poised for big gains in the future.
You can subscribe to any one or a combination of the Motley Fool's managed portfolios, each of which will give you a set of detailed recommendations, past performance comparisons, and at least two new recommendations each month. Their Stock Advisor service is their flagship product with the longest track record, but there's plenty of value in each portfolio.
📊 Learn more: When we talk about stocks and money, understanding the basics is key, and this post serves as a quick-start guide for beginners in stock investing.
➕ Pros:
Long track record of successful trades.
Wide range of stock and investment recommendations.
Fairly reasonably priced, considering potential returns.
➖ Cons:
Have to hold stocks for at least five years.
Not great if you want to trade on trends and headlines.
| The Motley Fool | |
| --- | --- |
| Price | $199 – $13,999/year |
| Investing Philosophy | Fundamentals-based |
| Recommendations | Stocks, options, ETFs |
| Features | Two research-supported picks per month include supplemental research and reasoning. |
| Pricing | |
| --- | --- |
| Stock Advisor | $199/year |
| Rule Breakers | $299/year |
| Everlasting Stocks | $299/year |
| Full Access | $13,999/year |
---
2. Seeking Alpha
🏆 Best Community-Driven Stock Recommendations
Seeking Alpha is an investing community with a semi-crowdsourced base of knowledge, research, and analysis on pretty much every kind of investment out there. This is one of the best stock-picking services if you're looking for an incredibly diverse range of data-backed opinions from thousands of finance and investing professionals. You can access a huge trove of information without signing up for any of their subscription tiers, but you really need to sign up for at least the Premium tier if you want to get your eyes on the best information.
Seeking Alpha's value doesn't just come from the sheer volume of crowdsourced analysis that it pumps out every month. The service itself goes out of its way to monitor analyst performance, keeps track of their ratings and track record, and weighs their advice based on their calculations, which is very helpful when you're sifting through page after page of analysis looking for good material. They also employ a quantitative system they call their Quant Ratings to grade each and every stock, meaning you can combine human advice and predictions with pure math to make better, more timely picks.
👉 Learn more: If you're delving into the world of stocks, you might find this post on the best stock backtesting platforms useful for optimizing your strategies.
➕ Pros:
Huge library of analysis and diverse opinions.
Constantly updated content from professional investors.
Quant Ratings make finding good picks easier.
➖ Cons:
The crowdsourced analysis isn't always as good as professionally curated analysis.
A lot of information to sift through.
| Seeking Alpha | |
| --- | --- |
| Price | Free – $2,400/year |
| Investing Philosophy | Crowdsourced analysis with quantitative support |
| Recommendations | Stocks, options, bonds, ETFs |
| Features | Quant Ratings, analyst performance ratings, stock dividend grades, a huge library of premium content |
Pricing
Basic
Free
Premium
$4.95 for the first month,
then $239/year
PRO
$2,400/year
---
3. Trade Ideas
🏆 Best AI-Powered Service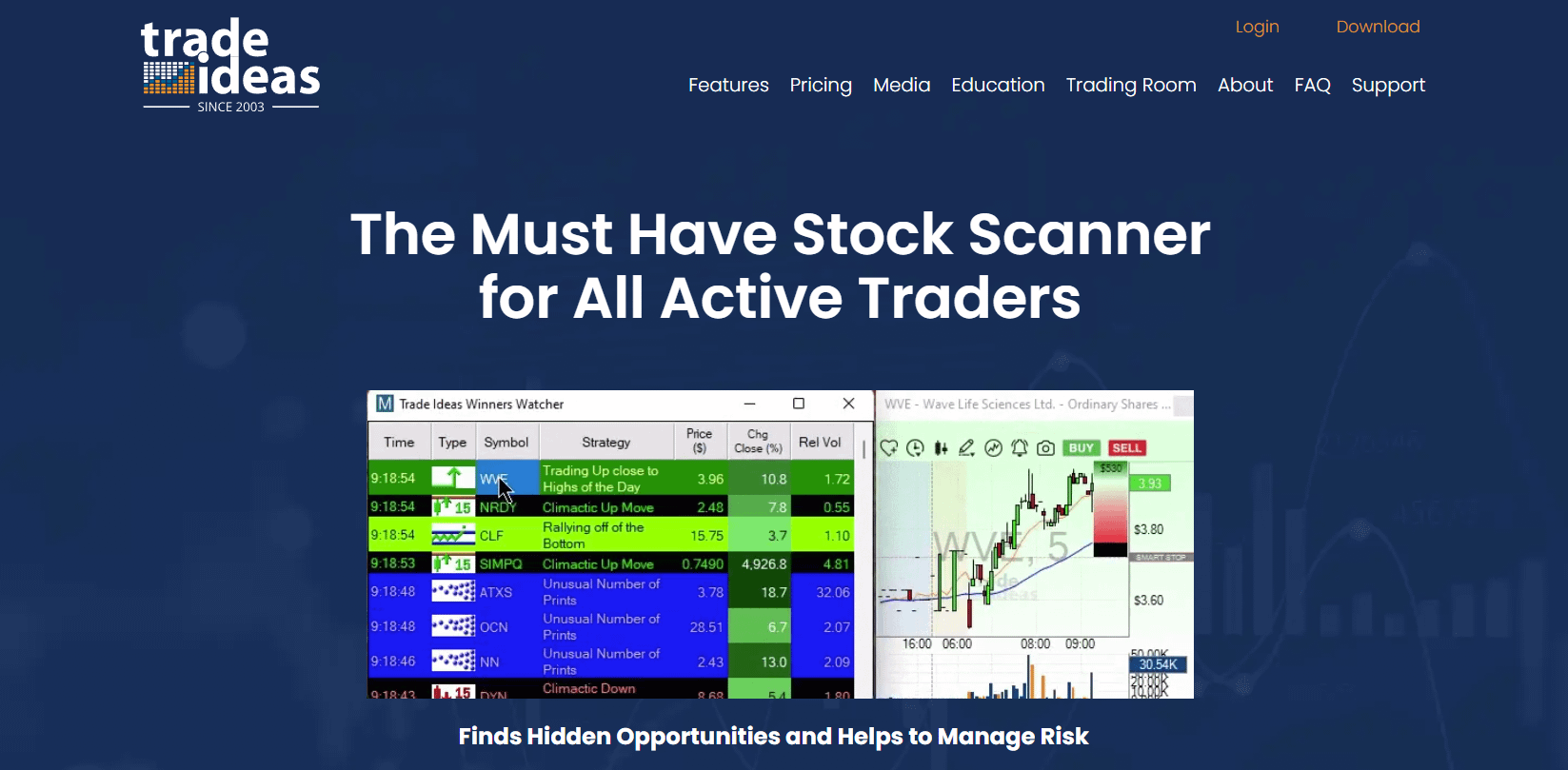 Trade Ideas is a little different from the other services on this list for one major reason: Holly. Holly is an AI that acts as a researcher, assistant, watchdog, analyst, and stock recommendation service all rolled into one.
📈 Learn more: For those interested in emerging technologies, this post discusses the top AI stocks & ETFs to watch this year.
Most stock-picking services give you a couple of recommendations each month. That makes it nice and easy for long-term investors looking to place a few trades here and there and pretty much forget about their portfolios the rest of the time. Trade Ideas does things a bit differently. Holly stays active around the clock, running numbers and simulating outcomes millions of times each day, which means she's going to give you more than two trade ideas each month.
This service is a bit more involved than the ones that just send monthly recommendations, but it's one of the best stock-picking services for anyone who wants to leverage the power of AI to take their day trading to another level. You'll get real-time recommendations for entry and exit points for stocks, suggestions for optimizing your portfolio, and even the ability to run your own simulations and backtesting to find ideas that even Holly might have missed.
📈 Learn more: Aspiring to learn from the best in the field? This post outlines the composition of Warren Buffett's investment portfolio.
➕ Pros:
AI assistant provides constant trade ideas and guidance.
Can run in-depth simulations to see how certain trades will turn out.
Advanced AI-driven portfolio optimization and automatic portfolio management.
➖ Cons:
Steep learning curve.
It could be more user-friendly.
Trade Ideas
Price
$84 – $167/month,
$999 – $1,999/year
Investing Philosophy
Using artificial intelligence and in-depth simulations to optimize trades
Recommendations
Stocks, options, ETFs
Features
Backtesting, OddsWindow, simulations, AI-assisted charting, and portfolio management
| Pricing | |
| --- | --- |
| Standard | $84/month |
| Premium | $167/month |
---
4. Morningstar Investor
🏆 Best for Big Readers
Morningstar is as close as stock research and picking services get to royalty. They've earned a name for themselves as one of the best, most thorough stock research companies in the business, and it isn't hard to see why. Over 150 different professional, independent analysts—all of whom are highly educated industry veterans—come together to form what may be one of the most significant sources of fundamentals-driven research out there.
Morningstar Investor, their paid membership, gives you access to all the past, present, and future research and analysis that their team of independent analysts puts out on a regular basis. You'll get access to volume after volume of data-driven research and analysis, plus a massive list of ratings on securities, individual managers, ESG investments, and a whole slew of other topics that touch just about every corner of the industry. You won't get handed a couple of recommendations each month, but you will be given access to a rating system with a track record that's so good it almost seems like cheating.
📈 Learn more: If you're exploring different investment analysis approaches, this post detailing the differences between fundamental and technical analysis could provide some valuable insights.
➕ Pros:
Professional research on a huge range of topics.
Incredibly accurate ratings for tons of different securities.
Practically a master class on investing.
➖ Cons:
Lots of information to sift through.
Requires a lot of reading and patience.
| Morningstar Investor | |
| --- | --- |
| Price | $34.95/month or $249/year |
| Investing Philosophy | Using in-depth, fundamentals-driven research to build understanding and find trade opportunities |
| Recommendations | Stocks, ETFs, mutual funds, bonds |
| Features | Huge library of research and analysis from over 150 independent analysts |
---
5. Zacks Investor Collection
🏆 Best for Active Investors
Zacks Investment Research was started by an MIT Ph.D. back in 1978, and it's been building on his quantitative ideals and mathematical prowess ever since. The firm churns out some of the industry's best, most mathematically supported recommendations on a monthly basis, almost all of which are underpinned by their original stroke of genius: the Zacks Rank system.
Much like the Motley Fool, Zacks maintains a number of recommendation services and lists that function a lot like managed portfolios, each with slightly different investing philosophies and themes. For instance, their Home Run Investor service—one of their more prominent offerings—focuses on identifying and recommending small- and mid-cap companies that have a lot of room to grow. Its recommendations have a much shorter time frame than most similar services, which makes it one of the best stock-picking services for investors who want to be more actively involved in their portfolios.
📊 Learn more: Are you interested in stock trading? This post explains how you can practice without putting actual money on the line.
➕ Pros:
Great for active investors.
Lots of portfolios to choose from.
Includes a lot of information and research.
➖ Cons:
Some portfolios are better than others.
Requires more interaction than other services.
| Zacks Investor Collection | |
| --- | --- |
| Price | $59/month |
| Investing Philosophy | Using a special blend of proprietary algorithms and quantitative modeling to find trade opportunities |
| Recommendations | Stocks, ETFs |
| Features | Includes six portfolios, tons of research, proprietary insights, and advanced investing tools |
---