Real estate is one of the most effective ways to diversify an investment portfolio. It has also traditionally been out of reach for many investors. This is rapidly changing. The best real estate stocks and ETFs let almost anyone invest in real estate.
There are several ways for small investors to add real estate to their portfolios. One of the simplest is through Real Estate Investment Trusts (REITs). These investment vehicles acquire and manage real estate assets for their shareholders.
Because REITs are publicly traded and handle hundreds or thousands of properties, they are more diversified and more liquid than individual real estate properties.
REITs are required to pay at least 90% of their taxable income to their shareholders, and most investors own REITs for the dividend income.
The Best Real Estate Stocks
Most REITs invest in "classical" properties, like flats, houses, and commercial properties. Other REITs focus on a specific type of real estate, like hotels or warehouses, or even more specialized assets like data centers, hospitals, or cell phone towers.
In this article, we will look mainly at "classic" REITs and then discuss some of the more interesting specialized REITs.
We'll try to offer a diverse view of the sector and focus on a few of the best real estate stocks, but we won't even come close to covering all the possibly attractive stocks.
This list of the best real estate stocks is designed as an introduction; if something catches your eye, you'll want to do additional research!
📚 Learn more: If you're new to property investment, our article outlines how to start investing in real estate effectively.
---
1. Realty Income Corporation (O)
| | |
| --- | --- |
| Market Cap | $39.9B |
| P/E | 42.07 |
| Dividend Yield | 5.48% |
Realty Income is a 54-year-old REIT managing 13,118 commercial properties, primarily retail, with stores and restaurants making up the bulk of the properties. They generate $3.8B in annualized rent from 1,303 clients.
The Company focuses mainly on US properties, with 10% of the portfolio in Europe, mainly in the UK). The largest clients of the REIT are Dollar General, Walgreens, and Dollar Tree.
The company has grown its dividend for 29 consecutive years, achieving a 4.4% compound annual growth rate (CAGR). It has grown its returns at a 14.2% CAGR since listing on the NYSE in 1994. This led to Reality Income being incorporated into the S&P 500 Dividend Aristocrats index in 2020.
The company has no exposure to the office real estate market following its merger with Vereit in 2021 and the spinning off of all office properties.
Reality Income's stability and relatively high dividends are its main attractions, with most of its income coming from companies with very strong brands and business models. This is one of the best real estate stocks for investors looking for exposure to the retail industry.
📚 Learn more: Explore our curated list of the best books on real estate investing to enhance your knowledge and skills.
---
2. AvalonBay Communities, Inc. (AVB)
| | |
| --- | --- |
| Market Cap | $25.8B |
| P/E | 20.46 |
| Dividend Yield | 3.64% |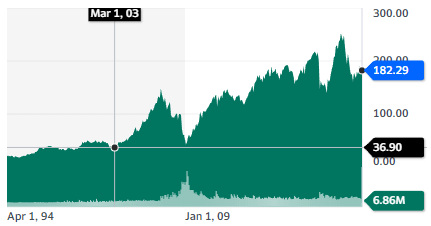 AvalonBay is a REIT specializing in properties in "regions characterized by growing employment in high wage sectors of the economy, lower housing affordability and a diverse and vibrant quality of life". Or, in simpler terms, high-end apartments in expensive areas. This places AvalonBay among the best real estate stocks for exposure to the most profitable segment of the residential sector.
AvalonBay is looking to grow in selected markets, with 3,600 new deliveries by the end of 2024, adding to the 89,000 apartment homes it already owns in 295 communities and 12 US regions.
This focus on high-end properties has so far paid off for AvalonBay, with an 11.3% CAGR performance since its IPO and a 4.8% annualized dividend growth.
It is also developing AvalonConnect, an integrated Internet, WiFi, and Smart Home offer, increasing the value and convenience of the home it is renting.
This strategy also means that AvalonBay's results are likely going to be quite tightly correlated with the overall financial health of the US, especially the stock market and tech industry, considering its presence in California and the Northern East Coast.
📚 Learn more: Discover the best real estate investment apps that can help streamline your investment journey.
---
3. Equity Residential (EQR)
| | |
| --- | --- |
| Market Cap | $24.4B |
| P/E | 30.31 |
| Dividend Yield | 4.12% |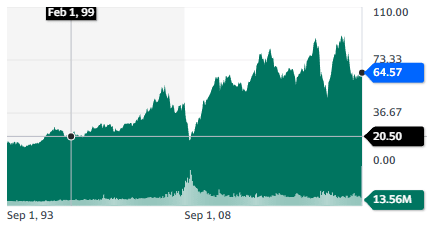 Equity Residential was founded in 1968 by legendary real estate investor Sam Zell, a pioneer of REITs and public real estate companies, providing major tax advantages to its investors.
I did not invent the modern REIT industry, but I helped make it dance…

Sam Zell
The company is currently managing 304 properties with a total of 80,212 apartment units. The company is focused on major US urban centers in California, Boston, NY, Washington DC, and Seattle.
Equity Residential focuses on affluent renters with high levels of education and income, with most residents enjoying an average annual income of $172,000 and paying only 20% of their income in rent. This allows the company to show a very strong 96% occupancy rate and a rent growth rate of 3.9% in April 2023.
Equity Residential has grown returns at an 11.1% CAGR since its 1993 IPO, with dividends growing at a 6.4% CAGR.
The company has also been at the forefront of innovation in real estate, adopting electronic lease signing in 2008 and cloud-based services and self-guided tours in 2012. It is now investing in EV chargers, building-wide WiFi, smart homes, and IoT (Internet of Things).
Since its foundation, Equity Residential has been a leader in innovation in real estate, and it is likely that even with the death of its founder, this entrepreneurial DNA will continue to make this company stand out in the best real estate stocks market.
With a large exposure to the Californian and Seattle markets, the company is likely to do well as long as its tenants working in the tech industry are prospering.
---
4. Simon Property Group, Inc. (SPG)
| | |
| --- | --- |
| Market Cap | $42B |
| P/E | 17.05 |
| Dividend Yield | 6.86% |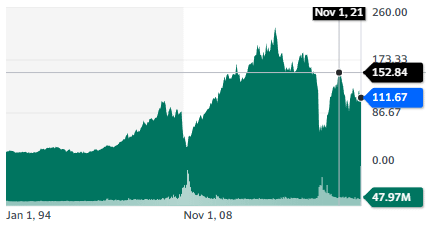 Simon Property is focused on commercial real estate, primarily shopping malls. It holds 250 properties in 37 states and 14 countries. The international exposure is from 34 outlets, 4 malls in Asia, and 22.4% ownership in Klépierre (130 properties in Europe – ticker: LI.PA).
Revenues reached $5.3B in 2022, and the company paid $2.6B in dividends.
Malls have been a troubled sector of the US real estate markets for a while, but quality also plays a role. Occupancy at Simon's properties was standing at a high level of 94.7% in June 2023, up from 93.9% a year before. So, while some malls might be struggling, Simon does not seem significantly affected by it.
However, the stock price has been affected by the pessimism about US malls, leading to the company's value per share dropping by almost 50% since 2016, leaving a fairly high dividend yield.
This will make Simon one of the best real estate stocks for investors hunting for higher yield and willing to take a bet that high-quality shopping malls are not going anywhere.
📚 Learn more: Explore practical strategies on how much you need to invest to comfortably live off dividends and secure your retirement.
---
5. Vornado Realty Trust (VNO)
| | |
| --- | --- |
| Market Cap | $4.74M |
| P/E | – N/A |
| Dividend Yield | 10.5% |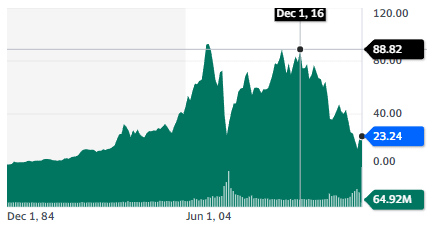 Vornado is another one of the best real estate stocks out there. This REIT is focused on Manhattan real estate, with a predilection for office space and retail assets.
It owns 19.9 million square feet (Mqf) of office in New York, 2.5Mqf of retail space, and 1,663 residential units, as well as 3.7Mqf in Chicago and 70% of a 1.8Mqf office complex in San Francisco.
In the context of the pandemic and the work-from-home (WFH) trends, the focus on office space has driven investors away from Vornado in the last few years.
It is also worth noticing that despite financial metric aggregators like Yahoo Finance showing no dividend yield, the company has actually distributed $2.45/share in 2023 so far, with the next ex-dividend date on the 14th of September (used to calculate the dividend yield above).
Despite the downturn in office real estate, Vornado has registered a net income of $0.24/share in Q2 2023 and FFO (Funds from Operations) of $0.74/share.
While WFH & hybrid work formulas are likely here to stay post-pandemic, it is also likely that large corporations like tech and financial companies will still be looking for high-quality, central NYC office space.
Investing in Vornado is a bet that the crisis has driven the company's shares below their fair value and reflects more uncertainty than permanent impairment to Vornado assets. The redevelopment of the Penn Station area could generate additional upside as well.
---
Speciality & Industrial REITs
Not all REITs deal in homes, offices, or commercial spaces. More specialized offers can provide investors with exposure to sectors where they could never buy real estate directly themselves.
6. American Tower Corporation (AMT)
This REIT is specialized in cell phone towers and telecommunication infrastructure. They build the towers and then rent the space to multiple telecom companies. Its stock price has grown by 6x since 2009, not including dividend returns. This is one of the best real estate stocks for investors looking to gain exposure to the telecommunications industry.
---
7. Equinix, Inc. (EQIX)
Another one on our list of best real estate stocks is Equinix. This REIT provides and manages 250 data centers and related infrastructure with an industry-leading 99.9999% uptime. It is planning to open another 57 data centers. It generated revenues from the Americas ($890M in Q2 2023), the EMEA region (Europe, Middle East, Africa – $687M), and Asia ($442M).
---
8. Prologis, Inc. (PLD)
This REIT is focused on logistics real estate, with most of its assets in the US and Europe and some in South America and Asia. The company has greatly benefited from the growth of e-commerce, which uses almost 3x more logistics facilities than brick-and-mortar retail. Occupancy is at an all-time high of 98%. With rent at just 3-6% of supply chain cost, this is also not the most price-sensitive cost for logistical companies.
---
9. Welltower Inc. (WELL)
Welltower is a healthcare infrastructure REIT, with assets like senior housing, medical offices, and post-acute care rehabilitation centers (out of hospitals). The company is benefitting from the trend of an aging population and the baby boomer generation retiring and "downsizing" their living space.
---
10. VICI Properties Inc. (VICI)
VICI is a REIT specializing in gambling real estate (50 properties – 60,300 hotel rooms & 450+ restaurants, bars, nightclubs, and sportsbooks), as well as golf courses (54 locations). Its properties include the Caesars Palace Las Vegas, MGM Grand, and the Venetian Resort Las Vegas. It also owns 34 acres of undeveloped Las Vegas land.
---
11. Innovative Industrial Properties, Inc. (IIPR)
The industrial REIT specializes in offering greenhouses for the cannabis industry and associated facilities. By doing so, it provides capital to an industry in dire need of it and also provides expertise in cannabis growing and greenhouse management at scale. It has one of the highest dividend yields in the REIT industry, at 9.41% at the time of writing of this article.
---
12. Farmland Partners Inc. (FPI)
The largest American farmland REIT by acreage, Farmland Partners owns or manages 190,000 acres in 20 states, with a record 0% vacancy across the portfolio. The fund counts on decreasing arable surface combined with rising population and the world's GDP to increase durably farmland value. 10% of the portfolio (30% by value) is permanent crops like orchards or vineyards.
---
13. Alexandria Real Estate Equities, Inc. (ARE)
Alexandria rents out facilities for the life sciences industries, like research labs, testing facilities, campuses, etc., already equipped with advanced machinery and equipment. By doing so, it builds clusters of innovation, bringing in one spot: innovation, capital, and human resources. The company has 825 tenants. This is one of the best real estate stocks for investors who are also interested in the life sciences industries.
---
Best Real Estate ETFs
Investing in the best real estate stocks can carry some risks due to debt or specific sectors and strategies, so investors looking for broad exposure to real estate as an asset class can use ETFs while reducing trading costs.
14. iShares U.S. Real Estate ETF (IYR)
This ETF gives a wide range of US REITs, with a preference for niche and specialized industrial REITs like its top 5 holdings of Prologis, American Tower, Equinix, Public Storage, and Crown Castle.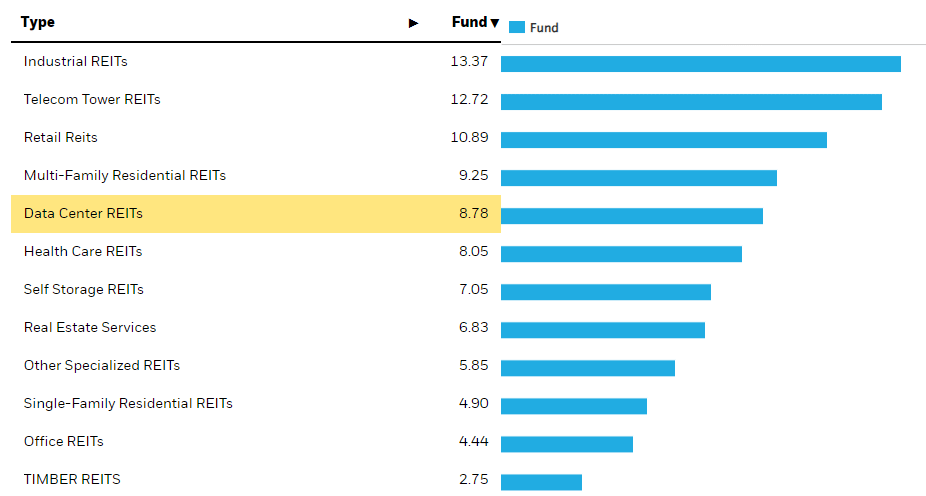 ---
15. Invesco KBW Premium Yield Equity REIT ETF (KBWY)
This ETF is focused on small and mid-cap REITs in order to target a higher dividend yield, currently standing at 8.2%.
---
16. Green Building ETF (GRNR)
This ETF focuses on companies riding the boom in more energy-efficient buildings. More than half of the ETF is made of real estate companies, with the rest covering equipment and manufacturers.

---
17. iShares Residential and Multisector Real Estate ETF (REZ)
This ETF includes all types of US real estate, including in its top 10 holdings residential real estate REITs like AvalonBay, Equity Residential, Invitations Homes, and Mid-America Apartment Community. This is probably one of the best ETFs to represent the entire US REIT industry.
---
18. Pacer Data & Infrastructure Real Estate ETF (SRVR)
This ETF is centered around data centers, mobile towers, and other REITs specialized in telecommunications. This allows investors to invest in the sector as a whole without having to pick which technology or strategy is the best in this highly technical sector.
---
19. Global X MSCI China Real Estate ETF (CHIR)
This ETF looks at real estate beyond the US and focuses on China. This is a sector that has suffered greatly, as illustrated by the recent bankruptcy of developer Evergrande. So, this is likely an ETF only for contrarian investors looking to bet on a rebound of China's real estate sector.
---
20. Vanguard Global ex-U.S. Real Estate ETF (VNQI)
This ETF invests in real estate everywhere BUT in the USA. It is mostly active in Asia, Japan, and Korea, followed by emerging markets and Europe. It can offer diversification from US real estate investments, giving global exposure to real estate markets.

---
21. Invesco MSCI Global Timber ETF (CUT)
Land can be used for farming, residential, or industrial purposes. Or it can "simply" grow a forest, which turns over time into valuable timber and wood and grows no matter the economic conditions. This ETF allows investors to get global exposure to the timber industry, with most of the land managed with responsible forestry practices in the USA and Europe.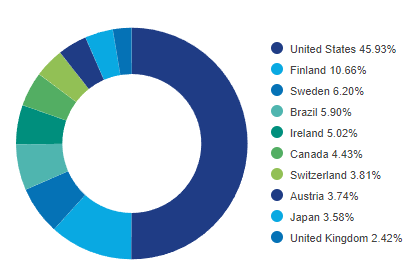 ---
Conclusion
Real estate is an asset class as large, diverse, and complex as stocks or bonds. It is also characterized by extreme illiquidity and substantial management demands.
REITs provide hassle-free returns and liquidity in addition to much-needed diversification. The modern REIT industry provides ample choice for customized exposure to a specific region, real estate type, or economic sector.
Real estate ETFs can provide even more diversification, allowing one to create a real estate portfolio that can be truly customized to one's needs.
In any case, investors looking for the best real estate stocks will need to be cautious, especially in a rising rate environment that might make refinancing difficult. So, a low level of debt and solid cash flow should be preferred over more leveraged REITs and funds. And, of course, like for any real estate investment, only 3 things will ultimately matter: location, location, and … location.