What makes Auto Credit Express unique is that they have created one of the nation's largest networks of auto dealers that specialize in financing auto loans for different types of credit profiles. In this post we will show you how you can use them to obtain an auto loan for a new or used car.
Auto Credit Express Review 2021
Auto Credit Express doesn't actually offer loans; however, they connect you with local dealerships and lenders across the U.S. who specialize in helping people obtain loans with bad credit, no credit, good credit, bankruptcies, and repossessions. 
Each dealer will have their own terms and while Auto Credit Express Doesn't pull your credit, one of the lenders or dealerships probably will.  
That is why I created this Auto Credit Express review, so that you can understand how their process works, and the advantages and disadvantages of using them.
Pros
Quick 3 Minute Application
Only Need 6 Mo. Employment
Cons
Loan rates depend on Lender
Must Use Network Dealership
Could Have High Interest Rate
Who Is Auto Credit Express?
Auto Credit Express® was founded by Rich LaLonde and has been around since June of 1999.
Their primary focus is matching their dealer partners with customers that have a challenging credit backgrounds.
Rich realized that the focus of the company should be on the consumer, utilizing the expertise of ACE and its employees.
They are like a broker because they don't actually fund any loans.
What Makes Them Different?
Auto Credit Express has a nationwide network of auto dealers in the United States that have over closed over $1 billion in bad credit auto loans.

You can also start this complete process either over the phone or online which is a great option
How Does Auto Express Credit Work?
Unlike a traditional bank or lender, Auto Express Credit is more like a personal agent or broker and you must go through the below process to apply with them.
So, How does Auto Credit Express work?
Meet The Guidelines
First you need to meet the general guidelines before you can apply and those are:
At least 18 years old, A current resident of the US or Canada, and Employed full-time or able to prove a guaranteed fixed income of at least $1,500 a month
Are You Buying New or Used
You need to figure out what type of financing you will need, are you buying a new car or a used car?
Will you be refinancing or are you looking for a lease buyout?
Once you know which option you are going for then you can go to the next step.
Follow The Process

Step 1 – Complete The Form
It takes 3 minutes or less to knock out the quick form to match you with an auto dealer or lender.

Step 2 – Pair Up
Once this process is complete you will start the next step of getting paired with a lender that can finance you.
Step 3 – Visit The Dealership & Shop
Now that you have been paired, it is time to visit the dealership and shop for your car.

VIEW RATES
Get Your Paperwork Together
Since you don't know which lender or dealership you will be going to, it's best to be prepared.
Things the lenders might need are:
Banking History
Proof Of Income
Proof Of Identity
Proof Of Insurance
Proof Of Residency
Information On Vehicle You Plan To Purchase
Current Vehicle Registration (If you plan to do a trade in)
Keep in mind this is just a general list, the lenders could need more or less information, just have at least the things above ready.
Time To Apply (Hard Inquiry)
Now that you know you meet the general requirements, you have all your documents together and you know what auto dealer you will be matched with, it's time to apply.
At this time you will probably see a hard credit inquiry hit your credit profile but don't worry, FICO will give you a 30 day grace period to shop for as many auto loan rates as you want and only show one hard inquiry in your record.
Quick Tip:
FICO allows you to shop around for the best auto loan rates for 30 days after your first inquiry. During this grace period you can apply for an unlimited number of auto loans without any additional inquiries being recorded to your credit file.
Review Your Offer
Be sure to review the offer from the auto dealer before you purchase.
You will be given up to 30 days to select one of the four offers presented to you.
You need to look at their requirements as well as interest rates and if they will require a down payment or a co-signer. Just be sure to pick the best offer!
Look At Everything
Remember that each lender will have their own specifics and requirements so be sure to look at each offer with as much detail as possible.
Make sure you understand what you are paying for and keep refering to the original offer to make sure nothing changed from the time you accepted it to the time your loan was funded.
Pick The Best Offer
Once you choose an offer your loan can be funded by either bank deposit, ach, check or certificate.
You can have your funds as early as the next business day.
Auto Credit Express Tools
Before you start your application process, I recommend you check out some of the tools offered by Auto Credit Express to get a better idea of how much loan you may qualify for and what the costs would be.
Auto Credit Express Calculators
Before starting the auto loan process there are a couple of things you should familiarize yourself with.
You should be aware of the current interest rates, and the auto credit express calculators that are helpful in determining how much of a loan and payment you can afford.
Checking Current Rates
First you want to check out the interest rate chart; we put this one below to give you an idea of what the chart looks like, you should be sure to click here to see current rates.
Current Auto Loan Interest Rates
| Current Dates | 60 Month new car | 48 Month New Car | 36 Month Used Car |
| --- | --- | --- | --- |
| 7/08/2020 | 4.33% | 4.31% | 4.73% |
| 6/24/2020 | 4.33% | 4.33% | 4.73% |
| 6/10/2020 | 4.34% | 4.38% | 4.76% |
| 5/27/2020 | 4.35% | 4.32% | 4.73% |
| 5/13/2020 | 4.36% | 4.34% | 4.74% |
| 4/15/2020 | 4.37% | 4.35% | 4.75% |
| 3/25/2020 | 4.42% | 4.38% | 4.90% |
| 3/11/2020 | 4.46% | 4.42% | 4.95% |
| 2/26/2020 | 4.56% | 4.51% | 5.02% |
| 1/15/2020 | 4.60% | 4.56% | 5.08% |
Note: Actual interest rates are based on many factors such as state, down payment, and verification of credit score. For an accurate rate based on your specific factors, please click here. Car loan interest rates provided by Bankrate. 35 types of FICO credit scores
The above chart gives you an idea of the starting interest rate based on how long you need the loan for.
As you can see, the longer time you plan to take to pay the loan off, the higher the rates become.
While the monthly premiums will be lower if you select a longer payoff period, you are going to end up paying much more interest.
Estimating Your Rate
Once you have an idea of what your starting interest rate might be you can now use the next tool to estimate your rate.
During this step you will choose the type of loan , the loan amount, put in your credit type or actual credit score and then your Zip Code.
Once you complete this process you will see 3 different APR's, a low APR, an average APR and a high APR.
You can use the Average APR to help determine what your monthly car note may be.
Finally, you will take the estimated loan amount with the Annual Percentage Rate or APR that you received from the "Estimate Your Interest" Tool to get a rate.
Figuring Out Your Car Note
This tool is going to help you understand how much you will need to pay on a monthly basis based on the loan term length you choose.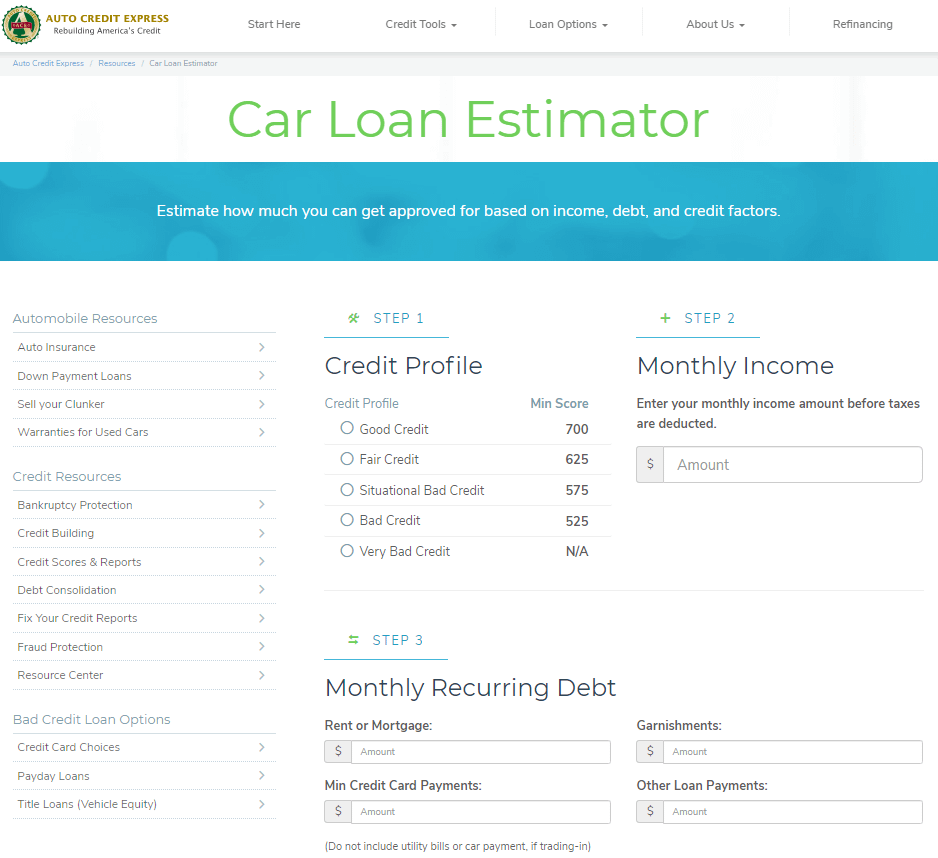 VIEW RATES
Auto Credit Express Reviews
Auto Credit Express has over 1,160 / 5 Star Reviews from Trust pilot which shows that customers are having an overall great experience with the Express Auto Credit process.
Below are some of their reviews: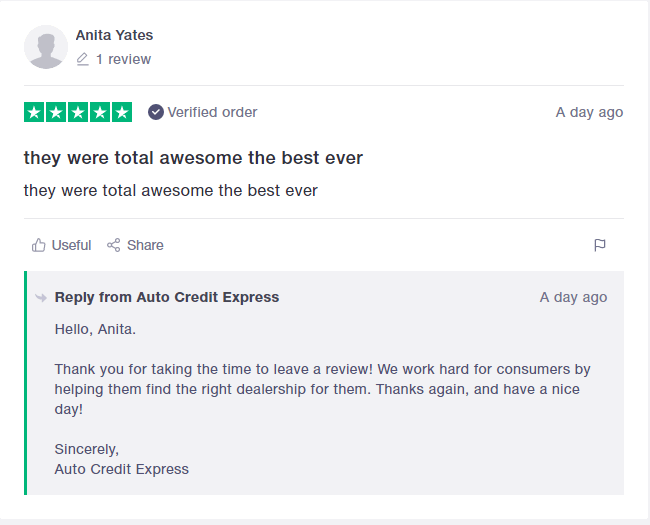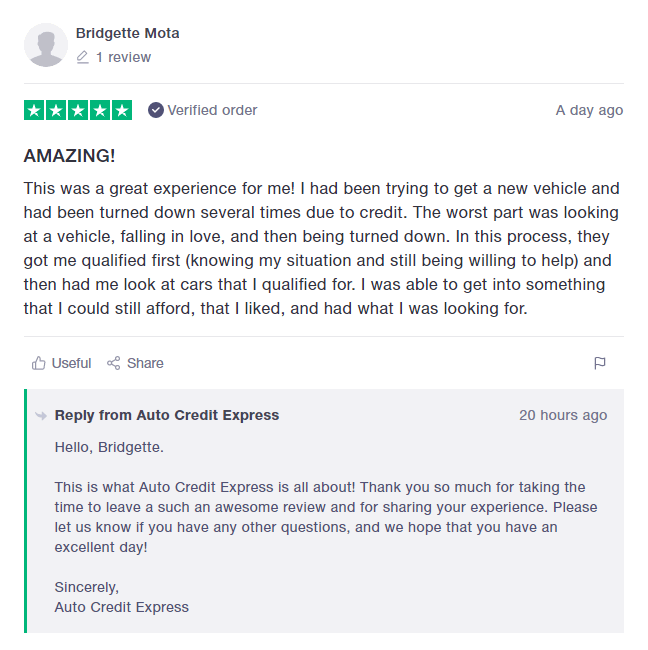 The cool thing about these reviews is that Auto Credit Express (ACE) replies to each one of them.
Auto Credit Express Reviews include a collection of some of the most trusted review websites around.
We take the most trusted customer reviews from sites such as Yelp, Google and BBB of the Auto Credit Express Reviews.
Customer have said in the Auto Credit Express Reviews that they are generally happy with the service they receive.
| Auto Credit Express Reviews | Customer Average Rating |
| --- | --- |
| Credit Knocks Reviews Avg. Rating | 3.9 |
| Yelp Reviews Avg. Rating | 1.0 |
| Google Reviews Avg. Rating | 3.5 |
| Better Business Bureau Avg. Rating | 3.0 |
| Consumer Affairs Reviews Avg. Rating | 3.4 |
| Best Company Reviews Avg. Rating | 3.8 |
| CUSTOMER REVIEWS AVG. RATING | 3.1 |
Auto Credit Express BBB – Better Business Bureau
Auto Credit Express BBB have been an accredited business for over 20 years, have an A+ rating, and have only had 3 complaints.
The Auto Credit Express BBB Reviews are mixed but generally point to a company that takes care of their customers.
I think 3 complaints over 20 years is a great standing, they also have 39 customer reviews on BBB with a 3 star average.

VIEW RATES
Who Should Apply For Auto Credit Express?
The best thing about Auto Express Credit is that they deal with multiple auto dealerships who are versatile in the type of people they can get approved for a loan.
Below are some people who should feel free to apply:
People Who Have Had Repossessions
The worst thing about having a car repossessed is that it usually happens that the most inconvenient time.
If you have had this happen to you then you know it also leaves a negative mark on your credit report and can hurt your credit score.
By dealing with Auto Credit Express, you can find a dealership willing to work with you, even if you had a car repossessed before.
A person With Bankruptcies
Someone with a bankruptcy is probably used to hearing the words "No" or "Declined."
However, it doesn't mean that you can't purchase a car because of one.
The good thing about Auto Credit Express's network is that they will be able to partner you with a dealership that will be best for your needs.
Someone With No Credit History
If you don't have any credit, it doesn't mean you have bad credit, it just means you haven't had a chance to establish any for the moment.
It is hard for lenders to make a good decision because you haven't shown if you will treat your credit good or not.
Auto Express Credit has plenty of dealerships with lenders that will work with you.
People with Little credit History
If you don't have a ton of credit history you can still get covered for an auto loan.
Your score might be in the mid to high 500's or low 600's but that doesn't mean you have bad credit.
It just means you haven't had a chance or taken the time to build your credit.
ACE has plenty of lenders that will assist you in getting an auto loan and if you want to get your loan under the best situation you should try our Free 90 day credit sprint.
Those with bad credit
If you have bad credit, don't worry, Express Auto Credit works with a nationwide set of lenders who will be matched with you based on your credit profile.
You can rest assured that they work with lenders who can get you covered with as little as a 500 credit score.
Now, if you are someone that has a 500 credit score you might want to do our 90 day credit sprint challenge or read over our 4 week credit boost guide before applying for an auto loan.
People With Good Credit
While Auto Express Credit doesn't primarily focus on helping people with good credit, they are still a great option.
If you have good credit you will find that you can still get a great rate and find the dealer that will give you the best deal.
Taking Action On A Car Loan
Hopefully, you found this Auto Credit Express Review helpful because getting an auto loan can be complicated and a time-suck if done incorrectly.
Now that you know there are dealerships ready and willing to work with you there is no reason to go without a car.
Getting a car loan is also part of establishing a different type of tradeline which overtime, will help increase your credit score.
Editorial Note: The editorial content on this page is not provided or commissioned by any financial institution. Any opinions, analyses, reviews, statements or recommendations expressed in this article are those of the author's alone, and may not have been reviewed, approved or otherwise endorsed by any of these entities prior to publication.
Additional Resources
Disclaimers:
Annual Percentage Rates (APR), loan term and monthly payments are estimated based on analysis of information provided by you, data provided by lenders, and publicly available information. All loan information is presented without warranty, and the estimated APR and other terms are not binding in any way. Lenders provide loans with a range of APRs depending on borrowers' credit and other factors. Keep in mind that only borrowers with excellent credit will qualify for the lowest rate available. Your actual APR will depend on factors like credit score, requested loan amount, loan term, and credit history. All loans are subject to credit review and approval. Discrimination based on gender is absolutely forbidden. Whether the loan is for her or for him, you should receive the same terms.