Rivian is one of the US stock market's most anticipated IPOs. The company is a "unicorn": a privately held company valued at more than $1 billion. That lofty valuation, backing from Ford, Amazon, and a premium list of venture capital investors, and a high-profile industry have many investors asking how to buy Rivian stock.
Let's take a closer look at Rivian and its business and at some ways to invest in Rivian shares.
What is Rivian?
Rivian is a new entry into the electric vehicle (EV) market. Unlike most EV makers, Rivian targets the SUV, light truck, and delivery van market for its initial product offerings. These vehicles will be semi-autonomous with a range of 400 miles per charge.
Rivian has a 2.6 million square foot manufacturing facility in Normal, IL, and additional locations in Michigan, California, and England. Rivian's first vehicles should hit the market in late 2021 and 2022 at prices ranging from $68,000 to over $74,000.
Founder and CEO RJ Scaringe holds MS and PhD degrees in mechanical engineering from MIT. Analysts expect Rivian's vehicles to feature new and highly sophisticated technology.
Many industry experts expect Rivian to offer serious competition to Tesla and other EV manufacturers.
In September 2021 Rivian gave several test drivers an advance look at the Rivian R1T pickup. Overall impressions were extremely positive, with reviewers praising the vehicle's luxurious interior, off-road performance, abundant power (800 horsepower), and 11,000-pound towing rating.
The R1T offers an all-wheel-drive with a separate motor for each wheel. Separation of the wheels from a central drive train allows maneuvers like the "tank turn": the R1T can spin on its axis, a maneuver no other pickup can perform.
For more on the pickup's performance, appearance, and other features, check out this R1T review from Car & Driver.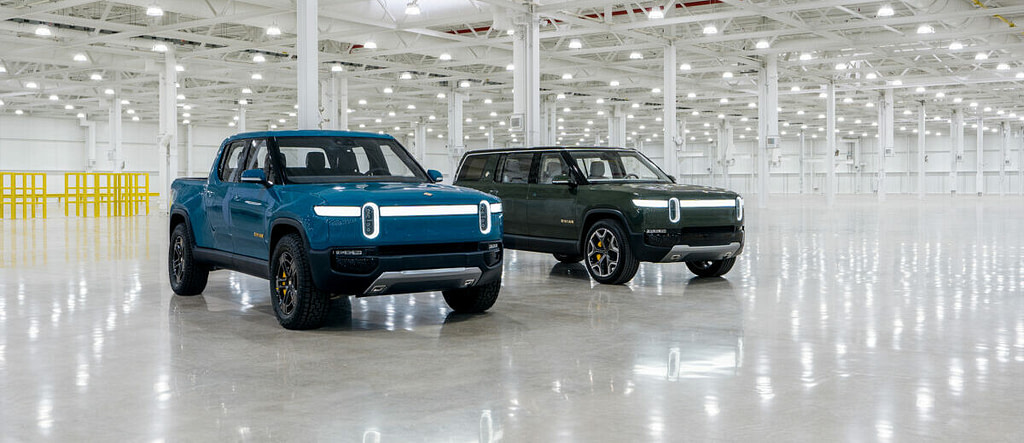 When Will Rivian Hold Its IPO?
Rivian moved a huge step closer to its IPO with the public release of its S1 filing on Friday, Oct 1, 2021. The S1 – a formal prospectus required for any new offering of shares – is a key step in the IPO process, providing potential investors with important details on the company and its finances.
Rivian still has not scheduled its IPO or set the terms. Companies often time IPOs to coincide with positive market sentiment, and there's no way to know when Rivan will schedule its IPO.
📧 Get notified when Rivian sets its IPO date – sign up for our newsletter.
Details From Rivian's S1 Filing
Rivian's S1 filing provides more information about the company than potential investors have ever had before. Some key points:
Rivian had 6,274 employees as of June 30, 2021.
Rivian spent $766 million on R&D in 2020 and $683 million in the first half of 2021.
The Company had 48,390 pre-orders for the R1T pickup and R1S SUV as of June 30.
Rivian had $3.7 billion in cash and cash equivalents as of June 30.
Amazon has ordered 100,000 delivery trucks by 2030, with exclusive rights for four years and right of first refusal to buy new units for two years after that.
Rivian losses were $1.02 billion in 2020 and $994 million in the first half of 2021, with much of the expense going to building its primary factory and its first vehicles.
Rivian will realize its first revenues in Q4 2021.
We can learn two lessons from this. One of them is obvious, the other might not be.
First, starting a car company costs a lot of money.
Second, Rivian may have backed itself into a market timing corner. The Company will need to stage its IPO fairly soon if it keeps burning cash at its current rate. If markets continue their downtrend, that could force the Company to hold its IPO in a relatively unfriendly market.
The Rivian S1 filing is available online for public viewing. It should be required reading for any potential investor.
Rivian's Financing
Rivian has received large amounts of venture capital financing. Amazon led a $700 million investment in Feb. 2019 and has ordered 100,000 delivery vans. Ford added another $500 million and is developing a vehicle using Rivian's technology.
Conventional venture capital firms are also in on the action. Major players like T. Rowe Price, Blackrock, Soros Fund Management, Fidelity Management & Research, and Baron Capital have all made significant venture capital investments.
Rivian is expected to hold its IPO sometime in 2021 or 2022. Some analysts have predicted an IPO as early as September 2021. Others suggest that the IPO may wait until vehicle deliveries begin. As with all IPOs, the schedule could change according to market conditions.
Based on current financing, Rivian is valued at $27.6 billion. Some sources are predicting a post-IPO value up to $50 billion, which would make the company more valuable than Ford.
The expectation that Rivian's value could nearly double after its IPO is driving many investors to look into ways to invest in Rivian stock.
How Can I Buy Rivian Stock?
Rivian is a privately held company. It is not traded on any public exchange, and you can't buy Rivian stock through a conventional broker.
If you want to invest in Rivian, you have several options.
Invest Through a Pre-IPO Secondary Market
There is a secondary market for pre-IPO shares, and it is sometimes possible to purchase them. Online pre-IPO marketplaces may acquire shares from early investors or employees who have received shares through stock options.
You may be able to buy Rivian shares through these marketplaces.
Forge Global/Sharespost is the product of a merger between two major pre-IPO marketplaces. The minimum investment is $100,000. Some shares may have higher minimums. Potential buyers may need to pass a qualification process.
EquityZen acquires pre-IPO shares from early investors and employees and makes them available to qualified investors. There will be a qualification process and the minimum investment is $10,000, potentially higher for some shares.
SecFi specializes in linking outside investors with employees who need to liquidate their stock options.
To use these platforms, you will have to register and open an account. You may need to meet a minimum level of income and investment experience to qualify, and there may be other criteria. There's no guarantee that any marketplace will have Rivian shares available.
⚠️ Investing in pre-IPO shares is risky. An IPO may be postponed if market conditions are not appropriate. If there is no IPO you may not be able to sell your shares.
📚 If you're interested, study pre-IPO investing and read this guide to how to buy pre-IPO stock before you start!
Invest in the IPO
If you can't find pre-IPO shares for sale, you might consider investing in the IPO itself. Your entry price will be higher, but you'll have a reasonable assurance that you'll be able to sell your shares if you want to.
Several major brokers allow account holders to participate in IPOs. All of them have requirements that investors have to meet. You will have to answer questions to confirm that you comply with rules on IPO investment.
☝️ Most IPOs allocate only a small number of shares for retail investors. Even if you qualify you may not be able to buy the number of shares you want. You may not be able to buy shares at all.
⚠️ Many IPO purchases come with a lock-up period, usually 90 or 180 days. You will not be able to sell your shares until this period expires.
Invest Indirectly
It takes significant effort to invest in pre-IPO or IPO shares. You may not meet the requirements. Even if you do, shares may not be available.
If you're wondering how to buy Rivian stock and you don't want to pass through the hurdles of IPO and pre-IPO investing, indirect investment is an option. Amazon and Ford both have a significant ownership interest in Rivian. Both are publicly traded and stand to gain if Rivian succeeds.
Ford, in particular, has a history of share price increases linked to Rivian's actions. If you believe that Rivian will have a blockbuster IPO, allocating a portion of your portfolio to Ford shares could be a way to exploit the Rivian IPO with an open market purchase.
Invest After the IPO
The most conservative way to buy Rivian stock would be to wait for the IPO and buy the shares on the public post-IPO market. You can do this through any brokerage account.
You won't get in at the low price offered by pre-IPO or IPO purchases, but it's the simplest way to invest, and there's still a substantial upside if the company succeeds.
👉 For a point of comparison, Tesla shares at the IPO were priced at $17. The shares closed at $23.89 on their first day of public trading. At the time of this writing, they are worth over $580. That may not happen again, but you don't need to buy at the IPO to earn a profit.
📧 Get notified when Rivian sets its IPO date – sign up for our newsletter.
Are There Any Concerns About Rivian?
All investments involve risk. Despite the high level of institutional backing and the high buzz levels, there are some potential concerns about Rivian.
Rivian hasn't sold a car yet. Rivian's entries into the car market are highly anticipated, but there's no assurance that the market will approve. A few bad reviews or widely publicized failures could affect the company's prospects.
Rivian's vehicles will be expensive. Initial products will range from $68,000 to well over $70,000. This could limit the market for the products and constrain growth.
The competition will be intense. Tesla has dominated the EV market, but many new products will be entering the market at the same time as Rivian's offerings.
Rivian's target market may not be receptive. Rivian is targeting the SUV, light truck, and delivery van market, while other EV makers have introduced sedans first. Buyers of pickups and SUVs could be less receptive to EVs.
All of these risks are speculative. They may or may not have any impact on the company or its value.
As with any investment, you'll have to do careful research to determine whether investing in Rivian stock is the best use of your money. Consider discussing your plans with a qualified financial advisor!
Conclusion
Rivian is one of the most anticipated IPOs of recent years. The company has generated investment from major companies and venture capital firms. This indicates that well-informed investors expect the company to succeed.
Rivian is a privately held company. You cannot buy Rivian shares on the open market. It may be possible to purchase pre-IPO shares or to invest at the IPO, but you'll have to meet requirements and there may be restrictions. These shares may not be available at all.
If it's not practical for you to invest in pre-IPO or IPO shares, you can invest directly by buying shares in a publicly traded company that owns a substantial stake in Rivian, such as Ford. You can also buy publicly traded shares after the IPO.
As with any investment, you should consider the risks before buying Rivian stock. Consulting a qualified financial advisor is always worthwhile.
FAQs
What is Rivian?
Rivian is a startup manufacturer of electric vehicles. Rivian's electric pickup trucks, SUVs, and delivery vans should reach the market in late 2021 or 2022. 
What are Rivian's Highlights?
Rivian has attracted investment and attention from leading players in the automotive, technology, and venture capital industries. Rivian has achieved an unusual valuation for a pre-IPO company.
How Can I Buy Rivian Stock?
Rivian is privately held, and no shares trade on stock exchanges. You may be able to buy pre-IPO or IPO shares, subject to restrictions. Investing in companies that own major stakes in Rivian is a way to invest indirectly in Rivian's future.
Are There Any Concerns About Rivian?
Rivian's vehicles have not yet reached the market. They will be expensive and there is no way to assure that the market will be receptive to SUVs and light trucks in this price range.