November 30th, 2021
---
Quick Stock Overview
Ticker: ATVI
Source: www.stockrover.com
Key Data
| | |
| --- | --- |
| Sector | Communication services |
| Industry | Electronic gaming & multimedia |
| Market Capitalization ($M) | $47,442 |
| Price to sales | 5.3 |
| Price to Free Cash Flow | 17.0 |
| Dividend yield | 0.8% |
| Sales ($M) | 9,052 |
| Net Cash per share | $7.76 |
| Equity per share | $21.76 |
| P/E | 18.1 |
| ROIC | 13.3% |
| Free cash flow/share | $3.59 |
---
Investment Thesis
Great Company, Even Greater Scandal
A video game company's most valuable assets are its brands, recognizable IP, and devoted fan bases. In this report, I cover a company that has all three. The gaming franchises from Activision Blizzard are legendary, with names like Warcraft, Diablo, or Call of Duty.
Since it continually develops and expands its beloved games, this should be a surefire way for the company to grow steadily and sustainably. Or it can create a new, extremely successful game, like Overwatch (my personal favorite). This kind of quality should translate into a steadily increasing stock price.
Or not.
In fact, there is something rotten at the heart of the enterprise and this is the company's work culture. It is no secret that much of the video game industry has a bad reputation for mistreating its employees and for having an overall sexist culture. But Activision Blizzard has pushed it one step too far.
The details of what happened will be explained later. However, this is not the first time a scandal about sexual misconduct has damaged company stock prices. The same thing happened in 2019. Once again, investors have suffered serious losses.
Why am I even reporting on the company? Firstly, the core business is still solid, as are the financials. I also anticipate that most of the current price collapse will slow down soon. And finally, now that the company has made its behaviors publicly known, I fully expect it to change.
According to this theory, we could see a repeat of the price action of 2019. In 2021, the stock rebounded to $103 from its lows of $43/share. As a result, Activision Blizzard could serve as a model for crisis investing. Or, as Baron Rothschild said, "Buy when there is blood in the streets".
This report first appeared on Stock Spotlight, our investing newsletter. Subscribe now to get research, insight, and valuation of some of the most interesting and least-known companies on the market.
Subscribe today to join over 9,000 rational investors!
---
Chapter 1: Great IP, Terrible Work Culture
Some Of the Strongest Video Game IP On Earth
Last time I covered a video game company, Nintendo, I argued that their IP was extremely valuable and undervalued. The same is true for Activision Blizzard.
Activision is the result of the merger between two video game giants, Blizzard and Activision (no surprise). In the past, Activision has been more of a producer than a developer, contracting studios to create games it could then sell. In a way, it's similar to how Hollywood studios work. The company has focused on games it can serialize and release often, like Tony Hawk's skating and Call of Duty.
On the other hand, Blizzard was a true grassroots, developer-led company that created entire categories in video gaming. Its StarCraft and Warcraft games remain reference points for the genre more than a decade after they were released. In the MMORPG (Massively Multiplayer Online Role-Playing Game) genre, World of Warcraft (or WoW) dominated for more than a decade. More recently, Hearthstone has dominated the collecting card game sector.
In contrast to Blizzard, Activision was perceived as more corporate and money-driven, which is a concept that is generally negatively perceived by gamers because they have a very emotional and anti-corporate outlook.
It was challenging for Blizzard to merge with Activision, with many key founding members leaving. Even today, the majority of the Internet seems to agree that Blizzard sold its soul in the deal.
Despite this, the company's growth has not slowed one bit. The group also acquired King, a mobile gaming giant. A few notable series include Candy Crush, Farm Heroes, and Bubble Witch.
With its three divisions, the group makes up a three-headed hydra capable of encompassing the entire video game market:
Games by Activision, such as Call of Duty, are mainstream games that are updated every year.
Games that have a dedicated fan base, such as MMORPGs, strategy games, and competitive shooters, are Blizzard's forte.
And King rounds out the trio with casual mobile gaming and puzzle games.
Even with the criticisms, Blizzard's games have maintained healthy sales, and Diablo 3 and Overwatch are even more popular than the older games in the Blizzard catalogue.
In addition, Call of Duty and King's game players don't give a damn about the corporate entity behind their mindless hours of fun.
IP and business foundations are rock solid, as evidenced by revenue and operating cash flow.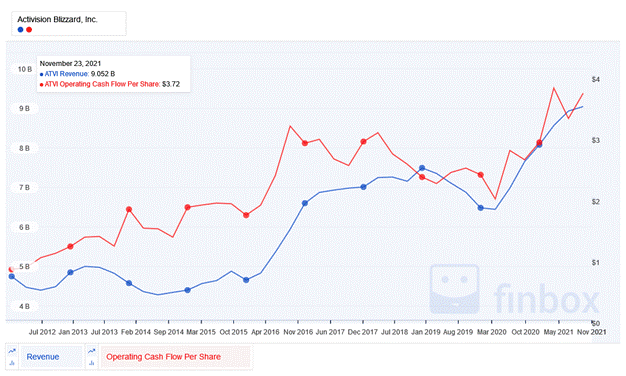 The story doesn't end here, of course. The share price of Activision Blizzard would be difficult to justify for any value investor if everything were so flawless. But why is the company embroiled in such a scandal?
How Bad Is It?
Bad, Really Bad
As I began my research for this report, I was vaguely aware that sexual harassment was a problem at the company. Even though this behavior cannot be tolerated in any way, I thought that this can be resolved with stronger HR policies, firing the few employees guilty of misconduct, and better support for women employees.
However, it's a lot more serious than a couple of rotten apples. Sadly, this is one case in which the idea of entrenched gender bias and discrimination is not an exaggeration.
In addition, the company's employees have had enough of staying silent and tolerating it for too long. More than 1000 employees have already signed a petition calling for the resignation of CEO Bobby Kotick. That represents more than 10% of the company's employees in open rebellion.
Quite rightly so, as a Wall Street Journal investigation showed he knew what was going on and buried it. Investors should also be concerned that he failed to inform the board and actively concealed the information from the board members and shareholders.
A Toxic Work Culture
In reality, the accusations are grave. It began with a "frat boy" culture, including company parties with strippers and DJs encouraging female employees to get drunk. Defamation of women, comments about female bodies, and jokes about rape were also included. As I said, this is going to be an ugly chapter.
By discussing investing in the company, I am in no way trying to minimize the severity of the situation. Later on in this report, I will discuss the ethics of this possible investment.
Following a two-year investigation, the State of California has filed a lawsuit regarding groping, unwanted advances, and unfair pay discrimination against women.
One of the more damning allegations (yes, it gets worse) includes allegations that an employee took her own life over sex toys brought along with her supervisor on a business trip in 2016 and 2017.
Bloomberg reports that employee was severely harassed prior to her death, with her nude photos being circulated during a holiday party at her company.
The link above also includes a denial from the company official regarding the accuracy of the lawsuit claims. Honestly, I am not convinced. Of course, you are free to make up your own mind.
Hierarchical Cover-Up
In addition to all that, it is now apparent that the CEO decided to keep the whole thing under wraps. He did not inform the board, the shareholders, nor did he appear to have done much to protect women at the company. We are talking about this man, Bobby Kotick:
Source: www.nbcnews.com
Apparently, some of the most serious issues occur within some of the Blizzard-owned studios. Despite the problem appearing to be widespread, it may not be company-wide since the King division of the company was relatively different.
---
Chapter 2: What Now?
The Response So Far
Due to Mr. Kotick's abysmal lack of leadership, the company is now in full damage control. The company will pay $18M in settlement to the California lawsuit. Furthermore, the company terminated 20 employees and got the heads of Blizzard and HR to leave in June.
By 2025, it aims to have 50% female employees (up from 20% today). I have no idea how this will work because I imagine it will be difficult to convince any woman to join the company. It is still a positive thing, as these new hires will likely replace some of the guilty staff. By doing so, the rest of the staff will see that the "party" is over.
Even so, this is not enough when entire offices are sharing nude pictures of their colleagues. Or when the CEO hides it all. Bobby Kotick is now "considering stepping down", but I don't believe his sincerity.
The following are more likely to motivate him to finally care for himself:
"Reduced CEO salary and bonus for 2021 by 50% to below 25th percentile of peers;†95%+ of CEO pay remains at risk; future LTI grants no greater than peer median"
and
"Increased the ownership requirement for our CEO from 10x base salary to 50x, which we believe is the largest ownership requirement of any Fortune 500 CEO"
It is still my opinion that he should be fired and lose as much money as possible for his awful behavior. However, this is a step in the right direction.
The Consequences
Having simmered for so long, the toxic work culture is now inevitable.
Activision Blizzard's key partners, including Nintendo, PlayStation, and Xbox, are threatening to end their relationship with the company.
The brand of the company has also been severely damaged, and people will have to stop associating it with harassment and rape for many years. The company may have some sales and revenue problems as a result.
Because of this, I think the company will still be in trouble for a few weeks or months to come. This is also true for its stock price. In this report, I am not laying out an idea for an immediate buy. Instead, I am describing the condition of a company with solid financial foundations that got cheap and might still do so.
On the other hand, it is unlikely that it will get much uglier than this. Therefore, I anticipate a favorable entry point by the end of 2021 or early 2022. My yardstick will be when the company's management has shown real change, either in composition or behavior.
Considering the scale of the scandal, I'm fairly certain this will happen very soon. We will no longer tolerate such behavior as a society, and the board should realize this soon enough.
Threats from all console manufacturers to cut ties with Activision (made only on the 23rd of November) should prompt the board to act, and hopefully result in the removal of the CEO.
I personally don't feel comfortable investing in this company while the CEO remains at the helm.
How Can Investing in This Be Ethical?
The situation reminds me a lot of BP's right after the explosion at DeepWater Horizon. In order to increase margins, the company had gotten sloppy with its security protocols. The result was the largest oil spill ever in the Gulf of Mexico, and an absolute disaster for both the company and its shareholders.
This also made entry level investments incredibly cheap for bold investors.
This radically changed BP's nature as a company. Historically, British Petroleum has been a profit-oriented company that doesn't care about the environment. Now it is a leading force in the growth of renewable energies, seeking to rebrand itself as "Beyond Petroleum". The results of a massive stock crash and managerial turnover are astounding.
Activision Blizzard is poised to become the BP of the video game industry. As a result of the current image, the company must completely revamp its corporate culture. As a result, the company will be scrutinized more than ever before.
Sexual discrimination cases could be passed over by companies with a better reputation as "an isolated incident.". Activision Blizzard lost that chance long ago.
Once they realize this, shareholders and board members will be careful not to repeat the same mistake. Large institutional shareholders are also likely to become more active and exert more pressure on the board members, lest they too get caught up in the scandal firestorm.
I hope so, at least.
---
Chapter 3: The Company's Future
The Financials Ignored the Storm
It does not reflect well on my fellow gamers, but Activision Blizzard sales have not been affected at all by the scandals.
As a result of the pandemic, more people have more free time, and many have upgraded their gaming gear (both PCs and consoles) in 2020.
Source: investor.activision.com
Over the next several years, I expect the 2020 growth to slow down a bit, but still maintain a healthy long-term trend.
Several game releases have been postponed. Partly, this is to avoid negative press coverage about sexual discrimination drowning out the release. Additionally, I think the team will need new members before the release, since more people will be fired before the launch.
This might impact quarterly results, but it will give developers extra time to polish their games, which should help rebuild the company's reputation among gamers in the long run.
New Commercial Model
With the yearly release of Call of Duty games, Activision has developed a very strong formula for monetization. As a result, the company's portfolio is now being expanded to include:
"We had roughly 400 million players in 2020, and we're accelerating our path to reach 1 billion players per month as we deploy our Call of Duty model to other franchises and pursue a clear path to drive expanded reach, engagement, and player investment across our largest franchises"
In order to reach this +150% increase in players, the company is not only releasing updates to licenses more frequently. It is also focusing heavily on mobile gaming, as evidenced by the success of Call of Duty Mobile (450 million downloads) and Warzone, a free-to-play game.
The free-to-play model with microtransactions allows for a "free" entry point for new players, while at the same time allowing for substantial income down the road once the user base is established. Today, almost anyone has a powerful enough mobile phone to run these games.
There will likely be two effects from this.
It will alienate the old guard of the Blizzard fanbase a little more. The video game industry is increasingly moving into a mainstream market rather than a niche, geeky market, so this is unavoidable. Microtransactions are becoming more common in games like Diablo, MMORPGs, and shooters. There has been a lot of development in the market in recent years, leaving some fanbase tastes of the past 10-20 years behind.
Thus, we have the second effect. Hardcore gamers will undoubtedly hate such changes. The "mainstream" players will also generate plenty of revenue when they fork over extra cash for upcoming playable characters or "cosmetic" upgrades to their avatars.
Blizzard will become more money-focused, bringing its licenses in line with Activision's and King's, as this finalizes its "mainstreamization."
No matter what, despite having the most recognizable franchises, Blizzard is no longer the heart of Activision Blizzard and is actually the smallest of the three departments by revenue. Unlike its iconic strategy games, most of its income comes from WoW. Therefore, it is probably time for this division to catch up with the rest of the company in terms of revenue.
Some may lament the passing of the "old Blizzard", but this happened easily 5-10 years ago. As shareholders, we should instead celebrate the success of pivoting to the new dominant business model in the video game industry.
Future Products
Follow Up and New IP
The company's main line of business is to continue what has worked in the past. The next-generation Call of Duty games, Diablo IV, etc… should keep the bottom line pretty healthy. The user base is there and will easily upgrade to the upcoming opus.
New licenses are another area of expansion. Despite its terrible leadership and work culture, Blizzard has managed to launch new IP like Overwatch. Overwatch 2 will premiere soon. The same can be said for the Activision branch of the company and the creation of the Sekiro franchise. An improved management team should help to maintain this momentum.
Over time, I expect the company to continue developing new licenses and to use them as a key engine of growth. Every now and then, brand-new video game trends emerge, such as MOBAs and Soul-like games.
Despite the scandals, Activision Blizzard has the marketing skills, financial firepower, and technical ability to take these upcoming trends and build entire franchises. It could also adapt existing licenses to fit these evolving trends. In any case, creating a new growth engine would mean creating an entirely new opportunity for the company.
The Power of Nostalgia And Evolving Mediums
Even if fans are dissatisfied with changes, nostalgia remains a strong buy factor for older gamers. Activision Blizzard understands this well.
The company recently released a volley of nostalgia-themed games. Among these are remasters of old games with updated graphics and improvements, such as the legendary Warcraft III, Diablo II, or a return of WoW in its original form.
In addition, it means the resurrection of long-abandoned, but still dearly remembered IP, such as Crash Bandicoot and Spyro the Dragon, both classics of the Playstation 1 in the early 2000s. Gamer's feelings about such a long-awaited new opus are captured best by the new Crash Bandicoot game's subtitle:
The interesting part, however, is that these licenses are also being made available on mobile devices through the King division. Mobile gamers (mostly women) who did not experience the old Crash Bandicoot games will now become familiar with the previously dormant IP.
Still Dormant IPs
Activision Blizzard still has a lot of under-exploited IPs at the moment. There have been NO MMOs or shooters in the Starcraft franchise, for example. There is no reason why they couldn't or shouldn't exist. Starcraft Nova, a shooter set in the Starcraft universe, was planned, half-developed, then abandoned. As a successor to the aging World of Warcraft, World of Starcraft might do very well as a best seller.
There are still plenty of IPs Activision Blizzard owns or has worked with in the past. These IPs could make a successful return, get adapted to updated gameplay, or get a modernized release. Examples include:
Prototype, an acclaimed open-world action-adventure game.
Vampire the Masquerade, a grim RPG perfect for an adult audience.
Destiny, an action-oriented shooter.
Guitar Hero, a party game that used to be a massive seller on consoles.
---
Financials
I had a quick look at the company's financial performance. Taking a closer look allows us to see the company's operations more clearly. The PC segment is now the smallest of the three, with consoles and mobile ahead.
Source: investor.activision.com
With a total debt of $3.6B, the company pays very low interest rates (2.87%) on that debt. Regardless, the debt load is small compared to the assets, with total liabilities below the current asset value.
It would be prudent to use cash and/or these low interest rates to acquire competitors or existing game licenses and maintain the share count.
The $8B treasure chest seems like a poor allocation of capital to me, so I would support such a strategy. I would prefer to see the money used to develop original games or to acquire competitors and valuable intellectual property.
Since a large drop in share count in 2013, the company has not done any buybacks. Additionally, its dividend yield is very low, even though the dividends have grown regularly over time. Due to the fact that share price appreciation is a major factor in shareholder returns, I imagine existing shareholders have been upset by the current crash.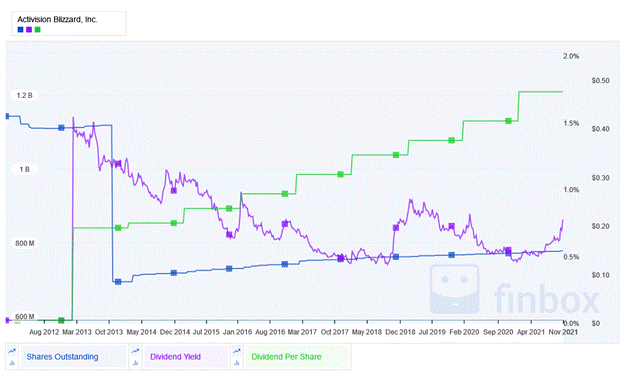 The company uses a special accounting method for measuring cash flows. In this method, most of the actual costs, such as software development, are accounted for under operating activities rather than investing activities. The example above illustrates how traditional accounting struggles to measure well intellectual property-centric companies.
Most of these expenditures are actually capital expenditures, so operating cash flow is actually higher.
---
Chapter 4: Valuation
Given Activision Blizzard's strong video game license base and its ability to keep growing revenues over time, I think two valuation methods make sense. Either Discounted Free Cashflow or Earnings Growth, both measure the value of future profits.
Discounted Cash Flow
The company trades at a price to free cash flow ratio of 15-25, with periods of much higher ratios. The current ratio of 17.2 is rather low.
The company's free cash flow has grown at a very impressive rate of 17% over the last 10 years. Should the damage to the brand impact growth or if some of the plans for mobile expansion fail, I will use a more conservative estimate.
With these conservative assumptions, Activision Blizzard is worth $65, slightly higher than its current $61.77.
Earnings Growth
EPS has grown at 14% over the last 10 years, but I assume a lower number to be safe. For the 2014-2020 period, P/E was between 24-62, so a very conservative estimate here as well. The P/E ratio is currently at 18.
Even with these conservative assumptions, I am still expecting returns of 12.3%, which is pretty high considering the company quality and how conservative the assumptions were.
I expect Activision Blizzard to deliver a 12-15% return over the long run based on these valuation calculations. Even though the stock price is still falling, there will be better returns soon, since the ongoing price drop does not reflect the degradation of fundamentals.
---
Conclusion
There is no doubt that the current situation of Activision Blizzard does not make the company appear particularly attractive. The treatment of female employees is truly abhorrent, and I expect it will take some time to remove the stain from the brand.
I am, however, doubtful that it will have any effect on game sales. Games are bought for their entertainment value, and gamers know little or nothing about the companies that make them. Even though the scandals will force changes in the company, they are unlikely to have a lasting impact on sales and profits.
As all the main console companies press Activision Blizzard, some real change should finally occur. The lawsuit filed by the state of California and activists' pressure should be finished by threats from irreplaceable clients and partners. It is no longer possible for the board to ignore the problem or hope to silence it.
In a decade, BP transformed from being the world's biggest polluter to being a poster-child of an ESG-friendly, green energy company. I expect Activision Blizzard to undergo the same transformation when it comes to social responsibility and gender equity.
The company may still face weeks, if not months of troubles in the future. If the CEO is ousted, I believe we'll have reached the bottom of it as far as the stock price is concerned.
As far as trading strategy for Activision Blizzard is concerned, I can see two possible outcomes:
If ATVI continues to weaken, you can add to it slowly as it weakens, averaging down your cost basis as it does so. Taking this approach ensures that you don't miss the cheap price. Nevertheless, keep some dry powder on hand in case prices crash further.
Another option is to wait until management changes have been made. The "wait until it gets a tad better" strategy. So far, it is nearly impossible to say if this will happen next week or next year. It should happen by spring 2022 at the latest, but who knows?
If Activision Blizzard can clear the skies of scandals and additional lawsuits, as well as shareholder punitive actions, it can become a leader in the main gaming categories of shooters, mobile games, strategy games, and MMOs.
License revenue is still strong, and mobile revenue is just beginning to show. Additionally, Nintendo-style expansions of the IP are also possible in the future. We've already had a semi-successful Warcraft movie; we might see more of this in games like Call of Duty, Starcraft, etc… I also hope that more creative work environments and new teams will help foster more innovation.
Overall, the marketing acumen, growing experience, and wealth of IP of the company give it a high chance to succeed and prosper again. It would be wise for investors to ignore most of the fluctuations in the stock and concentrate on the company's fundamentals. As long as sales remain strong, Activision Blizzard's future will be much safer (and more profitable) than the headlines suggest.
Holdings Disclosure
Neither I nor anyone else associated with this website has a position in ATVI and no plans to initiate any positions within the 72 hours of this publication.
I wrote this article myself, and it expresses my own personal views and opinions. I am not receiving compensation, nor do I have a business relationship with any company whose stock is mentioned in this article.
Legal Disclaimer
None of the writers or contributors of FinMasters are registered investment advisors, brokers/dealers, securities brokers, or financial planners. This article is being provided for informational and educational purposes only and on the condition that it will not form a primary basis for any investment decision.
The views about companies and their securities expressed in this article reflect the personal opinions of the individual analyst. They do not represent the opinions of Vertigo Studio SA (publishers of FinMasters) on whether to buy, sell or hold shares of any particular stock.
None of the information in our articles is intended as investment advice, as an offer or solicitation of an offer to buy or sell, or as a recommendation, endorsement, or sponsorship of any security, company, or fund. The information is general in nature and is not specific to you.
Vertigo Studio SA is not responsible and cannot be held liable for any investment decision made by you. Before using any article's information to make an investment decision, you should seek the advice of a qualified and registered securities professional and undertake your own due diligence.
We did not receive compensation from any companies whose stock is mentioned here. No part of the writer's compensation was, is, or will be directly or indirectly, related to the specific recommendations or views expressed in this article.