As an investor, it's vital to understand the most suitable product for your investing style, budget, and risk tolerance. Some investors take the time to connect details all over the world to reach a conclusion. A few are purely number players, while most are on the hunt for the next smart idea.
I have recently come across a new (free) investing research platform, WallStreetZen. WallStreetZen is a newer platform, but I think it has some nice properties, so I wanted to share and provide a comprehensive review for users.
Here is my WallStreetZen review. I'll go over what makes WallStreetZen a unique service and who this service is for. Enjoy!
What Is WallStreetZen?
WallStreetZen is the freshest stock research platform that isn't all data. It's a tool that aids everyone in interpreting necessary data. Their goal is to assist part-time investors like yourself to establish an improved long-term investment decision.
WallStreetZen was established because its founders became disappointed with the current stock research sites. Because of this, they aimed to create a better and more optimized stock analysis experience. It's particularly for serious investors who want to further understand stocks they're investing in, but aren't financial experts.
Generally, the idea behind this website for stock research is simple. A lot of stock research tools are made by finance experts for finance professionals. This results in a ton of dense tables packed with numbers and financial ratios.
The thing is, they don't provide you with the necessary contexts to better understand the data. But with WallStreetZen, you'll definitely get what you need.
WallStreetZen Review – What Can It Offer?
WallStreetZen isn't your typical stock research platform. It takes on a different approach by not just showing you financial data. It helps you interpret these while comprehending the context.
This is done with beautiful graphics and charts. You won't find any detailed line item breakdowns of a financial statement here, but what you will find are some detailed graphics that help put those financial statements into perspective. Check our AAPL's balance sheet below.
While you won't get the details, these graphics provide a great overview and sense of overall knowledge of the company's data.
Intrinsic Visualizations for Vital Context
WallStreetZen makes use of intuitive data visuals together with automated stock analysis. These help you further grasp the stock's fundamentals in just a few minutes. You don't need any finance background or expertise to understand these.
Get immediate snapshots of historical trends, as well as the industry's benchmarks that you've been looking for. And that's without having to spend so many hours looking into tables.
Stock Screener (Free)
You can utilize their free stock screener to search for investing opportunities. These searches are tailored to your personalized filters to give you only the details you need.
Stock screeners are also called share screeners or stock scanners. They're a collection of stocks that allows you to set filters to see stock lists that meet your criteria.
WallStreetZen's free stock screener application narrows down all the present stocks. These are based on concrete variables like revenue, market capitalization, earnings, revenue, operating income, profit margins, and vital financial ratios. The latter includes P/E ratios (price-to-earnings ratio), D/E (debt-to-equity ratios), ROEs (return on equities), and a lot more.
However, you should remember that qualitative factors aren't things that you can readily screen in stock screeners. Some of these are the quality of the company's products, long-term business strategies, disruptive technologies, and the like. To achieve these, you'll need to learn these as part of your general stock research process.
While WallStreetZen's screener is pretty basic, it is easy to navigate and understand.
WallStreetZen's Advantages
With WallStreetZen, you can look into a company that you want to research and focus on. The site will take you to a page with information that includes company details, stock price, revenue, market capitalization, and price-to-earnings ratios. Take a look at Apple (AAPL) again:
WallStreetZen shines when it comes to providing easy and understandable analysis. Each of the stocks features a Zen Score that determines and evaluates each company according to these factors.
Forecast
Valuation
Performance
Dividends
Financials
As you can see above, AAPL's valuation score is currently low. This is because the stock price has been performing incredibly over the past year, surpassing its fundamentals. That's also where you will see a high score for performance.
Each page even combines news articles that cite the company. This will let you read about current happenings and news that can influence the company's stock price.
What's great about WallStreetZen is that it's entirely free to use. So, it's an excellent addition for you and every investor's research collection.
Objective Analysis with No Hidden Agenda
Financial models that WallStreetZen uses do not have hidden agendas or personal biases. They provide the same equal quantitative analysis to each stock that's listed.
Automated Due Diligence Does the Work for You
What's great is that you don't need to run DCF models and establish spreadsheets for tracking changes. WallStreetZen does automated due diligence on the newest financial data. Then, it provides you with all the necessary results in simple, one-lined details.
Only the Essentials
Instead of packing each page until it reaches data overload, they choose vital metrics that each investor should focus on. Also, they assist you in visualizing the industry and historical context behind each number.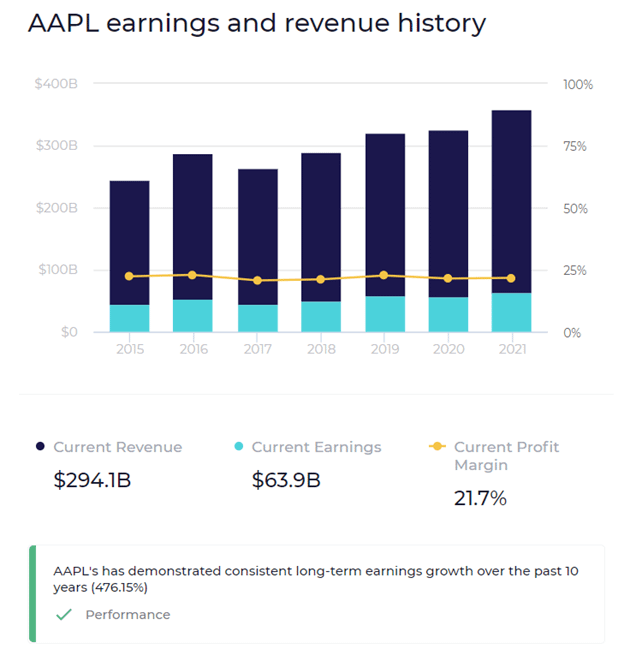 Minimalist, Clean, and Sleek
WallStreetZen cares about giving everyone a great user experience. So, they made things clean, sleek, minimal, and user-friendly.
This is perfect for investors who aren't into the clunky and cramped interfaces of classic brokerages. Plus, WallStreetZen does this for analysis and stock research websites too.
Compared to most stock research sites packed and cluttered with excessive data, WallStreetZen takes on a minimalist approach. Everything's simple and clean, allowing you to focus on all the data you need to make excellent investing decisions.
WallStreetZen Review: Limitations
It's hard to knock a free service. The only thing I can think of is just be aware that WallStreetZen is in beta mode. Things could change if you are used to a specific format.
But all its distinct features and focus on user experience make it the most indispensable and reliable stock research site. It's best for investors who want stock analysis with less noise and more insight.
Is WallStreetZen for You?
If you're new to fundamental analyses, then you can take advantage of WallStreetZen for guidance and education. This is a great way to learn as you practice the necessary fundamental analysis skills.
Overall, this is a great free resource geared for beginner investors who don't desire to analyze annual reports or financial statements. The graphs and charts are beautifully crafted and easy to read. The stock screener is basic, but highly functional.
Experienced investors who enjoy the data and details will likely need to look elsewhere. Services like Stock Rover or Finbox are some great options for those that desire an in depth experience.
💡 Check out the rest of our reviews to find the best service that fits your investment style and budget.
Interested in WallStreetZen?
Now that you've finished reading our WallStreetZen review, do you think it's the stock research platform for you? If you're planning to utilize WallStreetZen, you can easily check WallStreetZen's free stock screener app.