We review a lot of companies. Many of the companies' websites say all the right things, but when we dig deeper and read customer reviews, it's clear that the companies don't deliver. Not so with Sky Blue Credit Repair!
Sky Blue Credit Repair
Sky Blue Credit Repair has been in the credit repair business for many years. They have earned a reputation for excellent customer service. Their customer-focused program offers the lowest reviewed monthly rate, with features including a membership pause option and a no-fine-print 90-day money-back guarantee. They are an excellent choice whether you need a complete credit restoration or just to dispute a couple of records. 
Cons
Not Available In Every State
Who Is Sky Blue Credit Repair?
The two most common questions are…
"Who is Sky Blue Credit Repair?" and "What does Sky Blue Credit Repair do?"
Sky Blue Credit Repair, also sometimes wrongly referred to as 'Blue Sky Credit Repair' was founded in 1989 by James and Steven Kemish in Boca Raton, Florida.
They provide professional services to help with the removal of inaccurate negative records from your credit file. They will also go beyond disputing credit report errors and help you proactively rebuild your credit.
Sky Blue Credit Repair has been helping customers fix their credit for over 30 years.
Sky Blue's extensive track record lets you select them with confidence. You may not make a huge difference in your credit – no credit repair company can guarantee results – but you won't get cheated.
What Makes Them Different?
In an industry where 'shady' is the norm. Sky Blue has the best customer reviews of any credit repair company we have reviewed. Past clients use words like 'good' and 'great' when describing their customer service in reviews. In an industry where their closest competition's service is lucky to get an 'OK.' If you really want to know what makes Sky Blue different, you only need to compare its customer reviews with the reviews of its closest competitors.
Sky Blue Credit Repair's plan covers all services that they offer. They do not offer the typical multi-tier plan options.
There is one plan for one price that includes all the services they offer.
Below we discuss the plan in detail:
Sky Blue Difference
The Sky Blue Difference plan includes all services offered and will come with the following benefits:
Sky Blue Difference
90-Day Money-Back Warranty
Toll-Free Support
Cancel Anytime
Pause Membership
Dispute Late Payments
Dispute Identity Theft
Dispute Charge-Offs
Dispute Collections
Extra Services
This plan will cover all of your credit restoration needs. In Sky Blue's own words: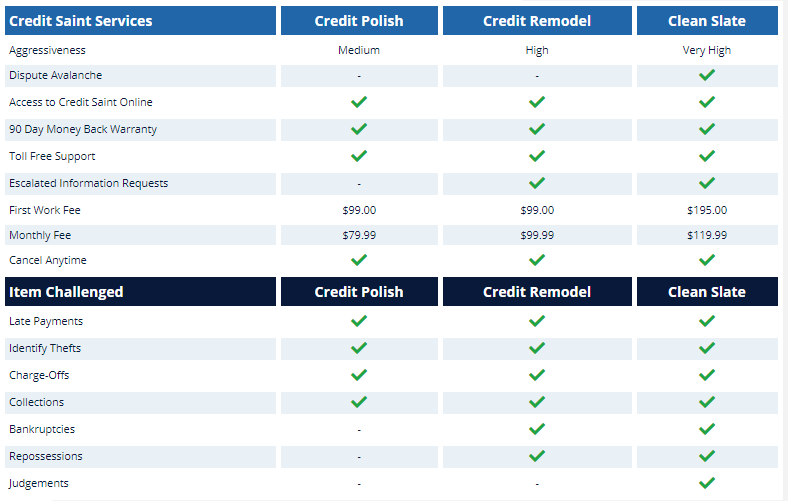 The Sky Blue Program includes the following elements.
Pro Analysis. Before Sky Blue takes any action, a professional counselor will review your credit report and develop a plan to help you improve it.
Custom Disputes. Every dispute letter Sky Blue sends is developed for your needs: no template letters!
Faster Disputes. Sky Blue works on a 35-day dispute cycle, 10 days faster than most competitors.
Statute of Limitations Research. Sky Blue will calculate the Statute of Limitations for each of your debts and plan a response accordingly.
Extra Services. Cease and desist, debt validation, and goodwill letters are part of the package, along with other communications.
Score Assistance and Credit Rebuilding. Sky Blue won't just dispute inaccurate records. They'll develop a customized plan to help you rebuild your credit.
Coaches on Call. Sky Blue customers have access to professional credit and financial coaches at any time.
Mortgage Preparation. Sky Blue offers a special program to help you maximize your credit score and prepare to make a mortgage application.
All of these services are available to all Sky Blue customers, not just the top tier.
What Does Sky Blue Credit Repair NOT Cover?
Sky Blue Credit Repair cannot guarantee you a specific outcome with your credit but they will give you a 90-day money-back guarantee.
No credit repair company can guarantee improved credit. The Credit Repair Organizations Act (CROA) forbids such guarantees.
No credit repair company can guarantee the removal of a legitimate debt from your credit report. This may be possible if you dispute the account and the creditor fails to verify your debt, but there is no assurance that this will happen.
They also probably won't be able to help with student loan debt. Unless you are facing a serious financial burden or can find a loan forgiveness program, getting a student loan removed from your credit is nearly impossible.
There are things you can do to lessen the blow of poor student loan payment history and Sky Blue Credit Repair review can help with that. Removing other accounts may leave you more money to pay your student loans, and improving your credit could open refinancing options.
How Much Does Sky Blue Credit Repair Cost?
When you inquire, Sky Blue will review your credit reports and conduct a free telephone consultation.
After these steps, if they feel that they will be able to help fix your credit or meet your goals, you will be charged the $79.00 review fee if you choose to retain their services.
Each month from that date forward, you will then be charged a $79.00 monthly membership fee until you either pause or cancel your membership.
This is the most customer-friendly membership plan out there.
Another benefit they offer is that if you cancel, they do not charge you a last monthly payment fee, as many competitors do.
Sky Blue offers a 90-day no-strings money-back guarantee. If you're not happy, you get your money back. You can also pause your plan for a month and skip a payment if you need to.
Couples Discount
Sky Blue Credit Repair also offers a couples discount: the second person's monthly price will be marked down 50%.
You do not have to be married to receive the couples discount. To qualify for a couples discount, you must:
Live together
Pay together
Below is a detailed breakdown of the pricing for their plan and their initial review fee:
| Plan | Review Fee | Monthly Cost |
| --- | --- | --- |
| Sky Blue Difference | $79.00 | $79.00 |
The 90-Day Money-Back Guarantee
Sky Blue Credit Repair is the only company in the industry to offer an unconditional 90-day money-back guarantee.
Customer Reviews
Customer reviews are the single most important tool we use to evaluate a company. Anyone can that promise the world, but customer reviews will tell you whether or not they deliver.
I don't buy a product before I read the Amazon reviews because I know I will get honest customer opinions. Amazon doesn't sell credit repair services, so we have to look to other sources for review information, such as Google, Yelp, and the Better Business Bureau. We have read thousands of positive reviews of Sky Blue Credit Repair.
Some of these reviews claim that during the free consultation phone call; potential customers were told that their credit was not bad enough to need Sky Blue's services. They then were directed to Sky Blue's free credit education section to fix their credit themselves.
Another theme of unbelievable reviews was from people whose memberships were canceled because they had fixed everything they could. One of the reviews that blew our mind was when they refunded a customer's money because they didn't believe that the usual dispute process was going to work. We could go on and on about a company that forgoes profits for the betterment of their customers, but we think you understand this is the type of company you want to use for your credit repair needs.
| Sky Blue Credit Repair Reviews | Customer Average Rating |
| --- | --- |
| Google Reviews Avg. Rating | 4.4 |
| Better Business Bureau Avg. Rating | 3.4 |
| Creditful Reviews Avg. Rating | 4.6 |
| Consumer Affairs Reviews Avg. Rating | 4.8 |
| Best Company Reviews Avg. Rating | 4.5 |
| CUSTOMER REVIEWS AVG. RATING | 4.3 |
Phone Number & Address
Sky Blue has been located in Boca Raton, Florida since its inception in 1989.
You can find them at 6001 Broken Sound Pkwy NW Ste 300, Boca Raton, Florida 33487.
They can be reached Monday – Friday between the hours of 9 a.m. and 5 p.m. (EST) by dialing the toll-free Sky Blue Credit Repair Phone Number: 1-800-790-0445.
Or look up their website.
Who Is Sky Blue Credit Repair For?
Credit repair is mainly for people who have bad credit. If you need to get better credit so that you can get that new car or move into an apartment or home, they can help.
Credit repair can also help a young couple who wants to move to a new house but cannot afford or accept the terms of a mortgage because of a low credit score.
If for any reason, you are not happy in the first 90 days, they will issue you a complete refund. Even if they have successfully removed some negative records you are still eligible for a refund.
What To Expect After You Sign Up
If you decide to sign up after your free credit evaluation, you will receive an email with instructions on how to obtain your free credit reports. Once you receive copies of your credit reports from the three major credit agencies, send them to Sky Blue Credit Repair ASAP.
Once they receive your credit reports, they will begin your credit file evaluation.
When the evaluation is complete, they will set up your personal portal account and begin disputing any negative credit record that is inaccurate.
Helpful Tip
You should upload all of your documents. The sooner they receive the information, the better results you will have overall.
How To Cancel
The fastest way to cancel your membership is to contact them by phone at: 1-800-790-0445 between the hours of 9 a.m. – 5 p.m. (EST), Monday – Friday.
If you do decide to cancel, you will owe no additional money.
However, we'd suggest that instead of canceling your membership, consider using their free 'pause membership' option.
If you choose to pause your membership, all billing will stop until you unpause it.
There is no fee to pause your membership or restart it, and you can pause it as often as you like.
Best Alternatives
There are other reputable companies that can help you repair your credit. You can find out more about them by reading our reviews.
| | Initial work fee | Monthly fee | Credit monitoring | Discount | Money back guarantee | Cancellation policy | BBB rating | Founded in |
| --- | --- | --- | --- | --- | --- | --- | --- | --- |
| The Credit Pros | $119–$149 | $69–$149 | Yes | / | 90-day money back guarantee | Full refund within 5 days after signing | A+ | 2009 |
| Credit Saint | $99–$195 | $79.99–$119.99 | Yes | Family member discount (first work fee only) | 90-day money back guarantee | No pro-rated refunds | A | 2007 |
| Sky Blue | $79 | $79 | No | Couple discount | 90-day guarantee | No cancellation charge | A+ | 1989 |
| Ovation Credit | $89 | $79–$109 | Yes | Referral, couple, military, senior, upgrade | / | Cancel any time — no-risk refund policy | A+ | 2004 |
| Lexington Law | Credit report access fee plus first work fee | $99.95–$139.95 | Yes | Military, family | No money-back guarantee | Cancel anytime | NR | 2004 |
Taking Action On Your Credit
We hope you found this review helpful. Starting your credit journey can be complicated and confusing.
There is no better time than now to get things started. You should look into what credit repair companies do, and it's worth considering a DIY approach, especially if your problems involve a relatively small number of accounts or a clear, verifiable error. If you do decide to use a credit repair company, Sky Blue is one of our top picks, and we believe that you can retain their services with confidence.