What makes MyAutoLoan unique is that they created a proprietary system to help figure out the 4 best lenders for your specific financing situation. In this post we will show you how you can use them to obtain an auto loan for a new or used car.
MyAutoLoan Review 2021
MyAutoLoan is a great option when you need to obtain financing for a new or used vehicle, even if you have bad credit.

You are able to get matched with lenders that work best with your profile to give you the best opportunity for getting approved for a loan.
However, it is going to cost you a hard credit pull on your credit report and you need to be mindful of the different rates for each lender. 

That is why I created this MyAutoLoan review, so that you can understand how their process works, the benefits of using it, and its short comings.
Pros
National Lender Network Access
Up To 4 Offers In 2 Minutes
Who Is MyAutoLoan?
MyAutoLoan is a privately held company that was founded in 2003 and is part of the Horizon Digital Finance Family of companies.
Their primary focus is matching a borrower with a wide variety of auto loans.
Think of them as a broker, they don't actually fund the loan themselves, they will find up to four lenders to match you with for auto financing.
They are authorized to do business in all states excluding Alaska and Hawaii.
You are able to get matched with loans for either new or used vehicles, refinancing a loan or for motorcycles.
What Makes Them Different?
Myautoloan com uses a proprietary analysis and evaluation process they call "Preferred Placement®" to figure out which lenders to match you with.
They use this method against a nationwide database of lenders to come up with the 4 lenders that will be able to give you the best offer.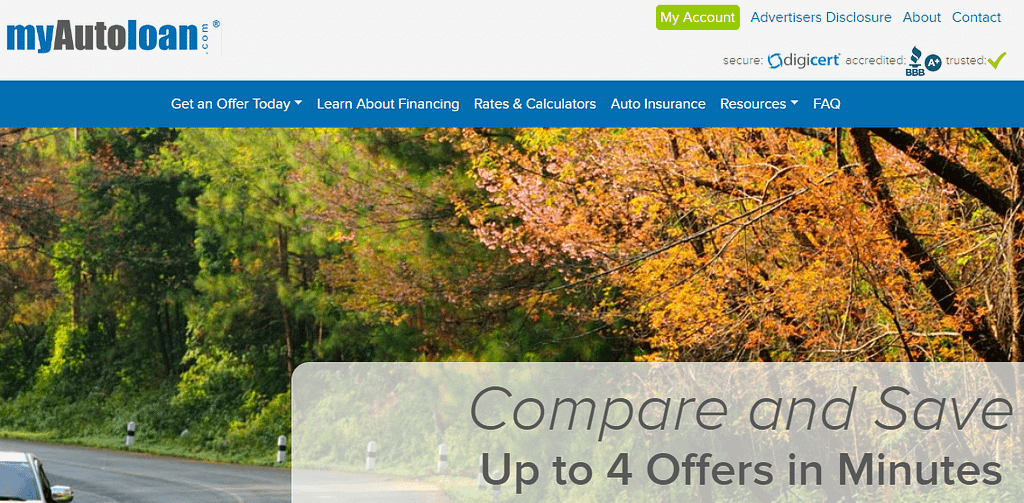 If you want a few offers in a short amount of time, they are one of the best companies to choose from.
How Does MyAutoLoan.com Work?
Unlike a traditional bank or lender, My Auto Loan is more like a broker and you must go through the below process to apply with them.
Meet The Guidelines
First you need to meet the general guidelines before you can apply and those are:
18 years or older, earn 1,800 per month or $21,600 per year, live anywhere in the 48 states, and have a FICO score of at least 500.
Are You Buying New or Used
You need to figure out what type of financing you will need, are you buying a new car or a used car?
Will you be refinancing or are you looking for a lease buyout?
Once you know which option you are going for then you can go to the next step.
Get Your Papers Together
Since you will be getting offers from multiple lenders they might all require different paperwork but it is always good to be ready.
Remember, if you stay ready, you don't have to get ready.
Things the lenders might need are:
Banking History
Proof Of Income
Proof Of Identity
Proof Of Insurance
Proof Of Residency
Information On Vehicle You Plan To Purchase
Current Vehicle Registration (If you plan to do a trade in)
Keep in mind this is just a general list, the lenders could need more or less information, just have at least the things above ready.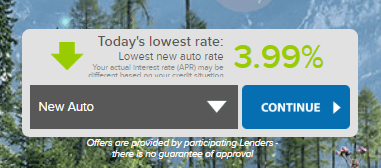 Time To Apply (Hard Inquiry)
Now that you know you meet the general requirements, you have all your documents together and you know what type of loan you need, it's time to apply.
You can apply through the MyAutoLoan com site by clicking here (A new window will open so you won't lose your place in this article).
You will need to go through the process of creating an account and choosing your loan type.
Quick Tip:
FICO allows you to shop around for the best auto loan rates for 30 days after your first inquiry. During this grace period you can apply for an unlimited number of auto loans without any additional inquiries being recorded to your credit file.
Once you complete the application (takes about two minutes), MyAutoLoan.com will do a hard pull on your credit and start the process of matching you with lenders.
FICO will give you a 30 day grace period to shop for as many auto loan rates as you want and only show one hard inquiry in your record.
Review Your Offers
You will get up to four offers from different lenders. It is best to review and compare them.
You will be given up to 30 days to select one of the four offers presented to you.
You need to look at their requirements as well as interest rates and if they will require a down payment or a co-signer. Just be sure to pick the best offer!
Look At Everything
Remember that each lender will have their own specifics and requirements so be sure to look at each offer with as much detail as possible.
Make sure you understand what you are paying for and keep refering to the original offer to make sure nothing changed from the time you accepted it to the time your loan was funded.
Pick The Best Offer
Once you choose an offer your loan can be funded by either bank deposit, ach, check or certificate.
You can have your funds as early as the next business day.
The MyAutoLoan Calculators
Before you start your application process, MyAutoLoan com recommends that you do three things and we agree with them.

Having a good idea of what your interest rate, and monthly payment will be is essential.
You want to make sure you can afford the monthly payments on whatever car you are trying to purchase.
Checking Current Rates
First you want to check out the interest rate chart; we put this one below to give you an idea of what the chart looks like, you should be sure to click here to see current rates.

[tcb-script src="https://www.consumersadvocate.org/embed.js?iframe_id=ca_embed_udc8550a8860″][/tcb-script][tcb-script async="" defer="" src="https://www.consumersadvocate.org/embeds/embedder.js?v=1″][/tcb-script][tcb-script async="" defer="" src="https://www.consumersadvocate.org/embeds/embedder.js?v=1″][/tcb-script]

The above chart gives you an idea of the starting interest rate based on how long you need the loan for.

As you can see, the longer time you plan to take to pay the loan off, the higher the rates become.

While the monthly premiums will be lower if you select a longer payoff period, you are going to end up paying much more interest.
Estimating Your Rate
Once you have an idea of what your starting interest rate might be you can now use the next tool to estimate your rate.
During this step you will choose the type of loan , the loan amount, put in your credit type or actual credit score and then your Zip Code.
Once you complete this process you will see 3 different APR's, a low APR, an average APR and a high APR.
You can use the Average APR to help determine what your monthly car note may be.
Figuring Out Your Car Note
Finally, you will take the estimated loan amount with the Annual Percentage Rate or APR that you received from the "Estimate Your Interest" Tool to get a rate.
This tool is going to help you understand how much you will need to pay on a monthly basis based on the loan term length you choose.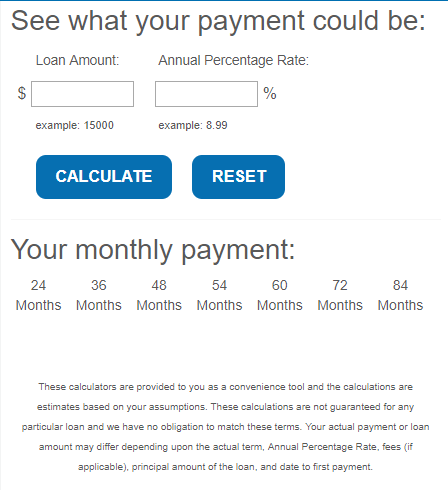 VIEW RATES
MyAutoLoan Reviews
My Auto Loan has over 380 / 5 Star Reviews from Trust pilot which shows that customers are having an overall good experience with the MyAutoLoan.com process.
Below are some of their reviews: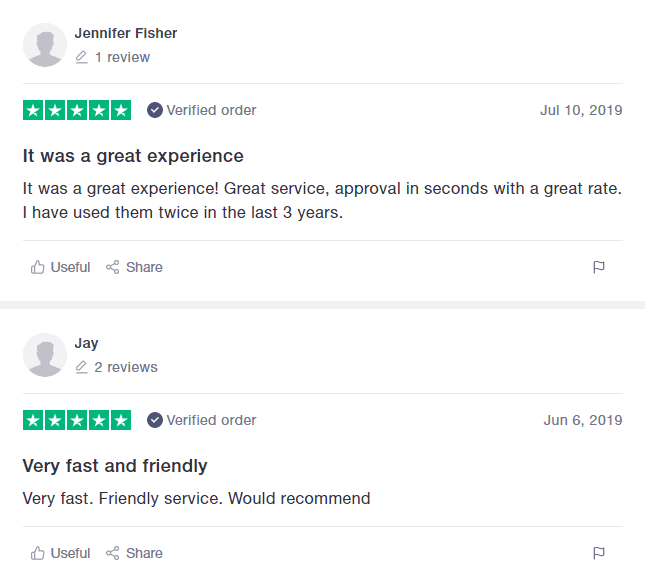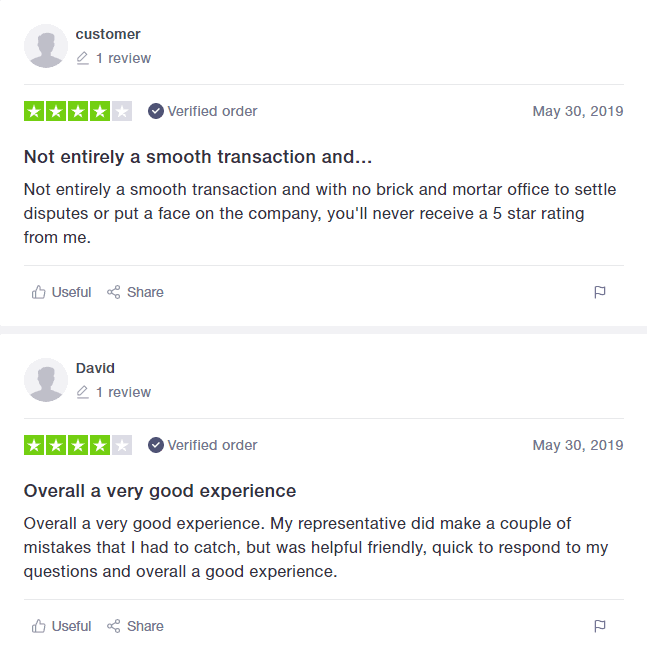 These customer reviews show that the process is simple, but unexpected things can still happen.
MyAutoLoan Reviews include a collection of some of the most trusted review websites around.
We take the most trusted customer reviews from sites such as Yelp, Google and BBB of MyAutoLoan Reviews.
Customer have said in MyAutoLoan Reviews that they are generally happy with the service they receive.
| Trusted MyAutoLoan Reviews | Customer Average Rating |
| --- | --- |
| Credit Knocks Reviews Avg. Rating | 3.6 |
| Trust Pilot Reviews Avg. Rating | 4.4 |
| Bad Credit Reviews Avg. Rating | 4.0 |
| Better Business Bureau Avg. Rating | 1.0 |
| Top Ten Reviews Avg. Rating | 4.4 |
| Finder Reviews Avg. Rating | 3.8 |
| CUSTOMER REVIEWS AVG. RATING | 3.5 |
MyAutoLoan BBB – Better Business Bureau
MyAutoLoan BBB have been an accredited business since 2003, have an A+ rating, and have only had 5 complaints.
MyAutoLoan BBB Reviews are mixed but generally point to a company that takes care of their customers.
I think 5 complaints over 16 years is a great standing, they also have 1 customer review on BBB with a 1.0 star average.

Who Should Apply For My Auto Loan?
The best thing about MyAutoLoan.com is that they deal with multiple lenders who are versatile in the type of people they can get approved for a loan.
Below are some people who should feel free to apply:
People with Little credit History
If you don't have a ton of credit history you can still get covered for an auto loan.
Your score might be in the mid to high 500's or low 600's but that doesn't mean you have bad credit.
It just means you haven't had a chance or taken the time to build your credit.
My Auto Loan has plenty of lenders that will assist you in getting an auto loan and if you want to get your loan under the best situation you should try our Free 90 day credit sprint.
Those with bad credit
If you have bad credit, don't worry, My Auto Loan com works with a nationwide set of lenders who will be matched with you based on your credit profile.
You can rest assured that they work with lenders who can get you covered with as little as a 500 credit score.
Now, if you are someone that has a 500 credit score you might want to do our 90 day credit sprint challenge or read over our 4 week credit boost guide before applying for an auto loan.
People With Good Credit
While MyAutoLoan does have the ability to cover people starting with a 500 credit score, it doesn't mean they are only for people who have little credit or bad credit.
If you have good credit you will find that you can still get a great rate and several lenders that will compete for your business.
Taking Action On An Auto Loan
Hopefully, you found this MyAutoLoan Review helpful because getting an auto loan can be complicated and confusing.
There is no better time than now to get things started now that you have the proper understanding of how the auto loan process works with myautoloan.
Getting a car loan is also part of establishing a different type of tradeline which overtime will increase your credit score.
Editorial Note: The editorial content on this page is not provided or commissioned by any financial institution. Any opinions, analyses, reviews, statements or recommendations expressed in this article are those of the author's alone, and may not have been reviewed, approved or otherwise endorsed by any of these entities prior to publication.
Additional Resources
Disclaimers:
Annual Percentage Rates (APR), loan term and monthly payments are estimated based on analysis of information provided by you, data provided by lenders, and publicly available information. All loan information is presented without warranty, and the estimated APR and other terms are not binding in any way. Lenders provide loans with a range of APRs depending on borrowers' credit and other factors. Keep in mind that only borrowers with excellent credit will qualify for the lowest rate available. Your actual APR will depend on factors like credit score, requested loan amount, loan term, and credit history. All loans are subject to credit review and approval. Discrimination based on gender is absolutely forbidden. Whether the loan is for her or for him, you should receive the same terms.