Learn how Kayla punched her debt in the face by adding income from a single side job (that you can probably do too).
Here's the problem with debt:
You probably won't get out if it unless you attack it.
I'm saying…
Punch it in the dadgum face!
If you want to get serious about paying off creditors, you only have two options, and the first isn't much fun.
You can either:
Cut out everything you love in life (Starbucks, cable, entertainment)
Or make a bit of extra cash
(If you're like me, you prefer option #2.)
So did Kayla.
My friend, Kayla Sloan, owed $18,905 of credit card and student loan debt, but figured out how to pay it off quickly by making some quick and easy cash.
(Hint: It's something you can probably do in your spare time too.)
How Kayla Earns $10,000 Per Month as a Virtual Assistant
Just 6 years ago, my friend, Kayla, was flat broke and didn't have money for the most basic necessities like food or rent.
Then, through trial and error, she started offering some simple services for businesses (like interacting with their Facebook and Twitter fans) and found out she could make some decent money doing it. She landed her first client, then a second, and then a third.
I started out charging $15 per hour since I had no experience and hadn't taken a course on how to be a VA. But it worked out great! My clients taught me on the job and soon, I was able to raise my hourly price to $18.
Fast forward to 2020, and today Kayla is a successful business owner and virtual assistant who has consistently earned over $10,000/month in her business for years. Check out her income reports.
Kayla's Online Course Shows You What She Did Step-by-Step
The cool thing is now Kayla helps people like you.
After years of piecing together information and learning new skills, Kayla was frustrated that there was no all-in-one resource to teach people how to become a virtual assistant. So she went out and created one herself.
Her flagship program, $10K VA, breaks down everything that you need to know about becoming a virtual assistant, scaling your business, and earning as much as $10,000 a month.
You can do it from home, and it doesn't require any experience as a VA.
Click here to learn more about Kayla's course
Awesome Reviews for $10K VA
I first learned about Kayla's course a couple of years ago in a Facebook group of financial bloggers called FinCon. I saw someone asking for recommendations for the best virtual assistant course.
I know and trust this group and regularly go there to ask for referrals. This group has over 3,000 members, so you typically get a lot of variety when you ask for recommendations.
That's why I was shocked to see no fewer than 6 shout outs to Kayla!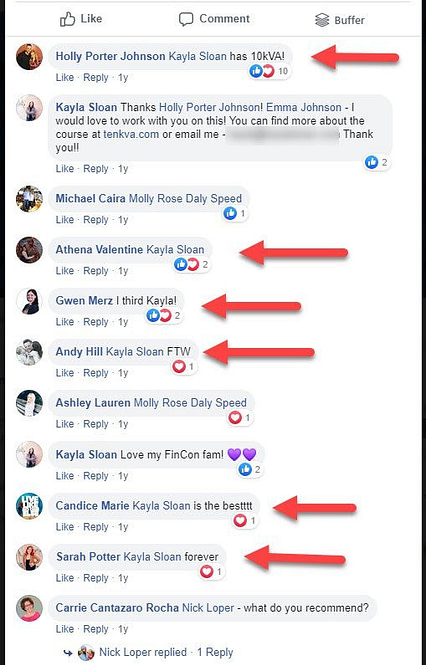 That was all the convincing I needed.  If you want to see more testimonials, she lists some of them here.
What About Saving & Budgeting?
Look:
We love being frugal and using budgeting strategies at Credit Knocks. They work for a lot of people. If you can save enough to pay down your debt that way, great.
But we find a lot of people can't stick to them.
The New York Post recently reported that among people who try to budget, 7 out of 10 have trouble sticking to it.
I mean, seriously…
You shouldn't have to give up Starbucks, cable, and everything else you love just to get out of debt.
Wouldn't it be easier to work a few extra hours per week on a side hustle, and use the extra money to pay down your debt?
See Debt, Kill Debt
After being in $40,000 of credit card debt myself, which took years to pay off, I'll tell you this. The only way to pay off debt fast is to develop a hatred for it.
Being in debt should feel like 1,000 bees stinging you in the eyeball.
If you're ready to attack your debt, skyrocket your credit score, (and you have any organization skills or computer skills at all) then maybe Kayla's course would be a good fit for you.  You can do it from home and it requires no experience.
Or if you want to check out some other money making ideas, check out our list of 15 easy ways to make an extra $500 per month.