Summary: If you want to borrow anywhere from $2,000 to $50,000 and don't mind shorter terms, a Citibank personal loan may be a good option.
Citibank Personal Loans
CitiBank has been around since 1812 and is one of the largest banks in the world. Citibank personal loans start at $10,000 for terms up to 36 months and you will need an excellent credit score to qualify.
Cons
Only Large Loans Available
Must Provide Personal Info
Excellent Credit Scores Only
Who Is Citibank?
Citibank is one of the largest banks on the planet. Founded in 1812 by businessman Samuel Osgood, it was originally called City Bank of New York and used to manage his business finances. Today, the bank serves over 200 million customers across 160 countries.
It's headquartered in the Big Apple and offers banking services, mortgages, personal loans, and more. Citibank sponsors Citi BIke, the largest bike share program in the country with 14,500 bikes and almost 900 stations across NYC.
What Makes Them Different?
If you have a Citibank account, you might be able to get a Citibank personal loan with a low rate. But you'll need good or excellent credit. You'll also have to borrow at least $10,000 and choose a loan term of 36 months or less.
Another perk of a Citibank personal loan is the rewards points. As long as you link your loan to your Citibank checking account, you can earn these points and redeem them for travel rewards, gift cards, and other fun prizes.
How Do Citibank Personal Loans Work?
If you have a Citibank checking or savings account or got a Citi Personal loan offer and want to borrow $30,000 or less, you can apply online.
Sorry but if you'd like a larger loan, you'll need to go to a local branch or call 1-877-362-9100 to go through the application process.
Here's what you'll need to do if you apply online.
1. Sign On to Your Citibank Account
Enter your user ID and password so you can get directed to your Citibank account and apply for a personal loan.
Don't have an online account? No problem!
You can register for one in a few minutes.
2. Fill Out the Application
When you go through the application, you'll enter your requested loan amount, address, birthday, Social Security number, and a few other personal details.
Citibank will also ask you to share your employment information.
3. Wait for Approval
If you're approved for a Citibank personal loan, a Citi representative will let you know.
You can expect to get a check in the mail within five business days.
Citibank Personal Loan Reviews Eligibility
Before they make you an offer, Citibank will make sure you have a Citibank account and take a look at your credit history.
Let's dive deeper into the absolute minimums and maximums you can expect.
Remember that actual rates and terms will change for a variety of factors.
Be a U.S. Citizen or Permanent Resident
You are at least 18 years old
What Information Will You Need To Apply?
Before filling out the online form make sure you have the below information ready:
Date of birth.
How much you want to borrow.
What you plan to use the money for.
Citibank Personal Loan (Basics)
Loan Amount Range: $2,000 – $50,000
APR Range:

7

.99% – 23.99%
Fees: None
Prepayment Penalties: None
Loan Terms:

1

to 5 years
Payments Directly To Creditors: Yes
Remember, once you pick a lender, they will pull your credit report and create a hard pull on your credit.
Citibank Personal Loan Calculator
With a personal loan calculator, you can find out what your monthly payments may be. We wish Citibank had one on their U.S. site but they don't.
While it's not as fun and easy, you could always calculate your payments on your own once you know your loan amount, interest rate, and term.
Not a math person?
Perform a quick Google search and you'll find a personal loan calculator you can use in seconds.
What To Use Citibank Personal Loans For?
There are tons of reasons you may want a Citibank personal loan.
Here are some of the most common uses for one.
Debt/Credit Card Consolidation
Down Payment For Home
Major Purchase
Home Improvement
Medical Expenses
Moving/Relocation
Vacation
Start Business
Education
Your Wedding
As you can see, there is a huge list of reasons for getting a personal loan.
Of course our favorite reasons is for Debt Consolidation, Education, and Starting a Business.
Citibank Personal Loan Reviews
In a perfect world, you'd have the cash to make your monthly payments on time, every time. But we all know that life happens and sometimes you have to miss a payment or two.
Some people who took out a Citibank personal loan found that the company wasn't willing to help them out when they couldn't make a payment.
So if you don't feel confident that you'll be able to make all your payments on time, consider another, more affordable loan. Or reach out to Citibank and ask them what they could do for you if the going gets tough.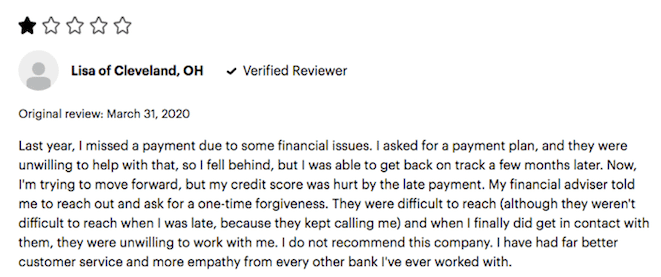 Citibank BBB – Better Business Bureau Reviews
Citibank BBB has had a file at the Better Business Bureau since 1978.
Rating: F
# Complaints: 4,177
Accredited: No
Business since: 1/1/1812
# customer reviews: 192
Customer rating: 1 star
Most of the Citibank complaints have to do with their credit cards. This is exactly what we expected since credit cards are one of the company's most popular offerings.
Fortunately, Citibank responds to most complaints and there aren't many negative comments on its personal loans.
Steps To Take After CitiBank Loan Review Approval
It feels great getting approved for something, no matter what it is, you feel like you have just won something.
But, now that you have been approved, there are some things you should be doing with your accounts.
Make On Time Payments
I am sure you are tired of seeing everyone saying "on-time payments".
Helpful Tip
If your application goes to "Pending" status it doesn't mean Declined. Usually, more information may be needed.
But it is super important and is one of the largest factors in helping grow your credit score.
Of course you probably didn't obtain this loan for building your credit.
However, you still need to be mindful that this product can harm your credit if you don't manage it correctly.
No matter what, avoid late payments.
Pay Back The Loan ASAP
Along with making on-time payments you should definitely pay this loan off as super fast as possible.
Large personal loans tend to linger and we usually only pay the minimums.
Now:
While this does keep more cash in your pocekt in the initial phase, eventually you end up spending thousands of more dollars in interest payments.
Getting the credit utilization below 30% will also be great for helping your credit score grow.
Taking Action & Getting A Loan
Hopefully, you found this CitiBank Personal Loans Review to be helpful because Personal Loans are a great option to pay down debt, or even start a business.
If you need a personal loan then don't waste any time getting your loan through our top rated lender.
Editorial Note: The editorial content on this page is not provided or commissioned by any financial institution. Any opinions, analyses, reviews, statements or recommendations expressed in this article are those of the author's alone, and may not have been reviewed, approved or otherwise endorsed by any of these entities prior to publication.