Learn why the Capital One® Savor® Cash Rewards Credit Card is great for people that love to spend money on food and entertainment.
APR
17.24 – 24.49% Variable
Credit Needed
Good/Excellent
690 – 850
Capital One Savor Card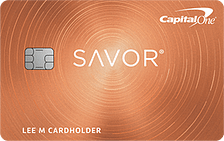 The Capital One Savor Cash Reward Credit Card is the perfect fit for anyone that loves going out on the town for entertainment and food.

Redeeming your cash back is super simple; however, there is an annual fee attached to this card that you need to look out for. 

I created this Capital One Savor Card review so that you can understand how the card works, its benefits and short comings.
Pros
Easy Redemption Of Rewards
No Foreign Transaction Fees
Redeem Points Through Amazon
What's The Capital One Savor Rewards Card?
The Capital One Savor Card was created by Capital One to be the simplest cash rewards card in the industry for dining and entertainment.
The Savor card from Capital One also has a 2% cash back at grocery stores. This makes for a great benefit if you have a large family and spend tons on groceries.
Also, if you aren't interested in maximizing redemptions but just want to increase your use of rewards then the Savor rewards card is a great option.
Capital one offers a wide variety of credit cards with multiple perks and rewards, you can read about the best Capital One credit cards in our review.

Who Is Capital One?
While Capital One might seem like a 100 year old company, they actually were founded in 1993.
They go by the name Capital One Financial Corporation and along with being a bank holding company they also focus on credit cards, auto loans and banking.
They are one of the largest banks in the U.S. by assets and helped with the growth of the credit card market.
Lastly they are the 2nd largest auto finance company in America.
What Makes Them Different?
What makes Capital One Different is that they offer a ton of additional benefits with their cards.
You get free access to your credit report and score along with the ability to increase your credit limit at any time without affecting your score.
Paying Your Annual Fee
Your annual fee will be deducted from your available credit after the first year of having the card.
You need to make sure you pay it immediately so that your card doesn't report a balance.
If you plan to let the small fee report, be sure to make the minimum payment if one is required.
Honestly, if you plan to spend more than $2,400 per year on dining and entertainment or more than $4,800 on groceries then the annual fee isn't a big deal.
The Two Card Rule
One thing to be aware of when you apply for a Capital One card is their 2 card rule.
With Capital one you can only have two personal cards at a time , so if you already have two capital one cards you will have to close one account to apply for a different card.
You also have to wait 6 months to apply for a new card with Capital One so be aware of the dates you are applying for a card.
Capital One® Savor® Card Basics
Below are some of the basic features of the Capital One Savor Cash Rewards Credit Card:
Card type: Cash Rewards
Interest rate: Ongoing APR is 15.99% – 24.99% Variable APR.
Annual fee: $0 intro for the first year, then $95.
Dining & Entertainment Rewards: Unlimited 4% cash back.
Grocery Store Rewards: Unlimited 2% cash back on every purchase.
Base Rewards: Unlimited 1% cash back on any purchase.
Foreign transaction fee: None
Credit reporting: Reports payment history to all three credit bureaus.
Cash advance fee: $10.00 or 3%, whichever is greater
Cash advance APR: 24.49% Variable
Late payment fee: Up to $39.00
Transfer Fee: No Transfer Fee
In my opinion, paying a small annual fee for the benefits and perks that come with this specific card is absolutely worth it.
Capital One Savor Card Welcome Bonus
If there is one thing I enjoy most when signing up for a new credit card it's the Welcome Bonus.
The Savor card has a welcome bonus of $300 cash bonus once you spend $1,000 on purchases within 3 months from opening your account.
For a personal cash back card this is one of the highest welcome bonuses around.
Of course, don't go into $1,000 of debt for just $300 dollars. You should try to reach this welcome bonus only with things you already planned to spend money on.
How Their Cash Rewards Program Works
Earning Rewards With Your Savor Card
Annual limitations on earning credit card rewards suck; being able to earn unlimited cash back bonuses is what makes the Savor card stand out.
As we show you below, the Savor card offers a few different cash back features:
4% back on entertainment
4% back on dining

2% back at grocery stores

1% on everything else
4% cash back is huge, especially when it comes with the ability of unlimited rewards.
Defining Cash Back Categories
Now, there are a few things to be consider and be aware of and those are the exact definitions of what constitutes and entertainment, dining, and grocery stores.
Dining will include – Purchases at fast-food locations, restaurants, cafes, lounges, coffee shops, bars, bakeries, night clubs and more.
Entertainment will include – Tickets you purchase for a play, movie, concert, sporting event, theme park, tourist attraction, zoo, aquarium, dance club, pool hall, or bowling alley. It will also cover buying albums or movies.
This will not however, cover things like Netflix or Amazon Prime for the 4% cash back offer.
Target & Walmart not included in 2% – Unfortunately, your super stores such as Walmart and Target aren't considered grocery stores so they don't qualify for the 2% cash back bonus. However, like everything else, they will qualify for the 1% bonus.
Cash Redemption Made Easy
Redeeming cash back is simple, you get a percentage back on the cash that you spend.
If you spend $100.00 at a restaurant with this card, you will earn $4.00 in cash back rewards.
These rewards don't expire as long as your account stays open and the best thing is that there is no minimum amount needed to redeem your rewards.
You can redeem your cash back as a statement credit, check, gift cards, or as a charitable donation.
Capital one has also recently added the ability to redeem your cash back through Amazon.
However, the best redemption option will probably be to get a statement credit or a check because if you plan to buy anything you should get your points for it.
Capital One® Savor®'s Additional Perks
Special Access
Your Savor card gives you access to exclusive experiences in fine dining, sports and entertainment.
Things like Premium Access reservations for dining or being able to purchase tickets to your favorite concert weeks before they go on sale to the public.
You can also get things like VIP tickets or even special offers at the Capital One Arena.
24 Hour Travel Assistance
If your card is lost or stolen, you can get an emergency replacement card and a cash advance with no problem.
Travel Accident Insurance
You get automatic insurance for a covered loss when you use your Savor card to purchase your travel fare.
Additional Extended Warranty
When you purchase something with your Savor card through Capital One, you get additional warranty protection at no charge on eligible items purchased.
Your Personal Assistant… Eno
®
Eno is an assistant that will send you insights and alerts about your credit card accounts. It will monitor charges, track spending, and provide answers to fraud alerts on the spot.
Use A Virtual Card Number
So, if you have any reservations about shopping online, your concerns can end when you get your Savor Card.
This is because you can shop online with a virtual card number that is entirely different from your actual card number… Isn't that amazing.
CreditWise® from Capital One
One benefit that everyone should be using is the access to CreditWise from capital one. This program allows you to check and monitor your credit report for free.
While you don't need a Capital One card to actually join the program; it's another great benefit, especially if you are credit conscious.
The Capital One® Savor® Credit Card offers you the opportunity to travel on just rewards points.
What's The Starting Credit Limit
Your initial Capital One Savor credit limit will be determined by your credit history and income.
However, these card limits often start pretty high, often, more than $10,000.
Obviously, you may be given a similar, higher, or smaller credit limit, but from reading Capital One Savor credit approvals, it looks like most people start out with a high limit.
Capital One Savor Credit Limit Increase
A great thing about all Capital One credit cards is that you are able to do a credit limit increase request without receiving a "hard" credit pull.
It's usually best to wait for at least 6 months before you request a credit limit increase.
This gives you a bit of history with Capital One and ages your account. The reason you should always consider a credit limit increase is because it will:
Decrease Your Credit Utilization
Increase Your Available Credit
Allows You To Obtain New Credit Without Affecting Your Age Of Accounts
Capital One Savor Card Pros & Cons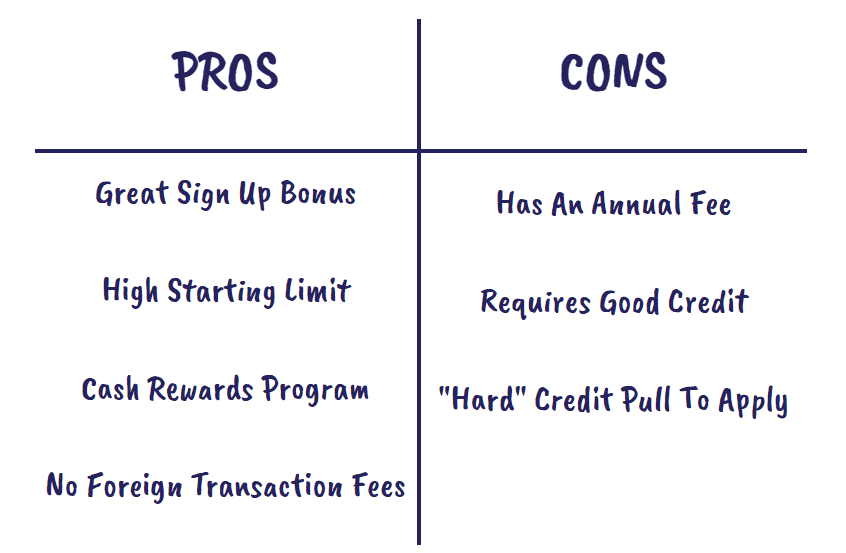 Steps To Take After You're Approved
Meet Your Sign Up Bonus
Now that you have the card, you are going to get 3 months to meet your sign up bonus.
You can use companies like Plastiq to pay for almost any item that usually doesn't accept credit cards.
You just need to reach your $1,000 spending goal by paying for things you already planned on buying.
Like rent, car payments or utilities. You don't want to create new debt for the sign up bonus.
Helpful Tip
If your application goes to "Pending" status it doesn't mean Declined. Usually, more information may be needed.
Make On Time Payments
Making on time payments sounds like a super simple thing to do; however, we all live in the real world where things almost never go as planned.
Be sure, no matter what, to make your payments on time because it is super important and is one of the largest factors in your credit score.
No matter what, avoid late payments.
Keep Credit Utilization Low
Another factor to consider is credit utilization, you really want to keep this under 3% of total credit if you can but try to never get it over 15%.
For example, if your Savor card has a $13,000 limit and you spend $3,500.
Spending $3,500 on a $13,000 card limit means you are utilizing is around 27% of your credit.
27% is above the recommend credit utilization percentage of 15%, so be mindful of how much you spend.
How Do I Cancel My Savor Credit Card?
Cancelling your account is easy… You can cancel your account at any time by contacting their Customer Service Department at the phone number listed on your billing statement or on the back of your credit card.
Is There A Fee For Closing My Account?
Outside of the fees associated with your remaining balance, there is no fee for closing your account.
I would recommend keeping the card active as long as you can, there really isn't a reason to cancel the card any time soon.
Taking Action On Your Credit
Hopefully, you found this Capital One Savor Card Review helpful because having a strong travel card in your arsenal is essential.
There is no better time than now to get things started and the sooner you get your card setup, the faster you can start qualifying for cash rewards and points.
Having the card in your wallet is going to feel great and getting that sign up bonus is going to feel even better.
Start building your cash rewards today with a Capital One® Savor® Cash Rewards Credit Card.
Editorial Note: The editorial content on this page is not provided or commissioned by any financial institution. Any opinions, analyses, reviews, statements, or recommendations expressed in this article are those of the author's alone, and may not have been reviewed, approved, or otherwise endorsed by any of these entities prior to publication.