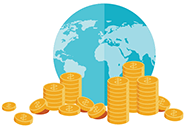 We are looking to explore how people all around the world budget their money. If you'd like to participate in our budgeting survey, represent your country or region, and help support a great charity in the process, read on.
What are we looking to find?
We want to compare how people in different countries allocate their monthly income.
Effective budgeting is probably the most important first step anyone could take towards achieving financial independence. Given that, we want to share examples of real people and their budgeting practices from all around the world.
We strongly believe that this kind of "show, don't tell" approach can encourage more people to start a budget and get their finances in order.
What's in it for you?
For every fully completed survey, we will donate $10 to GiveDirectly, capped at $1000.
GiveDirectly is a global NGO that transfers cash donations directly to people in extremely low-income households and people affected by humanitarian crises. Find out more about the organization and what they do on GiveDirectly website or view their GiveWell profile to see why they are one of the most effective charities you can donate to.
Once we reach 100 responses and donate the $1000 we will post a screenshot of our donation to this page so you know that we held up our part of the agreement.
When and where will the survey results be published?
We will publish the findings and analysis in a series of articles on our website and distribute them on our social media channels.
Each completed survey will be published as a standalone article in which your responses will get quoted directly. Once we get all 100 surveys completed, we will analyze and summarize the data in an editorial.
View the articles published as a result of this survey.
How can I participate?
You can participate by filling out the budgeting survey in one of two ways:
Survey progress
Help us spread the word and reach our goal faster by sharing this post with your friends!