Buckle Credit Card
The Buckle Credit Card has a very high variable APR and you have 56 weeks from the time you earn a reward to redeem it or it is lost forever.  Choosing a more traditional card could save your credit score and thousands of dollars in interest payments over your lifetime.

Pros
Short Term Special Financing
Reports To Major Credit Bureaus
Of all of the retail store credit cards we have reviewed, the Buckle Credit Card rewards program may be the worst.
The problem is that you have to read the fine print closely to completely understand how bad it really is. We read that fine print and we'll lay out why you should probably avoid this high-interest card.
Buckle started on the wrong foot when they chose Comenity Bank to issue and manage their store card. Comenity Bank cards consistently have high interest rates, low rewards, and very poor customer service.
👉 Choosing a more traditional card could save your credit score and thousands of dollars in interest payments over your lifetime.
The Buckle Credit Card has a very high variable APR and rewards must be redeemed during a 56 weeks window from the time you earn them, or they are lost forever.
Keep in mind that the Buckle store card cannot be used anywhere else but at Buckle stores.
A major problem with this card is the issuer, Comenity Bank. Comenity bank cards have a long list of customer complaints. Many customers say that Comenity Bank will cancel your card if you do not keep a balance and pay them interest, even if you are a regular customer who always pays on time.
When an issuer closes a revolving credit card account your credit score can take a serious hit.
There are many traditional credit cards that would be a better choice if you are looking for a credit card.
What Is The Buckle Credit Card?
The Buckle Credit Card accounts are issued by Comenity Bank for use only at the Buckle stores and their website.
This card cannot be used anywhere but on the Buckle website or in their stores.
You will not find a Visa, MasterCard, Discover, or American Express, logo on this card.
Customers who use the Buckle Card to make purchases will receive 1 reward for every dollar they spend.
For every 300 points you earn in a set quarter, they will automatically mail you a $10 reward that expires 56 weeks from the issue date.
Here's where it gets fine printy…
Every quarter you have a chance to earn a $10 reward card for every $300 you spend during the quarter.
Now, if you spend $199 or less in that quarter you lose all of your points when the quarter ends and do not get any rewards.
However, if you spend $200-$299 during the quarter but don't reach the 300 points, those points will roll over to the next quarter but can't be rolled over again if you fail to reach 300 and they will be lost.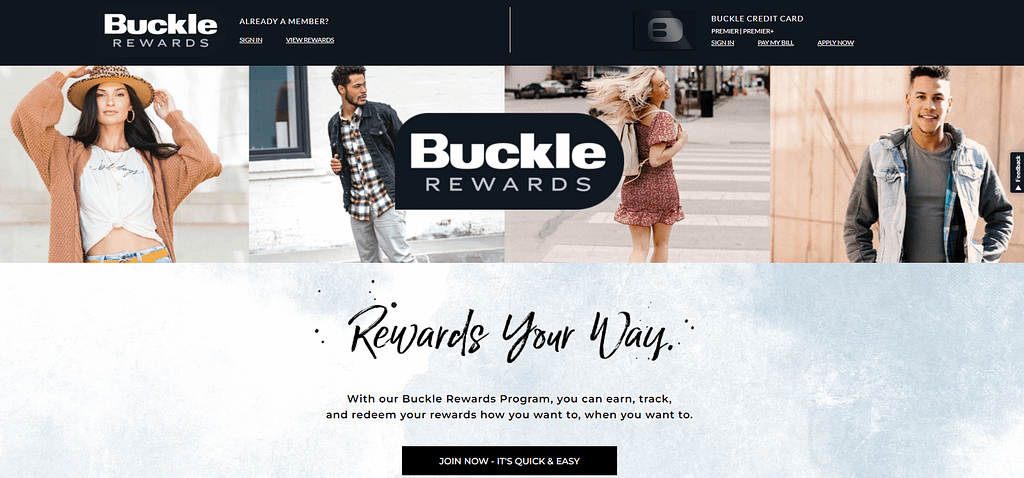 So that kind of sucks.
But it gets worse… You cannot combine your B-rewards to make a purchase as you can only use one $10 reward per purchase.
So, if you spend $1500 in the first quarter and received five $10 B-rewards cards, you cannot combine them to make a $50 purchase.
You would have to make five separate purchases to redeem all of your B-rewards which expire 56 weeks after you receive them.
Add that to the super high APR and there is literally zero reason to apply for the Buckle Card.
Who Is Comenity Bank?
Comenity Bank and Comenity Capital Bank are owned by Data Alliance and together manage multiple customer loyalty programs.
They work with retail locations and provide them with store credit cards, rewards programs, and marketing information to retain customers.
They have a horrible reputation for customer service and for policies that work against customer interests.
👉 Many Comenity Bank customer reviews complain about how their credit score was affected after having their account closed for no reason.
Buckle Credit Card Overview
Below are some of the basic features of the Comenity Bank Buckle Credit Card:
Card type: Unsecured
Interest rate: 28.74% Variable
Annual fee: $0
Rewards: Earn up to 3 points for every $1 spent, quarterly reward of $10 for every 300 points
Security deposit: None
Foreign transaction fee: N/A
Credit reporting: Reports payment history to all three credit bureaus.
Cash advance fee: N/A
Cash advance APR: N/A
Late payment fee: Up to $41
Returned payment fee: Up to $25
Over The Credit Limit fee: None
In a 2019 Credit Card Insider survey, they found that 40% of retail store credit card holders regretted applying for their store card. We recommend that you apply for a traditional credit card instead.
Buckle Credit Card Benefits
The Buckle card offers extremely low value rewards with restrictive conditions that make them difficult to use.
These Buckle Rewards (B-Rewards) include:
1 point for every $1 spent, quarterly earn a $10 reward card for every 300 points earned (rewards card expires 56 weeks from issuance)
Free domestic ground shipping
Bonus Points Events & Special Offers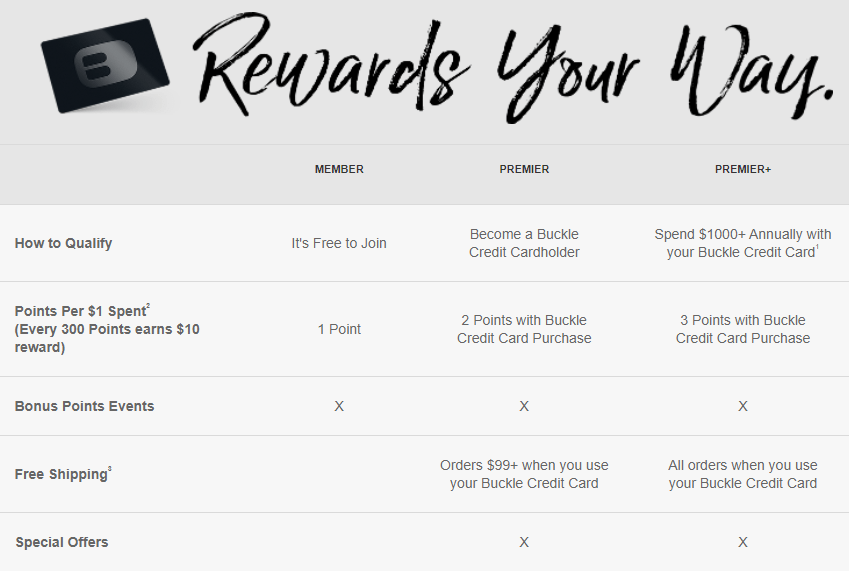 Buckle Card Credit Limit
Your initial Buckle credit limit will be determined by a number of factors including your credit history and income.
There is no way of predicting your credit limit.
Buckle Credit Limit Increase
Comenity Bank will review your card periodically for credit limit increases. If you make you payments on time, Comenity Bank will consider you for a credit limit increase.
👉 You can also request a credit limit increase on your customer dashboard or by calling Comenity Bank directly.
This is true for most credit cards and should not be a determining factor in choosing a high interest, low reward, Buckle Card.
The Buckle Credit Card Pros & Cons
PROS
Reports to major credit bureaus
Rewards program
$0 annual fee
CONS
28.74% Variable APR
Limited use
Bad customer service
Low rewards value
Customer Reviews
Read some of these recent reviews of Comenity Bank, which is the issuer and the company you are actually working with if you apply for the Buckle credit card.
How Do I Cancel My Buckle Credit Card?
You can cancel your account at any time. Contact their Customer Service Department at the phone number listed on your billing statement or on the back of your credit card.
Give This One a Pass
Today is a great day to apply for a new credit card that you can use anywhere with a fair interest rate, but the Buckle Card is not that card.