1st
AmOne is our #1 recommendation. Their primary focus on matching you with a few select lenders and getting solid rates earned them the 1st spot.
2nd

LendingTree is our #2 recommendation. Tons of satisfied customers, Competitive pricing, and an amazing customer service record gives them the 2nd spot.
3rd

Credible is our #3 recommendation. A huge number of satisfied customers, Multiple lenders, and their best rate guarantee gives Credible the 2nd spot.
Searching for a personal loan can be both a bit scary and time consuming; especially if you need the loan for an emergency.
But, what if I told you:
That there is an easy way to compare multiple personal loans at one time, pick the best option, and get approved for your loan in minutes.
In this post today I am going to go compare the best personal loan companies to give you a jump start on getting the best rates and payment.

Get Prequalified for a Personal Loan
Answer a few questions to see which personal loans you pre-qualify for. The process is quick and easy, and it will not impact your credit score.
Best Personal Loan Companies
1. Credible

Credible is our #1 recommended personal loan company because they offer personal loans up to $100,000 in just 2 minutes and they offer a best rate guarantee.
They don't charge a fee for this process and they actually match you with multiple lenders.
Features & Benefits
Why get your personal loan through Credible? Here are just a few reasons they're one of our favorites:
One Form, Multiple Lenders
Super Fast Funding
No-Cost Service
Best Rate Guarantee
A+ BBB Rating
Now, remember, Credible doesn't actually offer loans; however, they provide a platform that lets you compare personal loan options from multiple lenders (that have been vetted) that you qualify for, side-by-side.
Each lender will have their own terms so it is essential that you read all the fine print before choosing a lender.
Credible Reviews (5/5)
Credible has over 2,300 5-Star ratings on Trustpilot and has a great customer service team. In fact, they have an A+ Rating with BBB and have been in business for over 6 years.

Want to learn more? Read our full Credible review here.
Credible Rates
Credible doesn't offer its own loans and therefore won't have actual rates.
The rates will come from the different personal loan companies depending on your specific financial profile.
| Loan Type | Rates As Low As | Rates As High As |
| --- | --- | --- |
| Personal Loan | N/A | N/A |
However, Credible does have a best rate guarantee.
The way it works is that they ill pay you $200 if you find a better rate on your personal loan from another company and close on that loan.
So basically, you've got nothing to lose by using their service and can gain an extra two hundred bucks if they can't get you the best rate.
2. LendingTree
LendingTree is our #2 recommended personal loan company because they are able to provide you with offers from their network of over 300 banks and lenders.
With this network, you are able to find the lowest payments and interest rates for your specific personal loan at a much faster pace.
You are able to get the best rates from lenders who are competing for your business with one simple request form.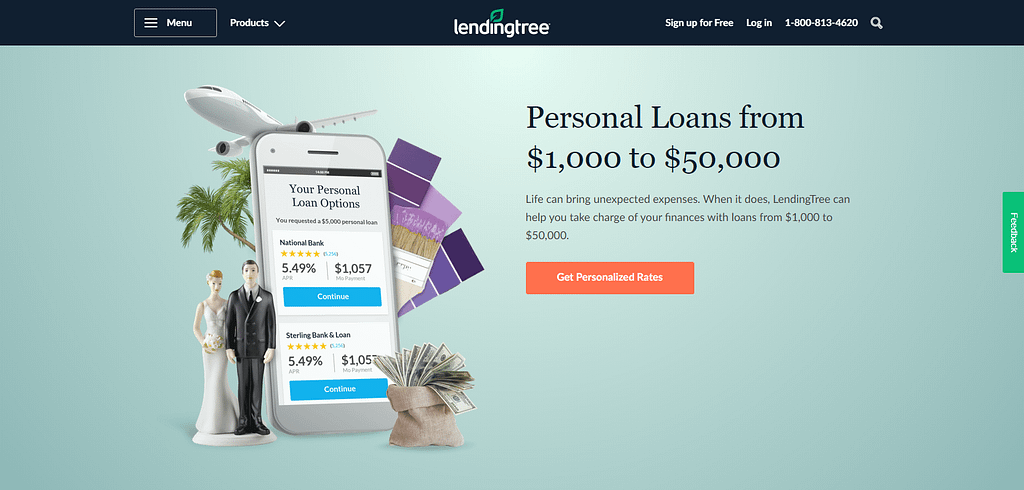 Features & Benefits
Why get a personal loan from LendingTree? Here are just a few reasons they're our favorite:
Fixed Interest Rates
National Lender Network
Bad Credit Is OK
Could Help Improve Credit Score
LendingTree has been in business for over 20 years and are the creators of the "multiple lender loan offers" business.
While they do not provide the actual loan, they are able to pull from a database of lenders and banks that can offer you a loan regardless of your score.
With a reputation for getting people the lowest interest rates and a super fast funding speed, LendingTree pushes itself ahead most in the personal lending space.
LendingTree Reviews (4.7/5)
LendingTree has over 5,800 5-Star reviews on Trustpilot and has a great customer service team. In fact, they have an A+ rating with the BBB.

Want to learn more? Read our full LendingTree Personal Loans review here.
LendingTree Personal Loan Rates
Like Credible, Lendingtree doesn't actually offer loans, they match you with the lenders so they won't have any specific rates.
| Loan Type | Rates As Low As | Rates As High As |
| --- | --- | --- |
| Personal Loan | N/A | N/A |
Your rates will be determined by the lender you decide to go with as well as your credit score and financial situation.
3. AmOne Personal Loans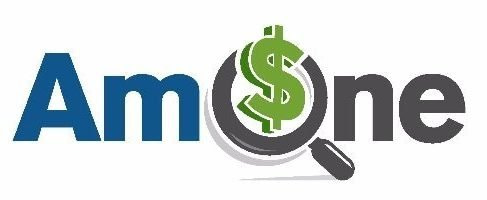 AmOne is our #3 recommended personal loan company and they give you the option to get an unsecured personal loan or business loan.
Like Credible and Lendingtree, they don't actually fund any of the loans; they have a lender network.
However, they match you with the lenders that will best fit your specific situation.
Features & Benefits
Why get a personal loan through AmOne? Here are just a few reasons they're one of our top options:
Multiple Loan Options
National Lender Network Access
Bad Credit Is OK
Several Offers In Minutes
100% Online Process
On top of that, you are able to get matched with lenders that work best with your profile to give you the best opportunity for getting approved for a loan.
However, it is going to cost you a hard credit pull on your credit report and you need to be mindful of the different rates for each lender.
AmOneReviews (4.5/5)
AmOne has over 290 5-Star reviews on Trustpilot; however, they aren't accredited with the BBB and have been in business for over 20 years.

Want to learn more? Read our full AmOne personal loan review here.
AmOne Rates
Like the other companies above, AmOne doesn't actually provide loans therefore the rates are subject to the companies you are matched with.
| Loan Type | Rates As Low As | Rates As High As |
| --- | --- | --- |
| Personal Loan | N/A | N/A |
Luckily, AmOne does match you with the companies you are most likely to be approved by so you should have a strong idea of what your rate would be before you have to put anything in stone.
Additional Personal Loan Companies Reviewed:
Bank Of America Personal Loans Review
Discover Personal Loans Review
Wells Fargo Personal Loan Review
Capital One Personal Loans Review
CitiBank Personal Loans Review
Christmas Loans For Bad Credit
Navy Federal Personal Loan Review
American Express Personal Loans Review
How do i qualify for a Personal loan?
The way you qualify for your loan is going to be different for each company.
There are a lot of requirements for a personal loan and if you have credit issues your requirements get a bit harder.
However, there are some general guidelines you probably should meet before you apply and those are:
Be At least 18 years old and a current resident of the US
Employed full-time or make at least $1,000 per month
Have A Valid Drivers License
Know What You Will Need The Loan For
Requirements for a subprime personal loan get a bit more specific. Your lender might need proof of your identity, income, and residency, as well as for you to provide proof of a working telephone and a list of references.
Some of the specifics typically include:
$1,500 to $2,000 of monthly pre-tax income from a single source and a recent pay stub to serve as proof of income.
Up to at least three years of employment history.
A utility bill in your name for the address listed on your application to serve as proof of residence.
A phone bill to serve as proof of having a landline or contract cell phone from a national carrier in your name. No pre-paid phones qualify.
A list of six to eight personal references complete with names, addresses, and phone numbers.
If you don't have perfect credit that is fine, some of the above companies have lenders who specialize in approving people for personal loans with bad credit.
What Will I Need To Close On My Loan?
Since you don't know which lender you will be going to, it's best to be prepared.
Things the lenders might need are:
Banking History
Proof Of Income
Proof Of Identity
Proof Of Insurance
Proof Of Residency
Keep in mind this is just a general list, the lenders could need more or less information, just have at least the things above ready and a down payment handy if you need one.
What Can I Use A Personal Loan For?
You can actually use a personal loan for almost anything; below are some of the things you can take out a personal loan for:
Debt/Credit Card Consolidation
Down Payment For Home
Major Purchase
Home Improvement
Medical Expenses
Moving/Relocation
Vacation
Start Business
Education
Your Wedding
There is a huge list of things you can get a personal loan for; however, I wouldn't recommend using it for most of the things on this list.
Our favorite reasons to get a personal loan are for Debt Consolidation, Education, and Starting a Business.
Will i need To Secure The Loan?
When it comes to dealing with a personal loan, depending on your credit and income you might have to secure the loan.
There are traditionally two types of loans; secured and unsecured, we discuss them below:
Unsecured Loans
An unsecured loan doesn't require any collateral in order to obtain the funding. Your approval is usually based on your credit and will probably come with a fixed interest rate.
The rates can get a bit high if you have an unsecured loan.
Secured Loans
A secured loan uses your property such as a home or a paid off car to in order for you to obtain the loan.
You are essentially telling the lender that if you don't pay the loan back, they can take what you owe from the item you are securing the loan with.
The lender will still look at your credit and income for this type of approval but usuaully you will need to secure your loan if you have bad credit.
Now, this doesn't mean that you can't get an unsecured loan with bad credit; however, remember, you will probably have a super high interest rates.
So:
The answer is that it depends on how much of a loan you are looking for, your current income and also your specific credit.
Personal Loans For Bad Credit
The best thing about dealing with a lender network is that usually they have extensive experience with people who have bad credit.
Every person's "bad credit" is going to be different, some people are going to have no credit or a thin credit profile while others may have charge-offs.
Bad credit doesn't automatically decline you for a personal loan; however, it will make it a bit harder for you to qualify.
Getting a personal loan to consolidate your debt to help your credit score might bet the best reason to apply for a personal loan.
A credit score below 670 is considered sub-prime or in normal terms "Bad credit" but you will be able to find some solid loans with a score between at least 580 to 670.
If you have a credit score below 579, you will not qualify with the lenders reviewed in this article.
But all is not lost!
We have a great partnership with a Bad Credit Personal Loans specialist!
Additional Bad Credit Personal Loan Options
Best Rates

PersonalLoans.com has a vast network of lenders that compete for your loan business. Whether you have no credit, limited credit, poor credit, even bad credit, PersonalLoans com can help.
Easiest To Qualify

CashUSA has over 22 years of business experience getting people money into their account as soon as the next business day. They offer a wide range of personal loans for all credit types.
Short Term Loans

BadCredit.com offers bad credit loans for as short as three months. They offer bad credit loan terms for 3 months to 72 months. Whether you have no credit, limited credit, poor credit, or bad credit.
Click here for a bad credit personal loan if your credit score is below 579.
Taking Action
There is no reason to only look at one company for your personal loan, all it takes is a bit of time and a bit of work.
The fastest solution will be to go with one of the companies above since they all will match you with the lender that will be best for your specific situation.
Whatever you decide, I would say go with the lowest rate possible for the shortest term that you can afford; the faster you can pay your loan off, the better.
In This Article